Tutorial
Multiple Columns (Classic)
There are some cases where multiple columns should be used in a layout.
In the General Settings area, you may select for the fields to use multiple columns.
In most cases, a single column is the most apprpriate and easiest option.
In situations where there are many fields or if fields may be logically paired it can create a better user experience to use more than one column (such as paired start value and end value.)
NOTE: This tutorial demonstrates the older method of creating custom Forms in Ultimate Forms. This method is appropriate to use with the SharePoint Classic experience; if you are using the Modern Experience, our recommendation is that you use the Modern Form designer instead.
Instructions
First, let's take a look at what happens when the columns are switched from 1 to 2 columns in General Settings:
Normally the columns are always stacked vertically: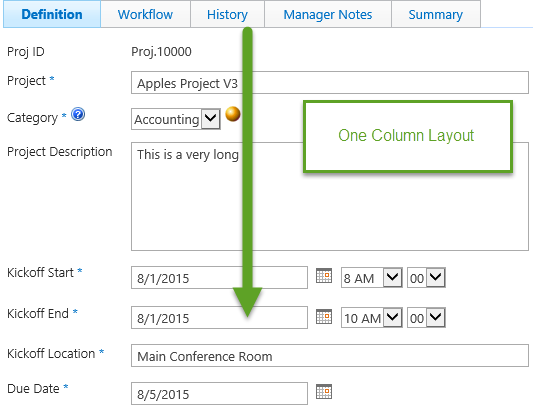 When the column count is switched to 2 columns notice how the fields are rearranged:

The columns are arranged left to right with each second field in the right column.
In order to provide breaks between sections and control the location of fields, additional tools can be applied.
Use the Section header option under Tab Column Association to control the location of fields and line breaks: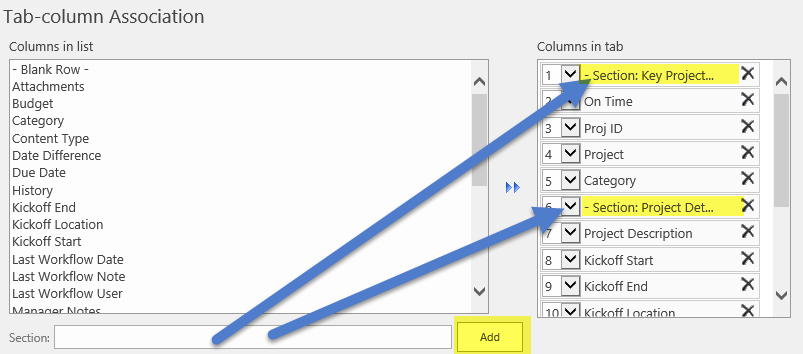 Consider how the above changes change the layout of the two column form:

The Blank Row option can also be applied to control field location and spacing.
Summary
Multi-column layouts may be useful in cases where there are many fields that must be included in the form or when there are pairs of matched fields that show a related value between fields. These layouts should be used sparingly so as not to overwhelm the user with a wall of text and overwhelming information.
Last modified: 11/1/2022 7:50 PM
Add your comment
Comments are not designed to replace support calls. If you have a specific issue with one of our products, please send an email to
support@infowisesolutions.com
to open a support ticket.