Why should I use Ultimate Forms instead of SharePoint PowerApps Forms
This is a question that I get asked a lot when I'm giving demos of Ultimate Forms. It's a reasonable question to ask – I mean, PowerApps is more or less included in O365, so why would people want to spend extra money to buy an additional tool?
I've actually been spending a lot of time with PowerApps Forms recently, and I can tell you that it has some interesting features. I want to be clear that I'm not speaking of PowerApps in full - that's a much bigger topic, and I'm not enough of a developer to speak about it.
My biggest take-away with SharePoint PowerApps Forms is that making things happen requires a fair amount of effort and skill in programming. This equates to development time, which equates to $$.
A fundamental concept of Ultimate Forms is that it's possible to create complete end-to-end business solutions without code, just by making menu-driven choices. This puts "regular people" in the position of being able to quickly create their own powerful tools. As a "power user," I'm able to do things in Ultimate Forms that are completely beyond my reach in PowerApps Forms.
For instance - Ultimate Forms' form builder tool has a simple interface that allows you to drag and drop fields, containers and more directly onto the canvas.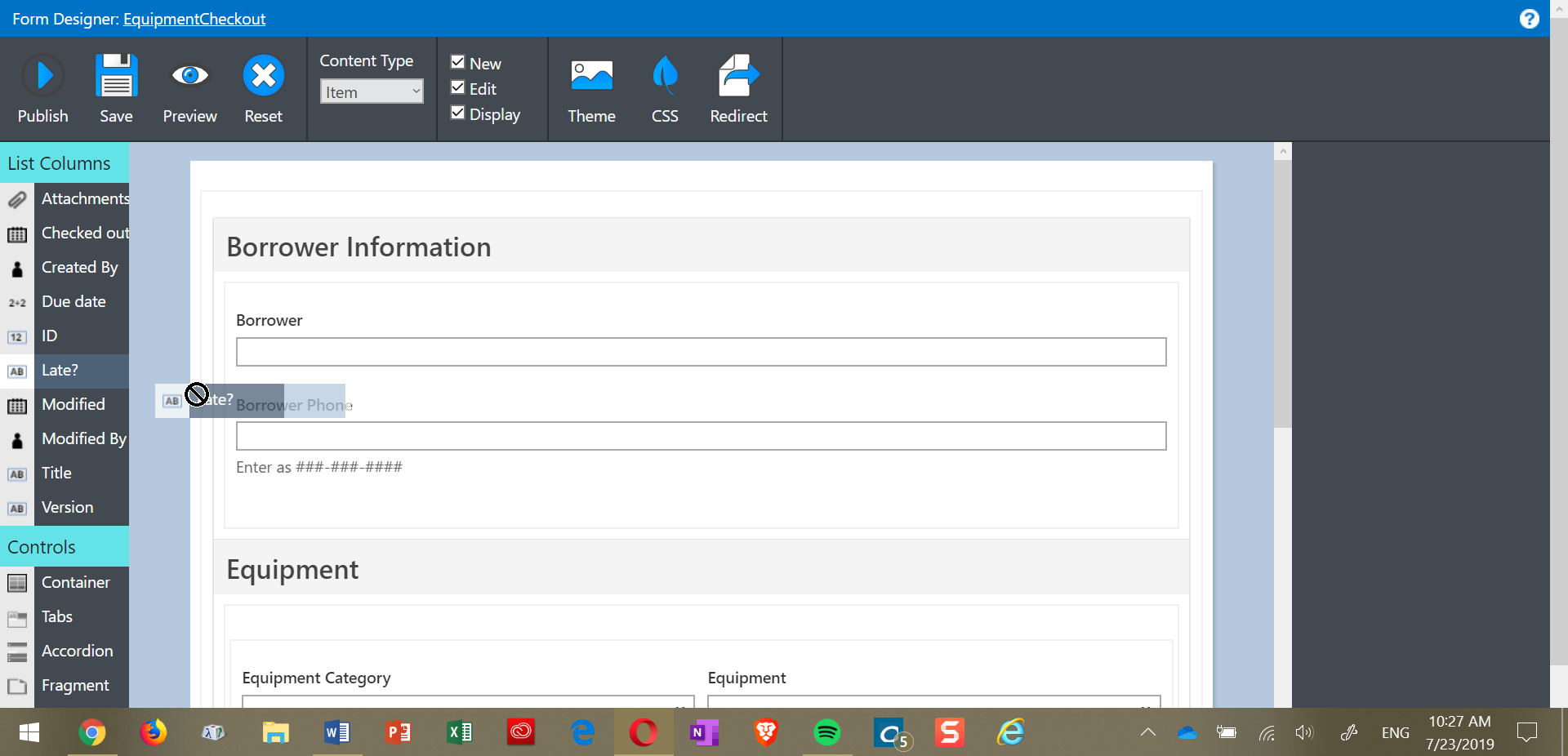 PowerApps Forms will let you add fields, but it's a multi-step process:
The Ultimate Forms tool is much easier to use for formatting look and feel. You can reposition fields by simply dragging and dropping. Changing colors and fonts is a user-friendly menu of choices.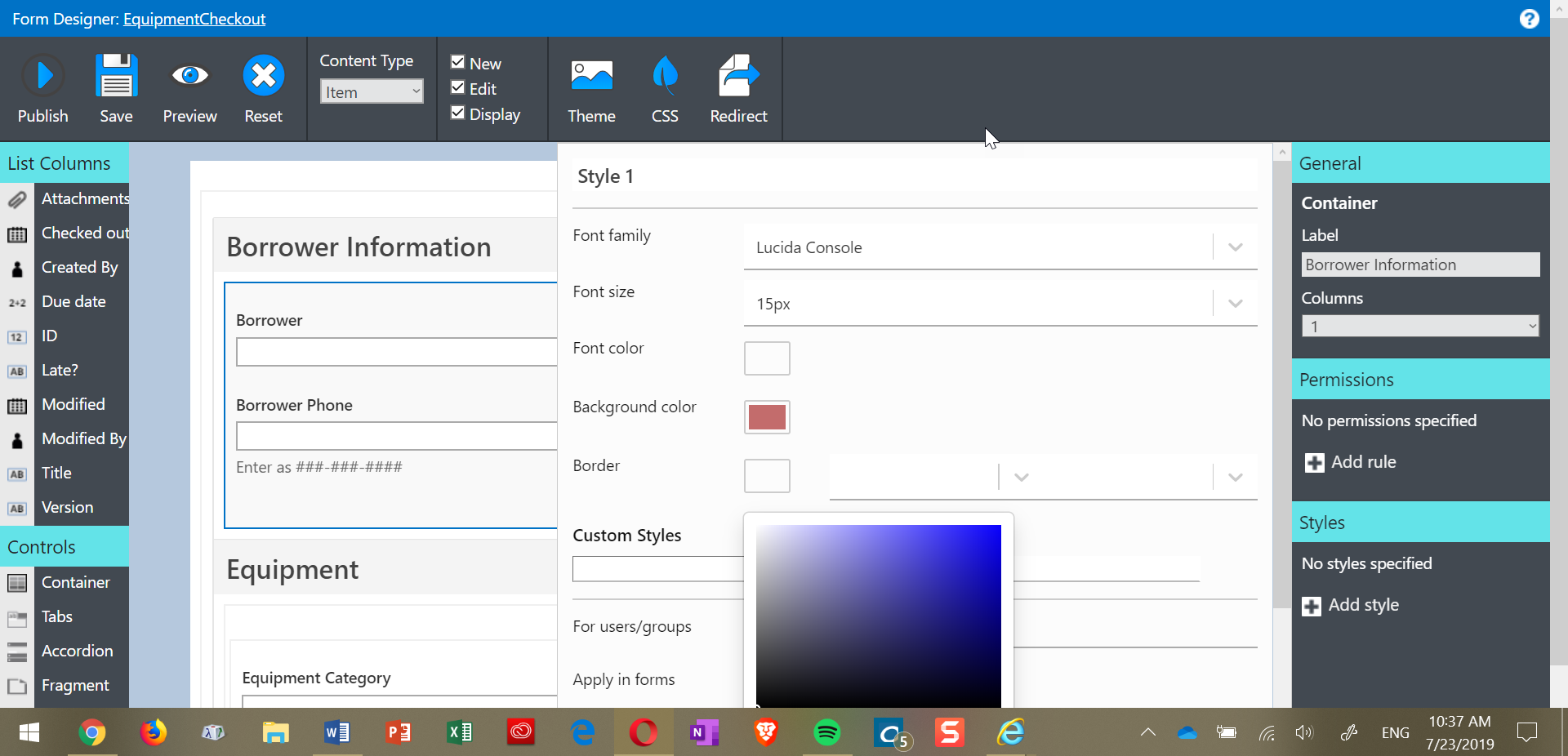 PowerApps Forms is sort of similar – but the interface is a little different for each kind of element, which can make it hard to figure out individual controls. This inconsistency in UI can make PowerApps harder to learn for non-developers.
Another example - in Ultimate Forms, adding tabs to an input form is a simple drag and drop in the Form builder. PowerApps forms requires you to manually build tab buttons, and then program them for different active, inactive, and hover states. If you're looking to get up and running quickly, Ultimate Forms provides a clear advantage.
One more example – cascading drop-down lists. In Ultimate forms, this takes seconds to set up, using the Connected Lookup feature – once you have it set up in your list, you can drop your lookup boxes onto the form.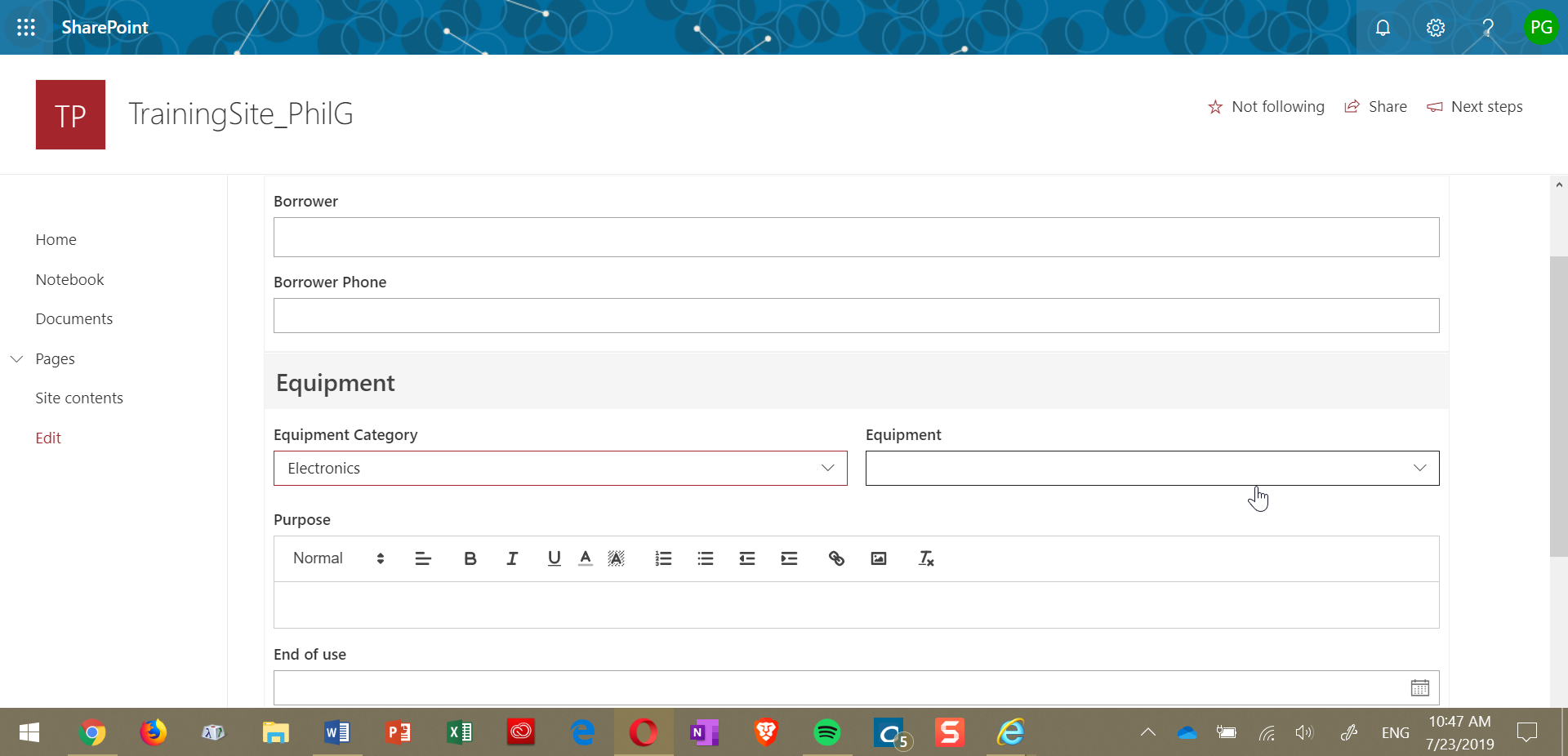 In PowerApps forms, this is theoretically possible, but I was never able to successfully figure out the programming to make it happen, even after doing a lot of research online. You can choose to see this as an example of my lack of programming skills, but seriously – I spent too much time trying to make it work.
Both PowerApps Forms and Ultimate Forms can implement things like column validation and conditional formatting, but once again the methods of doing so are very different. PowerApps forms takes coding; Ultimate Forms only needs users to make choices from menus, with all the code being done for them in the background.
In no way would I argue that PowerApps doesn't present some very interesting possibilities. In the context of SharePoint, I think it's probably the most useful when you've got a mobile-heavy user base - creating a mobile app that allows users to input information to a SharePoint list via their phone or tablet is a good example of where PowerApps shows strong possibilities. But in my opinion, SharePoint PowerApps Forms has the feel of a product that is targeted at a highly skilled audience - technical personnel that already has a level of expertise with PowerApps overall, and who have more advanced programming knowledge.
So once again, if you're looking to save time, or looking to reduce costs by giving workable tools to non-developers, Ultimate Forms will provide you with features and capabilities that you won't be able to get as easily in PowerApps Forms.
Add your comment
Comments are not designed to replace support calls. If you have a specific issue with one of our products, please send an email to
support@infowisesolutions.com
to open a support ticket.
Ultimate

Forms
Build powerful business applications in SharePoint using only your browser.

100% No-Code Solution
It's never been easier, to create, innovate and share, all you need is your web browser!

Cost-effective
Address business process pain points immediately. Save time and money.

Fantastic Support Team
Facing difficulties installing the application? Contact our fantastic support team.
Related Topics