Instantly turn your SharePoint lists into full-fledged applications using tab and column permissions, Wizard mode, custom input validation, view permissions and much more.
Your SharePoint is already an almost perfect platform for running most business applications you will ever need. Ultimate

Forms

: Forms, formerly Smart List Pro, a component of Ultimate

Forms

helps you fill the remaining gaps to make it truly great!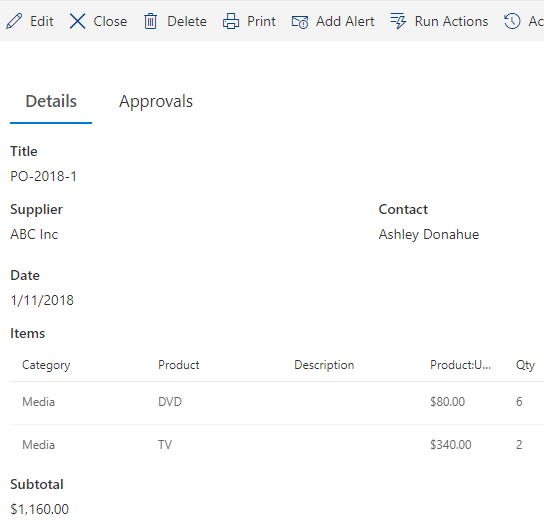 Design your SharePoint form using tabbed interface, apply permissions to tabs and use them as stages of your business process
Or set permissions for individual columns, according to conditions and current user identity
Set permissions on list views, set different default views for different users
Optionally apply column/tab permissions on the fly when changing values of other columns on the form
Advanced input validation rules, applied according to conditions and current user identity
Set initial column values for new items, even set different values for different users
Notify about progress with Alerts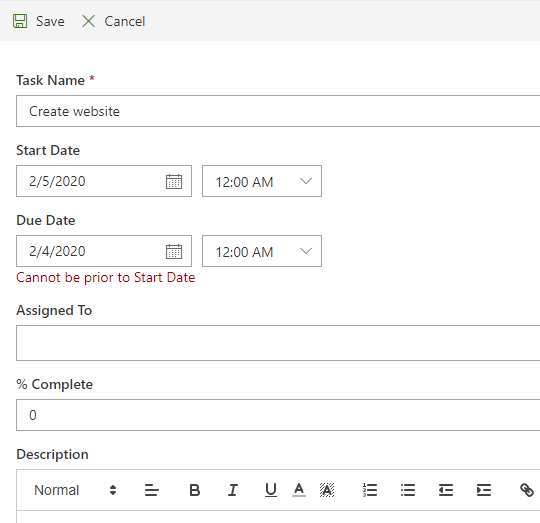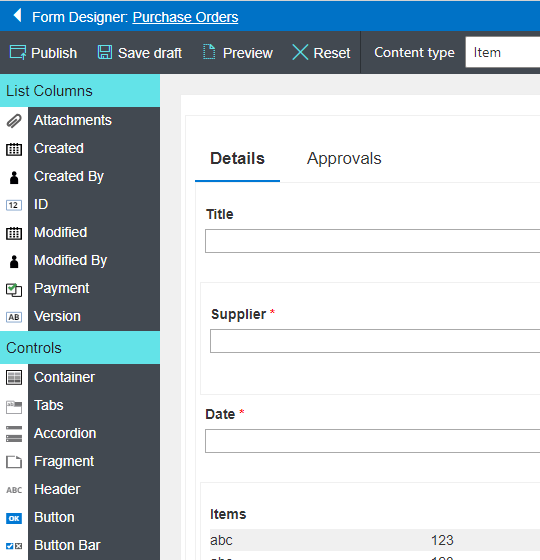 No tools required, configuration done directly in list settings
No need for coding, no drag'n'drop and no design surfaces
Changes to the form are applied as you save, no need to deploy
The original list form is always used, it is not modified or replaced by any custom form
Your settings are always preserved when you use site or list templates
For walkthrough on configuring a sample business process, read our
blog post

Why choose Ultimate

Forms

: Forms?
SharePoint is the #1 tool for electronic forms, but it has its limitations. Smart List Pro provides capabilities previously only available in InfoPath or custom solutions.
Seamless integration with SharePoint empowers every user to create advanced forms using nothing but a web browser.
Maintain your Smart List Pro settings when backing, restoring, exporting or saving your lists as templates.
Need to be notified when it's your turn to update an item? Check out Ultimate

Forms

: Alerts and see how it integrates with tab permissions to help you build full-featured systems!
Forms creation is real simple and goes hand in hand with the built-in capabilities of SharePoint. UltimateForms: Forms extends SharePoint lists with a multitude of new cool features: tabbed views with permissions, advanced column permissions, view permissions, default values, advanced field validation and more, completely covering the needs of over 80% of all forms you will ever need.
Ultimate

Forms

: Forms
is very simple to use, so forms are easy to create, maintain and use for users with basic SharePoint skills.
Create complex workflow using simple list items, turning on and off visibility of columns according to the workflow status
Break down complex metadata forms into topics
Store sensitive metadata with the item and hide it from unauthorized users
Save time on data entry with smart default values
Blog
Features
| Feature | Image | Our Product | SharePoint Native |
| --- | --- | --- | --- |
| Show columns in tabs | | | |
| Theming support for Tabs | | | |
| Show columns in groups | | | |
| Assign permissions to tabs/groups | | | |
| Specify default tab for every user | | | |
| Dynamically set column values based on conditions and other columns | | | |
| Columns hidden or read-only based on current user identity | | | |
| Columns hidden or read-only based on columns values | | | |
| Columns hidden or read-only based on current form type | | | |
| Attachments permissions based on current user identity | | | |
| Dynamically applied column/tab permissions | | | |
| Default values for any column | | | |
| Set default values via query string parameters | | | |
| Customize form layout without SharePoint Designer or InfoPath | | | |
| Permissions on list views | | | |
| Create business processes and multi-stage input forms using SharePoint alone | | | |
| Seamlessly package list settings within site and list templates | | | |
| Multiple look and feel Themes | | | |
| Wizard-driven multi-step form filling | | | |
| Add descriptions to tabs and groups | | | |
| Mobile tabs for users on the go | | | |
| Works with Smart Alert Pro to send notifications when tab permission conditions apply | | | |
| Localized into English, French, German, Swedish, Russian, Persian, Czech and Spanish | | | |
Note: unless specifically stated otherwise, all products require only SharePoint 2013 and up. Except for SharePoint Online apps, all of our products must be installed as farm solutions.
Some apps can be used both on Microsoft 365 and on premises, but most will not work on premises. App support must be enabled on your on-premises farm. You can install app both from the Office Store and by downloading the .app file from our website, in some cases the latter option provides more functionality, but also requires your consent to a higher level of permissions.
Version
Release Date
Changes
2.1.24
24-Nov-2020

Added: support for modern form dialogs
Added: localization of modern form elements
Added: typing to autocomplete with preloaded options in Connected lookup
Fixed: showing lookup additional fields in modern forms
Fixed: date difference functions rounding result values
Fixed: renaming file in modern forms
Fixed: adding Associated documents with target folder
Fixed: default tab selection in classic forms
Fixed: Right function in classic forms
Fixed: Associated item summaries calculation in modern
Fixed: locale and Time zone in date functions
Fixed: handling deleted columns in settings pages

2.1.23
16-Oct-2020

Fixed: Form designer error in SharePoint 2019

2.1.22
15-Sep-2020

Added: Lookup popup preview in modern display forms
Fixed: adding attachments in new form
Fixed: Lookup and Connected Lookup controls appearance
Fixed: GetValue and Lookup functions in classic forms
Fixed: keeping selection of newly added Connected lookup value, when switching tabs
Fixed: error in Associated items field, when there are too many visible child items
Fixed: setting Person value from Default param rule
Fixed: Connected lookup with Preload all values

2.1.21
02-Sep-2020

Fixed: error in Design settings page

2.1.20
27-Aug-2020

Fixed: Validation rules based on default values
Fixed: Date value parsing in modern forms

2.1.19
23-Aug-2020

Fixed: Signature validation in read-only mode
Fixed: modern forms navigation in mobile browsers

2.1.18
18-Aug-2020

Added: Modern forms export-import
Fixed: form redirect on Save
Fixed: error while trying to Delete Associated item from parent modern form
Fixed: negative numbers input in modern forms
Fixed: Next button in wizard mode in Forms with server rendering
Fixed: backward compatibility issue in Signature validation
Fixed: error in settings pages of a list that contains Connected lookup with no parent field

2.1.17
13-Aug-2020

Fixed: Signature behavior in modern forms
Fixed: Signature dynamic behavior in classic forms
Fixed: showing multiple lines of text versions
$
41.62
per server per month, includes support
No Credit Card. No Obligation.

We offer special discounts to non-profits, educational or government organizations