Office 365 as an HR Management System
"There is no "I" in Team - Teamwork the MS way."
In the past, having multiple applications on various platforms to communicate effectively to my teams became a tedious challenge due to many variables. With Microsoft Teams, we have realized the benefits of a converged communications platform as we see our client service levels on an all-time high as well as our bottom line showing positive growth due to enhanced productivity and efficiency from our teams. This product is definitely away into the future for converged communications and shared cloud workspace solutions.
KREASAN M. – Business Development
------------------------------------
Nowadays, because of the growing competition, businesses need to opt-out for cost-effective solutions to maximize growth and maintain or improve their rank in the market. Office 365 is one of the most cost-effective solutions that work seamlessly to provide various HR services, including recruiting and onboarding, performance management, employee engagement, leave management, employee administration, etc. You can subscribe to Office 365 for a monthly fee and even add Dynamics 365 in your subscription to further enhance the functionality of Office 365.
Here is an overview of some of the useful Office 365 applications that can aid in HR management.
MS Teams
Employee onboarding, recruitment, and leave management are essential activities for the HR department; they require a lot of coordination, parallel operations, and timely execution. There are two sets of people that the HR department has to work with for employee onboarding and recruitment, the new hire themselves, and the internal departments that contribute to the onboarding activities. Emails are used to coordinate with others; too many emails can flood the inbox and mix-up the topics, leading to delayed responses, which can cause inefficiency.
Office 365's Microsoft Teams app effectively resolves this issue; it allows the HR department to correspond with others without using emails.
The HR department can create the onboarding and recruitment team in Office 365 by adding the point of contact from each department as members. Working with MS Teams is simple; post what you want to communicate as a conversation, and all the team members will receive a notification about it. Only the team members can see and respond to the conversation similar to personal chat apps like WhatsApp and Messenger. Compliance and archival allow new Team members to view past discussions and back-up everything on OneDrive. MS team provides a built-in shared files folder where you can upload files, and every team member will be able to see it. The planner tab in the Teams app allows you to create a shared task list inside the Teams app in Office 365, and you can also set a deadline and assign the task to the responsible authority. The tasks can be categorized in buckets(departments); everyone can view the progress report of the functions.
Yammer
Yammer in Office 365 allows the HR department to communicate with the new hires in real-time regarding onboarding schedules, venues, and logistics. Yammer is a social network that enables you to create a group and add new hires, where you can post the details. New hires will be able to see the posts and like, comment, and share them. New hires can post questions or share learnings with each other.
Sway
Another useful tool that makes Office 365 a remarkable solution for onboarding is Sway. It allows you to create professional webpages where you can post the onboarding schedule, without the need of an IT specialist. You just have to add content (pictures, text, and links), and Sway will manage the formatting automatically for you. Office 365's Sway not only creates the webpage; it also publishes it, and if you are not satisfied with the design, you can change it by using the Remix! Button. You can create a shareable link or a QR code to share your webpage with others.
Skype for Business
Skype for business is another excellent tool for effective communication; it allows the CEO or the department head to give a welcome address to the new hires even if they aren't in the same location. The Q&A feature on Skype for business allows the new hires to post questions and get answers. The hiring manager can conduct video interviews using Skype for Business.
Forms
To monitor the quality of onboarding training programs, the HR department requires to get feedback from the new hires. Forms in Office 365 allows you to add a question and create the forms online. HR management can share the link with the new hires, post it on Yammer, or generate a QR code at the end of the presentation to capture real-time feedback. Participants can fill the form using any browser on their mobile device, and the trainer/HR management will be able to see the data and analytics in real-time. The HR team can also create quizzes to test the knowledge of candidates or to test what experience did the employees gained from the training. HRM can create a poll as well that can help select favourable options regarding different decisions.
Power BI
Power BI is an analytics service that is based on the cloud, enabling the HR team to visualize and analyze data with higher speed, understanding, and efficiency. The Get & Transform option allows the HR management to import data from multiple systems and turn it into interactive dashboards by using formatting, graphs, charts. MyAnalytics will enable employees to learn about their productivity; only employees can see their data in this feature. Workplace Analytics, on the other hand, is used to evaluate team productivity, it pulls the information from MyAnalytics while keeping the individual's information private.
Conclusion
These are just some of the commonly used apps for HR management; there are many other apps in Office 365. When integrated with dynamics 365, Office 365 becomes a high performing HRMS. You can subscribe for a monthly fee of $9.99, and if you want, then you can even upgrade your package by choosing apps that are independent of the selected deployment option. It is a valuable tool that can substantially increase the efficiency of your business processes.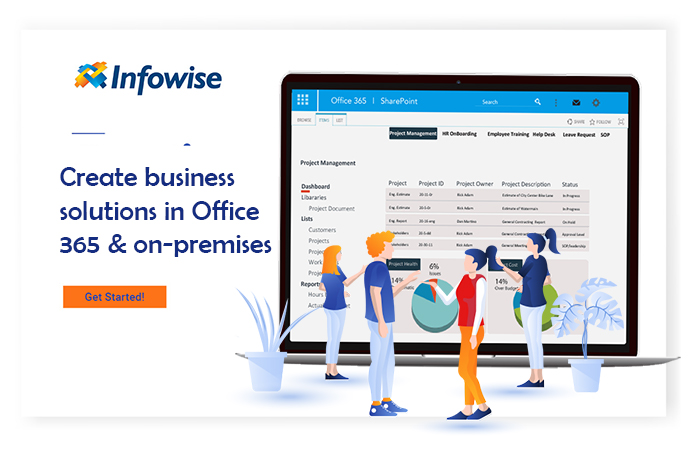 Infowise

At Infowise, we serve as a strategic partner, assisting public and private enterprises in their digital transformation endeavours with our scalable, smart, and robust tools, software, and applications. Our product Infowise UltimateForms Power Suite contains more than 15 standalone SharePoint applications developed to give you the power to innovate, automate, and scale up your processes. Our products have been designed for optimum interoperability and seamless integration within SharePoint. Altogether, they constitute the structural foundation for digitization and facilitate your transition to digital transformation.
Click here to download Infowise ULTIMATEforms 30-days free trial. Simple process. After you've installed Infowise UF, go ahead and create an unlimited number of Business Process Applications. Or even better, do you want to start with a ready template? Great, click here and download the ready-to-use template from our vast business process solution library, re-purpose to service your needs.
Add your comment
Comments are not designed to replace support calls. If you have a specific issue with one of our products, please send an email to
support@infowisesolutions.com
to open a support ticket.
Build powerful business applications in SharePoint using only your browser.
100% No-Code Solution
It's never been easier, to create, innovate and share, all you need is your web browser!
Cost-effective
Address business process pain points immediately. Save time and money.
Fantastic Support Team
Facing difficulties installing the application? Contact our fantastic support team.
Related Topics