Tutorial
Triggering an email alert at deadline
Now that our tool is aware when a date goes past deadline, the next step is to trigger an action at the time this occurs. In this exercise, we'll set up an email alert to occur when a deadline has passed.
Instructions
Go to the List Tab in the ribbon toolbar then click on the Add Alert button.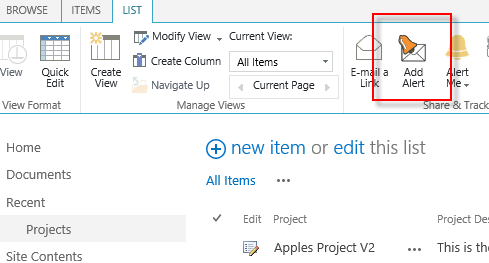 NOTE: If you are viewing the list in the Modern experience, click the Add Alert link in the list menu bar. All other steps remain the same as described.

Create a new alert using the current list.
Use only the date condition so that alert is sent once each day when conditions are met.
Trigger the rule to occur once daily up to 100 times folling the record created date.
Use conditions to control the email alert so that it is sent only when conditions are met.
Make sure the Status is not set to complete.
Send only when the date difference is >= 0 (meaning the project is overdue).
The
Mail Templates
section format has changed since this video was recorded. Now the section has drop-downs to match templates to send-cases. The visual editor is accessible through a link
Add or update mail template
.
The
Mail Templates
section should match the below screenshot.

Note that you will have to first create the
Project Deadline Passed
template before it will appear in the dropdown. The settings for the template are shown below. Be sure to click
OK
to save the template!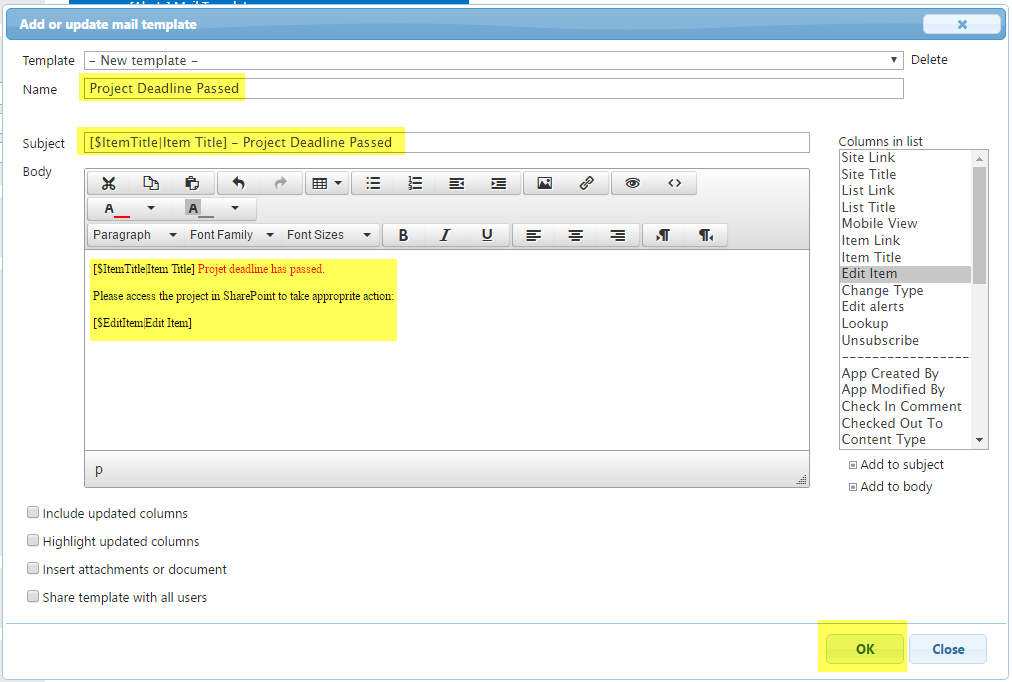 Summary
It's nice to see KPI indicators based on date differences and to allow users to get a quick indication of overall status. The true value of date analysis become more powerful once we begin to use the information to trigger actions in the tool. Sending an email alert is the most logical step, but we may also like to trigger other workflow to escalate the project and be sure that users take appropriate steps. A common complaint among business users is that dates are missed and projects fall through the cracks. Infowise functionality gives you the ability to draw attention to the problem and prompt important users to take action.
Last modified: 9/26/2019 5:00 PM
Add your comment
Comments are not designed to replace support calls. If you have a specific issue with one of our products, please send an email to
support@infowisesolutions.com
to open a support ticket.