Everything You Need To Know About Microsoft 365 Education
Everything You Need To Know About Office 365 Education
As educators, public health officials, and community leaders across the globe contemplate their next move due to the COVID-19 outbreak, it is evident that remote learning will be an essential part to any successful reopening strategy. Among such solutions, Office 365 Education is perhaps the best one as it has all the tools that students and educators require to transition into a virtual classroom.
Office 365 for Education Plans
There are three plans of Office 365 Education; Office 365 A1, Office 365 A3, and Office 365 A5. The A1 plan is the most basic one, and students and teachers can use it for free. If the teachers and students require additional features, then they can subscribe to the A3 and A5 plans available for $3.5 and $8.0 user/ per month, respectively. If you need the basic Office apps and services, then the Office 365 Education A1 plan will be enough for you, but remember that 4 out of 5 Office 365 applications in the A1 plan are online only.
To sign up for Office 365 Education, all you need is your school email address. Once students and educators sign up for the A1 plan, they can access all Microsoft core collaboration and productivity tools via the cloud. They can enable cross-platform collaboration for remote learning and remote teaching using email, group collaboration, and chat tools included in the plan. Both teachers and students can access the tools and their data from any device as everything is stored on the Cloud, OneDrive, except Publisher.
As mentioned earlier, the A1 plan is the most basic and free plan of Office 365 Education, and the core apps included in the plan are available for use in their online-only form; only OneNote is available on the desktop version.
Not only an unlimited number of teachers and students can join on the Office 365 for Education A1 plan, but it also provides Professional Learning Community (PLC) groups, Class and Staff notebooks, eDiscovery center for compliance solutions, data loss prevention, rights management, and encryption.
Office 365 Education Apps
The A1, A3, and A5 plan of Office 365 for education offers the following apps and services.
A1
Word
Excel
PowerPoint
Outlook
OneNote
SharePoint
Exchange
Teams
Forms
School Data Sync
OneDrive
Stream
Sway
Power Apps
Flow
Yammer
A3
All the apps and services included in the A1 plan +
Publisher
Access
Bookings
A5
All the apps and services included in the A3 plan +
These are only the apps and services that these plans offer; each plan has its unique features which you can review here.
Outlook
Microsoft's organizational and business email, Outlook, is the equivalent of Gmail and works as your ID for all Office 365 Education apps and services. Teachers and students can sign-up for the Outlook Web Access for free, and with the A1 plan of Office 365 Education, they get a 50 GB inbox limit and unlimited email storage with legal hold and In-place archiving.
Students and educators that already have an Outlook account can connect it with the OWA to use it for Office 365 Education.
Word
Word is Microsoft's flagship desktop publishing and word processing application. Teachers and students on the A1 plan can use the web version for free and enable instant and simultaneous collaboration on their word files.
Excel
Teachers and students can use Excel to create spreadsheets and visualizations; they can also collaborate using the software and get AI-based insights. The A1 plan of Office 365 Education only provides the web version.
PowerPoint
Students and educators can use the web version of PowerPoint by subscribing to the A1 plan. The application provides a library of templates and graphics and allows them to create, edit, and collaborate on slideshows and presentations with cinematic motions, animations, and 3D models.
OneNote
Teachers and students can gain access to the desktop version of OneNote by subscribing to the A1 plan of Office 365 for Education. This note-taking app by Microsoft allows users to hand draw and annotate with a stylus, collaborate, and organize.
SharePoint
SharePoint is a must-have software for remote teaching and remote learning; it allows students and educators to collaborate virtually and seamlessly integrates with a wide range of Office 365 Education apps and services including Word, PowerPoint, Excel, OneNote, OneDrive, and more. If you want to get the most out of this platform, you can easily integrate partner solutions such as ULTIMATEforms.
Teams
The most important software for creating a virtual classroom Teams is a collaboration platform that teachers and students can use for free after subscribing to the A1 plan. Teachers can use it to conduct online classes, share study material, and conduct meetings.
OneDrive
OneDrive is Microsoft's cloud storage tool that allows teachers and students to set a time limit for links, access whiteboard via phone, scan documents, and save results as documents. All the data stored on the app is protected by encryption and loss management, and users of Office 365 for Education get unlimited storage for their data.
Stream
In simpler terms, Stream is Microsoft's YouTube, which teachers and students can use to create, share, and communicate using videos throughout the Office 365 Education ecosystem.
Flow
With Flow, teachers and students can automate repetitive tasks easily in real-time across multiple applications without writing a single line of code.
Sway
Students and teachers can use Sway to create visual and interactive stories; the app provides pre-designed packages and integrates with web and desktop-based applications.
Forms
Teachers can use the form to conduct tests, collect data, create self-marking quizzes, and create questionnaires. They can also integrate it with Excel to generate insights and seamlessly deliver data.
Yammer
Educational institutes can use Yammer as their internal social networking platform. It belongs to the same niche of software like Slack and does the same job as Facebook but with enhanced security and added functionality.
Power Apps
Power Apps allows teachers and students to create customized apps according to their needs without writing a single line of code.
School Data Sync
Included in the A1 plan of Office 365 Education, School Data Sync is a handy app that connects to your school's Student Information System to read and integrate important information such as the school and roster data.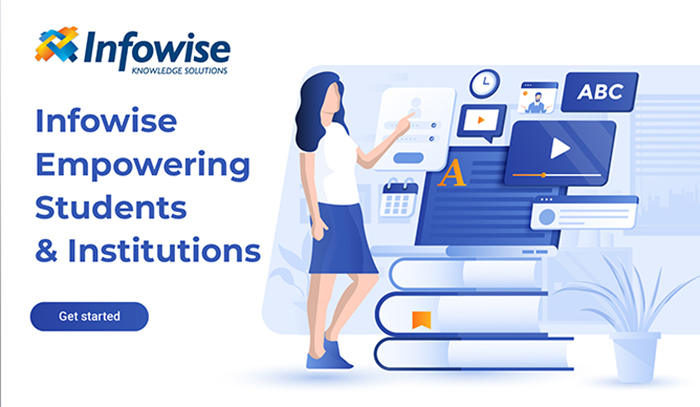 Infowise
Here at Infowise Solutions, our client list includes some of the world's best-known higher educational institutes, which is in addition to many school boards in North America, Europe, Australia, the Middle East and Africa. Our products that are used by the educational institutes are a cross-section of what we offer; workflow automation, process automation, advanced dynamic forms and document management and filing. We have helped thousands of schools and research facilities across the globe in leveraging the power of their Office 365 platform, to its fullest potential to quickly build a wide variety of modern solutions, tailor-made to meet their operational requirements. Through our implementation partners, we have been part of the digitization process for many universities and research organizations. Whether your preference is Microsoft 365 or On-premise our partners will assist and guide you on how best you can get your educational institution on the road onto a successful digitization process.
Add your comment
Comments are not designed to replace support calls. If you have a specific issue with one of our products, please send an email to
support@infowisesolutions.com
to open a support ticket.
Ultimate

Forms
Build powerful business applications in SharePoint using only your browser.
100% No-Code Solution
It's never been easier, to create, innovate and share, all you need is your web browser!
Cost-effective
Address business process pain points immediately. Save time and money.
Fantastic Support Team
Facing difficulties installing the application? Contact our fantastic support team.
Related Topics