Learning Management System In SharePoint
A training plan and an efficient way to track training is the need of every organization that invests in their employee success. To effectively do that, you need a learning management system or LMS. Pre-made learning management can be effective for this; however, it may lack certain areas, including customizability. SharePoint, on the other hand, allows organizations to create a highly customized learning management system that acts as a central hub and provides the following features;
Create and Manage Training Content
SharePoint seamlessly integrates with Office 365 apps and productivity tools. So when you use it as a learning management system, you can easily create training content and lessons that include audio, image, or video right within SharePoint. SharePoint as an LMS also allows you to create libraries that include links to multimedia files and text documents. Meaning that you can even add content from other websites like YouTube or Google Scholar to improve your lessons and training materials. Trainers and teachers can also create and store bite-sized micro-learning modules like blogs, daily tips, job aids, podcasts, videos, etc. This allows trainees and students to refresh their knowledge once the training ends.
Aside from allowing users to create training content that includes rich media, a SharePoint-based learning management system provides centralized storage where you can store the training material. You can link metadata to the content and leverage the powerful search feature to find the required content using keywords. Users can customize the basic list view in SharePoint. They can filter content, change the order, hide or show particular columns; this further helps them easily find the content they need. In a SharePoint LMS, teachers and trainers can also restrict access to teaching aids and test answers and prevent the students or trainees from viewing and modifying them.
Manage Trainees and Trainers
By using a SharePoint based learning management system, you can allow trainees to enroll automatically into a course according to their knowledge assessment and skills. According to their organizational unit, you can also assign training courses to employees, connect a discussion to a specific course, and enable automatic adjustment of training needs according to team changes, promotions, and transfers. SharePoint also offers several options to enhance file exchange and the interaction between users, including blogs, group sites, forums, discussion boards, wikis, chats, etc. As mentioned earlier, SharePoint also allows trainers to set up permissions regarding the content trainees can view, edit, and share.
Make a Course Calendar
The out-of-the-box SharePoint allows trainers and teachers to set up a calendar to schedule training and other relevant events, including exams, tests, and assignment deadlines. Trainers and trainees can also sync SharePoint with their Outlook to access the events market on the native Outlook calendar. They can also drag and drop events and reminders into the SharePoint calendar from the Outlook calendar and vice versa. Color coding allows users to differentiate between events from different calendars. The overlay feature of SharePoint allows trainers to combine their calendar with a group of trainees. This feature is beneficial as it allows trainees to see other events and courses and schedule and attend training accordingly. The overlay function is also effective for integrating the Exchange calendar on top of the SharePoint calendar view.
Automate Notifications
One of the best features of a SharePoint learning management system is that it allows users to set up automatic notifications. The notifications are sent via text messages or emails. They are triggered by changes in the e-learning content or events like finishing a topic, failing or passing a test, or enrolling in a course. SharePoint also allows users to preschedule notifications for deadlines, training, meetings, exams, etc.
Enable Assessment
With a learning management system based on SharePoint, teachers and trainers can assess the knowledge of students and trainees through simple tests. Using the list functionality, you can create yes or no or multiple-choice questions, score the training results, and designate either a pass or fail grade. You can even build dashboards according to the test results with just a single click.
Enable External and Remote Training
In a SharePoint learning management system, training coordinators can create a workflow that automatically enrolls employees into external training. Using SharePoint Online, trainees can take part in training regardless of their location. They can access and download training materials from their mobile devices and enjoy the same benefits as they would on a desktop system. The co-authoring feature of SharePoint allows users to collaborate on the same document and make changes simultaneously; those changes are reflected in the document in real-time. Once the training is complete, managers can create surveys to test employee knowledge and get employee feedback.
Gamification, Certification, and Competency Management
Trainers and teachers can grant badges and achievement points for things like passing an exam, completing a course, mastering a new skill, and generate leaderboards with employee scores. This gamification feature goes well with the social side of corporate life and can complement the company's recognition and reward policy.
In a SharePoint LMS, trainers can automatically add certification tests to an employee to-do list using the workflows. Once the employee passes the test, they can add an e-certificate to the employee's profile. Trainers and teachers can easily catalog, search, and manage the skill sets of individual employees in a SharePoint based learning management system. Managers can build a database with employee skills and competencies and anticipate HR needs and efficiently manage recruitment by enabling search.
Feedback, Analytics & Reporting
Trainees can assess the materials of finished courses in a SharePoint learning management system. They can provide feedback in real-time on the learning materials by implementing tags and ratings. The courses with the highest rating appear on top of the search results. SharePoint can also help track employees that underwent training, those who finished the courses on time, and more by automatically generating reports. It also allows organizations to track the course registration rate of a particular trainee, their engagement with course materials and content, progress, certifications, competencies, and generate interactive dashboards in real-time using the data.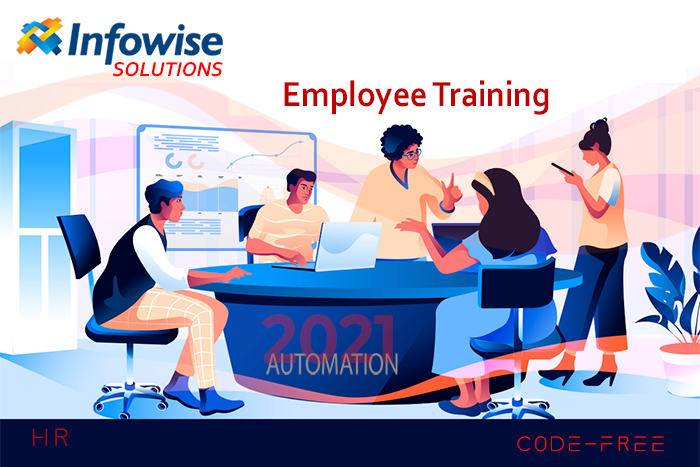 Increase Your LMS' Functionality With Infowise
Infowise designs and provides customized solutions for SharePoint and Office 365, and these solutions can significantly improve your SharePoint experience. You can easily integrate Infowise's solution into your SharePoint-based LMS and unlock features like enhanced forms, process automation, highly customized alerts, task assigning, automated list creations, list conversion and printing, design a shared calendar, and more. It is a no-code solution, which means that you can customize the solution according to your needs without writing a single line of code and all that through your web-browser. The solution is agile and can seamlessly integrate with your current business solutions. You can request a free demo or download a free trial to learn more.
Add your comment
Comments are not designed to replace support calls. If you have a specific issue with one of our products, please send an email to
support@infowisesolutions.com
to open a support ticket.
Ultimate

Forms
Build powerful business applications in SharePoint using only your browser.

100% No-Code Solution
It's never been easier, to create, innovate and share, all you need is your web browser!

Cost-effective
Address business process pain points immediately. Save time and money.

Fantastic Support Team
Facing difficulties installing the application? Contact our fantastic support team.
Related Topics