Celebrating Email Importing
One of the most interesting features of Infowise Ultimate Forms, Enterprise edition, is Smart Import Pro. This feature adds advanced importing capabilities to SharePoint lists and document libraries. Using this tool, we are able to watch email inboxes and automatically Create or Update SharePoint list items. This tool can be used to create robust helpdesks, email based approval systems, or automatic archives.
We now have a new training unit based around email importing! This free, simple step-by-step walkthrough will show you how to setup an email based approval system that you easily setup on your own environment. Below is the example email approval workflow, the training starts at creating a simple list and adds the email alert and email import.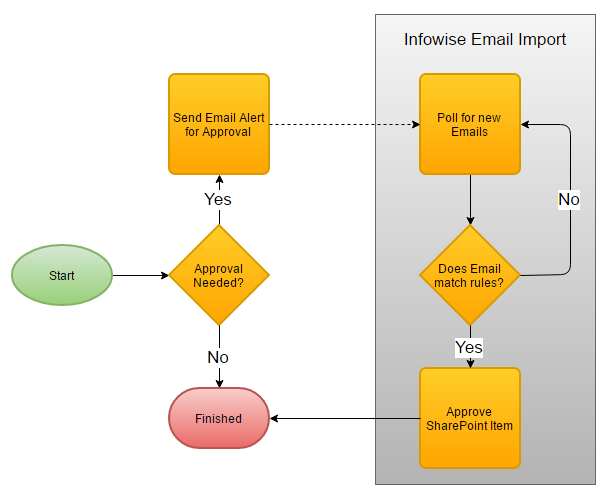 For more examples and information about email importing, please review these additional resources:
Leave us a comment and let us know how you are using email importing on your environment and let us know which training you would like to see next!
Add your comment
Comments are not designed to replace support calls. If you have a specific issue with one of our products, please send an email to
support@infowisesolutions.com
to open a support ticket.
Ultimate

Forms
Build powerful business applications in SharePoint using only your browser.

100% No-Code Solution
It's never been easier, to create, innovate and share, all you need is your web browser!

Cost-effective
Address business process pain points immediately. Save time and money.

Fantastic Support Team
Facing difficulties installing the application? Contact our fantastic support team.
Related Topics