All of our customers are aware of the basic capabilities of Smart Alert Pro in sending alerts based on events in their list or document library, like:
Item Added
Item Modified
Item Deleted
File Checked In / Out - in Document library
But when it comes to timer-based alerts, there is a bit of confusion about their definition and the outcome.
Timer-based alerts are possible to create by choosing the According To Date Column option in What To Send.
At this point we will be able to choose between a timing During a period around the Date column value or a timing with Exact Difference from the Date column value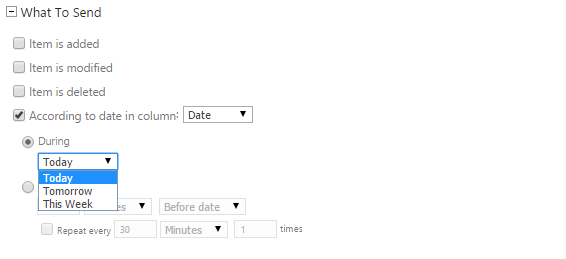 Or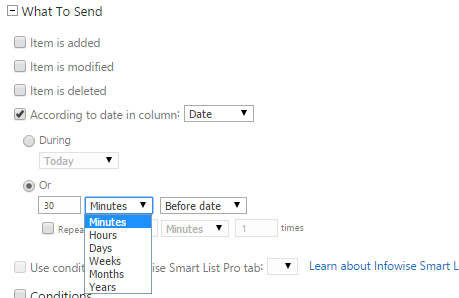 The second option allows us to define a repetition for this alert, after the original has fired.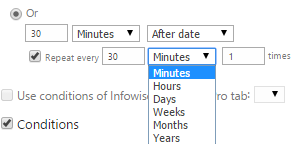 The repetition can be defined every N amount of minutes / hours / days / weeks / months / years for M times.
One common usage for this setting would be to repeat the alert attempt until certain condition is met, for Example: Approval status became Approved. We are able to achieve that by setting the alert to repeat for several times every day and add a condition that will cause the alert to be fired only when Approval Status is Approved.
We might want another alert to continue sending emails every day, until a task is completed. In this case we will define it to repeat daily and add a condition on Task Status column not be equal to Completed.
Alerts According to date in column During - these alerts will be sent exactly once in the selected range of dates around the Date column value.
The ranges are: Today, Tomorrow or This week
Some Examples:
During Today - alert will be sent once during the day of the Date column

Date = 03/09/2015 11:00AM - alert is sent during the hour selected in the Date column
Date = 03/09/2015 - alert will be sent at midnight of the date selected

During Tomorrow - the alert will fire a day before the day in the Date column

During This Week - the alert will be sent on the first day of the week of the Date column value


Alerts According to date in column By Offset - these alerts will be sent on a specific offset from the date/time specified in the selected Date column. Minimum Offset is 30 minutes.

Some Examples:
Date = 03/10/2015, Offset = 1 Days after - the alert will be set on midnight of 03/11/2015
Some Important notes about timer-based alerts:
Alerts will not be sent retroactively on items that already passed the time condition, only on items where the date definition has not happened yet.
When Date column is defined not to show the time part, the time will always be midnight.
Add your comment
Comments are not designed to replace support calls. If you have a specific issue with one of our products, please send an email to
support@infowisesolutions.com
to open a support ticket.
Build powerful business applications in SharePoint using only your browser.
100% No-Code Solution
It's never been easier, to create, innovate and share, all you need is your web browser!
Cost-effective
Address business process pain points immediately. Save time and money.
Fantastic Support Team
Facing difficulties installing the application? Contact our fantastic support team.
Related Topics