The Case for using Microsoft Teams in the Classroom
Microsoft Teams is a powerful communication tool within organizations. It keeps things organized, clean and geared towards collaboration. It keeps teams within organizations tuned into each other and keeps communication channels open. There could be divisions representing teams, sub-teams, departments, and so on. It could be divided into hierarchical levels too. Education has also taken advantage of modern technology and progressed beyond the classroom. A school, in some ways, works very much like an organization. There are hierarchies present in schools as well. From the principal to the students, there's an organizational setup present. If Microsoft Teams is good for businesses, then it's equally as effective for educational institutions too. By understanding how Microsoft Teams can work for businesses first, we can understand how it can be implemented in the classroom.
The virtual organization
Every company and organization has different departments, teams, and units. Each of than individuals within the departments communicates between each other. That also happens on an inter-departmental level too. A communication platform that allows easy access to both kinds of communication would elevate the organizational experience and will enable the workflow processes to happen seamlessly. It has been said that communication is king. The better the communication, the better the employees can work effectively with each other.
These days, organizations have ventured beyond the physical space. Information Technology has allowed remote communication to work effectively and to an extent, it's sometimes better or the same as regular physical communication. Workspaces are not limited to just physical locations like one office, or multiple offices in the same city. There are offices all over the world, and multinational corporations have been around for a long time. The communication between the global offices are now so much better thanks to modern technology. There may no longer need of physical office space because everything is being moved to a virtual space. The virtual office space moves beyond the limitations of a physical office. So, one must ask how can a virtual office space be managed. How can the same level of hierarchy and accountability be applied virtually? How can one know that work is being done? Can there be 24/7 communication without emails and text messages? There was a time when all these questions remained unanswered, or the solutions weren't present at all. Technology may not have progressed to allow such an office space to existing. Thankfully, today's technology has allowed this to happen very quickly. This is where Microsoft Teams comes in.
Simply put, the Teams name isn't just there for marketing purposes, it delivers on that front. It helps organizations achieve productivity globally, nationally, or however, very effectively. There's accountability because everything is documented as well. While there is much competing software available, Microsoft is a name built on trust. Microsoft's excellence in computing and Information technology for over the last few decades is the testimony that any of their products will deliver as promised. That's the same principle Microsoft Teams is built on.
Teamwork 2.0 in the Classroom
Microsoft Teams organizes different school departments into teams. These teams then communicate within channels. One can have separate teams for staff. Various staff members can be provided in different teams too. For example, one Team side could be for teachers, and the other could be for administration. Certain student groups can be divided into teams as well. For example, different student organizations can have their teams with their respective channels. Different academic departments can have their team within Microsoft Teams. These are all examples of different teams that one can have within educational institutions under Microsoft Teams. Every team can use the general channel to post announcements, updates and such that include, for example, new hires, policy updates, and so on. One common department between regular businesses and educational institution in Information Technology. The IT department would manage the entire network infrastructure of the school. There could be a helpdesk channel within that department which would respond to concerns from administration, staff and students.
Professors and instructors can have their channels where they could discuss class notes, class content, assignments and other things. This would allow students and instructors to communicate beyond the classroom. This provides staff and student to constantly stay connected in their departments and groups. Now many times, students would be assigned group projects. Channels can be made for respective group project teams. There can even be teams for parents for students in different classes too. Here, parents can discuss various things and even communicate with school officials, administrators and instructors. There can be teams for school alumnus of various graduating years, and different channels can be created for fundraising and reunions, for example.
Conclusion
Microsoft Teams is as effective for academic and educational institutions as it is for businesses. The way it's designed can keep students, instructors, parents, alumnus, and such connected at all times. Different channels within teams can be set for various purposes. Like organizations, schools have hierarchies so that can be reflected within Microsoft Teams. This way, Microsoft Teams provides ways for effective communications and collaboration between different school departments, students, parents, alumnus, and more.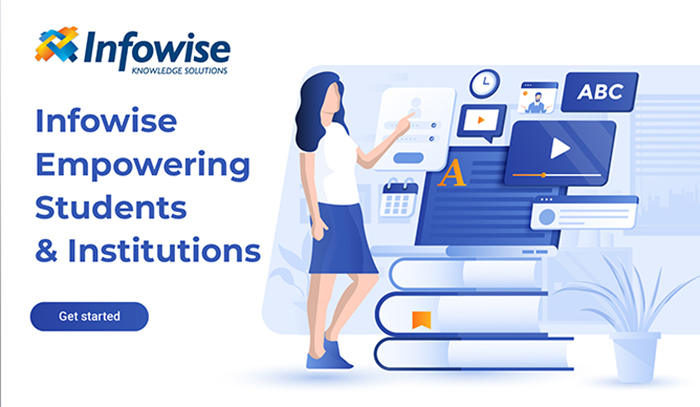 Infowise
Here at Infowise Solutions, our client list includes some of the world's best-known higher educational institutes, that is in addition to many school boards in North America, Europe, Australia, the Middle East and Africa. Our products that are used by the educational institutes are a cross-section of what we offer; Workflow automation, process automation, advanced dynamic forms and document management and filing. We have helped thousands of schools and research facilities across the globe in leveraging the power of their Office 365 platform, to its fullest potential to quickly build a wide variety of modern solutions, tailor-made to meet their operational requirements. Through our implementation partners, we have been part of the digitization process for many universities and research organizations. Whether your preference is Microsoft 365 or On-premise our partners will assist and guide you on how best you can get your educational institution on the road onto a successful digitization process.
Add your comment
Comments are not designed to replace support calls. If you have a specific issue with one of our products, please send an email to
support@infowisesolutions.com
to open a support ticket.
Ultimate

Forms
Build powerful business applications in SharePoint using only your browser.

100% No-Code Solution
It's never been easier, to create, innovate and share, all you need is your web browser!

Cost-effective
Address business process pain points immediately. Save time and money.

Fantastic Support Team
Facing difficulties installing the application? Contact our fantastic support team.
Related Topics