SharePoint Governance Plan
"We can share the folders between our offices in different locations, and each one of us makes their necessary amendments according to their role. It made our process easier and faster."
– Celine K., SharePoint Review.
SharePoint and Office 365 are among the most effective and efficient IT solutions currently available in the market. From private to public sector, everyone can avail of the benefits SharePoint provides. Due to its familiar UX design, SharePoint has a higher user adaption rate. If it lacks behind in any way, you can easily sync site templates to your SharePoint solution and increase its efficiency. You can use it for project management, document management, employee management, and even to create and implement a governance plan. In this article, we'll analyze the SharePoint governance plan.
What is SharePoint Governance
SharePoint governance is a collection of policies describing the procedures, roles, and responsibilities, rules, and regulations in an organization regarding SharePoint user interaction. Regardless of users' roles and responsibilities in the company, their title, or their SharePoint access level, SharePoint governance applies to everyone.
Pitfalls of not having a defined governance strategy
The absence of a defined governance strategy can cause you to lose productivity and make your SharePoint experience inefficient. Fast and easy access to information, easy identification, and use of the content and data are key contributors to the productivity and effectiveness of an organization. The effectiveness of an organization can be significantly lowered without properly designed and regulated information architecture.
Without a bulletproof SharePoint governance plan, organizations can face the following issues.
Difficulty in searching and comparing related content due to inconsistent use of metadata.
Increased numbers of duplicate versions of the same documents caused by a poorly managed and designed content storage. This prevents users from identifying the most updated version of the document.
Difficulty finding work critical information and sites due to a bad site navigation design.
Reduction in the ability of users to access the required information caused by the poor presentation of the information.
Benefits of a governance plan
The governance committee can avail of the following benefits by implementing a SharePoint governance plan.
Risk Management
Risk management enabled by a governance plan ensures that federal IT managers and leaders are informed about the risks associated with the IT projects and provide the framework for implementing measures to reduce risk.
Accountability
An effective governance plan enables accountability and transparency since everyone's role is predefined. This allows federal managers to enforce responsibilities related to the management of various IT programs.
Enforcement and Execution
A SharePoint governance plan provides the basis for the management of all IT projects and requirements to federal managers, via a central point where they are highlighted and addressed. This allows for the standardization of IT solutions and lets managers make educated decisions about IT programs.
Resource Management
Proper management of essential resources enables users to have leverage over the programs in terms of preparation and organizing. This gives federal managers the opportunity to ensure that the necessary resources for current and future IT projects are adequately available.
Decision Making
A SharePoint governance plan allows the leadership to consistently contribute to enhancing the control and efficiently manage the agency's IT operations.
Alignment and responsiveness
Governance and IT portfolio management works closely to match IT assets with the department's goals, enabling federal managers to improve problem responsiveness, monitor, and manage current and future IT projects. This enables transparency for IT investments of the agency and guarantees that taxpayer money is used according to the goal of the agency.
Why use SharePoint for creating a governance plan
An effective governance program is a must-have resource for government and private organizations as the pressure for compliance is increasing day by day as a result of frequently emerging and changing regulations. By creating a governance program in a SharePoint environment, organizations can ensure compliance while increasing the efficiency of their process. We recommend SharePoint because of the following reasons.
Plan creation, distribution, and retrieval
With SharePoint, you can create, circulate, and publish plans and policies covering various types of content, including audio, video, and images. These are the few features you can use for the creation, distribution, and retrieval of plans and policies.
Co-authoring
Users can collaborate and co-author the governance plan in real-time; this feature makes the plan creation process more efficient.
Search
SharePoint's state-of-the-art search feature makes it easier for users to find the required plan by using titles, keywords, and even a small part of the content.
Templates
In SharePoint, federal managers can create and store templates to re-use when making or updating the governance plan. Federal managers can also download and implement out-of-the-box SharePoint templates.
Workflows
Thanks to SharePoint's automated workflows, federal managers can automatically route new governance plans to all stakeholders.
Secure Storage
SharePoint enables federal managers to store governance plans in a central location and effectively manage them, with the help of the following features.
Audit trail
SharePoint allows federal managers to easily track who has access to the policies and who has made changes in it.
Permission-based access
Federal managers can assign permissions regarding the creation, access, or modification of the governance plan.
Version control
This feature of SharePoint allows federal managers to track policy versions and easy restoration of an accidentally deleted or overwritten document.
Tracking and Evaluation
SharePoint helps federal managers in the management of governance plans with the help of the following features.
Notifications and alerts
Federal managers can automate notifications and alerts with the help of SharePoint. For example, they can set-up their SharePoint solution to automatically notify the relevant authorities when a governance plan needs renewal.
Real-time dashboards
In SharePoint, users can generate dashboards in real-time for the dates of creation, the status of approval, and much more.
Assessment
You can create surveys and quizzes to test user compliance and knowledge regarding the governance plan.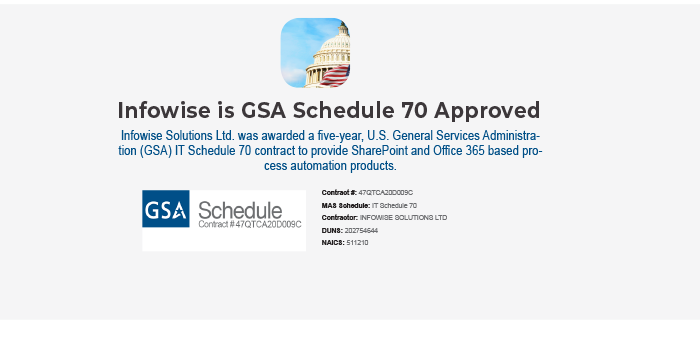 Infowise

At Infowise, we serve as a strategic partner, assisting public and private enterprises in their digital transformation endeavours with our scalable, smart, and robust tools, software, and applications. Our product Infowise UltimateForms Power Suite contains more than 15 standalone SharePoint applications developed to give you the power to innovate, automate, and scale up your processes. Ultimate Forms helps you create amazing, advanced business solutions based on your SharePoint list and document libraries, using nothing but your browser! Anything from simple Vacation Request or Expense Report and all the way to complex Help Desk or Project Management solutions can be built in minutes, without writing a single line of code.

Click here to download Infowise ULTIMATEforms 30-days free trial. Simple process. After you've installed Infowise UF, go ahead and create an unlimited number of Business Process Applications. Or even better, do you want to start with a ready template? Great, click here and download the ready-to-use template from our vast business process solution library, re-purpose to service your needs
Add your comment
Comments are not designed to replace support calls. If you have a specific issue with one of our products, please send an email to
support@infowisesolutions.com
to open a support ticket.
Ultimate

Forms
Build powerful business applications in SharePoint using only your browser.

100% No-Code Solution
It's never been easier, to create, innovate and share, all you need is your web browser!

Cost-effective
Address business process pain points immediately. Save time and money.

Fantastic Support Team
Facing difficulties installing the application? Contact our fantastic support team.
Related Topics