Run actions from ribbons and context menus
Hello,
We are pleased to announced that a new feature has been added to Smart Action Pro. Until now you were able to run actions in response to events (such as item being updated), based on timer (such as one year after item being created) or by clicking on an execution column. Now, you can also do it by using context menus and ribbons.
When you set your action to be viewed as a column (under Advanced settings), a new execution column is added to your list. Clicking this column executes the action. But sometimes you do not wish to display this column in a view or want to execute the same action on more than one list item at a time.
This is when it's useful to have the action trigger in more than one place. By specifying that you also wish to display the action in the context menu (and you will see this checkbox once you select the Execution type as View as column), the action is added in 4 places:
Context menu (the pop-up menu you open in views)
Items/documents ribbon (applies to selected view items)
Item/document display and edit forms ribbons
Let's see some examples (based on our actual internal CRM system developed using our products).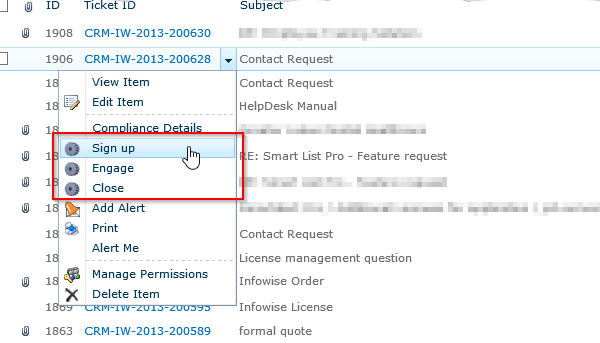 Here you can see 3 actions in the context menu. They are used to sign the user up for our newsletter, engaging the ticket (settings is Assigned to field to the current user and setting the Status to Engaged) and closing the ticket (setting the Status to Completed).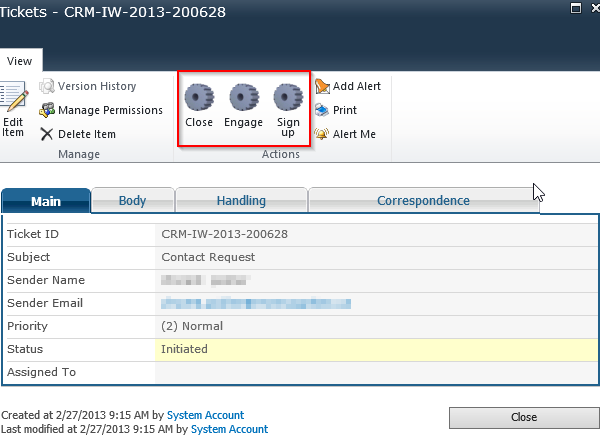 The same 3 actions are also available in display and edit forms.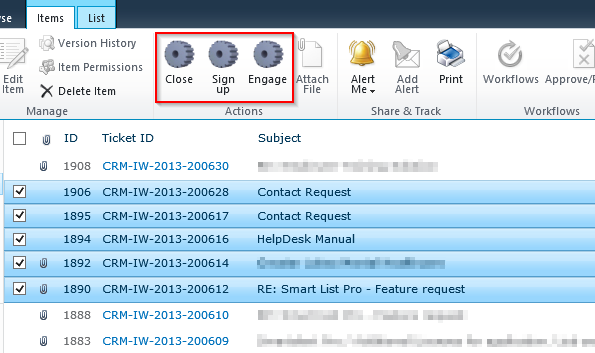 By selecting one or more tickets in any view (using the checkboxes on the left), you can run the action on all of them at once, for instance, assigning multiple tickets to yourself.
Note: the new feature is only available in SharePoint 2010 or 2013.
Add your comment
Comments are not designed to replace support calls. If you have a specific issue with one of our products, please send an email to
support@infowisesolutions.com
to open a support ticket.
Build powerful business applications in SharePoint using only your browser.
100% No-Code Solution
It's never been easier, to create, innovate and share, all you need is your web browser!
Cost-effective
Address business process pain points immediately. Save time and money.
Fantastic Support Team
Facing difficulties installing the application? Contact our fantastic support team.
Related Topics