Personal loans calculator using Infowise Ultimate Forms
Dear Reader, It's almost 15 days past the new year. Looking back, I think it has been a fantastic year. I travelled a lot, read loads of new books and found a secure form creating solutions using Infowise Ultimate Forms.
Today, I would like to share a calculator I have built for calculating Personal Loan interest using Infowise Forms.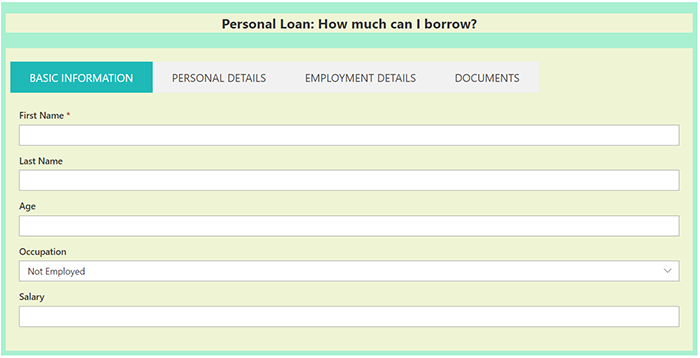 What are Loans?
Loans are an essential part of retail banking. A bank loan is the most common form of loan capital for a business or consumer. Financial institutes are resources we turned to if we need money to buy a car or a house or to tide over some an extra expenditure in a month; one can apply for a loan, once the loan is approved and disbursed, one can pay back the loan after a pre-defined period, say five years or ten years, along with monthly interest.
If I take a loan of $50,000, for one year, at an interest rate of 12%, I can pay only $4442 per month, and at the end of the year, I can pay the principal amount. Loans help a person to spend more than they have and pay it back later with more convenience.

Why do banks provide Loans?
From a bank perspective loans help to generate income. I know it doesn't sound evident from a consumer viewpoint. I was also surprised when I read about the money multiplier effect of loans.
To clarify, banks generally have two primary purposes.
It allows people to save money and, in return, provides an interest.

It also lends money and receives an interest in return
A bank doesn't have any money of its own, so it gives to cash that is deposited by people. The interest that a bank earns helps them to pay interest on deposits. However, a bank cannot lend all its money. A depositor can come back any day to withdraw his savings. To solve this problem, banks assume that all the depositors would not withdraw their funds on the same day. They save a part of the deposits, and the rest they disburse as a loan. The preserved part is called the reserve.
Now, the banks calculate the amount of money that they receive from their loans.
Let us consider the scenario:
A bank has a deposit of $100, and it lends $99, with a reserve of $1. The loan gives the bank a total income of $105. Thus the change is $105-$99=$6. Thus, the bank increases the funds it had, thereby creating money. Now imagine all the banks lending innumerable people, it creates wealth for the banks.
However, it is significant for the banks that people pay their loans back. If not, then the bank will run into a loss and cannot pay back its depositor's money. Thus, the bank runs a very stringent check on the ability of the person to return the loan amount.
To create a personal loan calculator, I had the following requirements:
Gather all the information about the person applying for the loan, including personal information and also employment details.

Allow an option to upload documents.

Make it accessible on smartphones and tablets.

Please send an email to the user that his request is in process.

The bank employee updates the request with the result.
To begin with, I used the Form Designer from Infowise Ultimate Forms.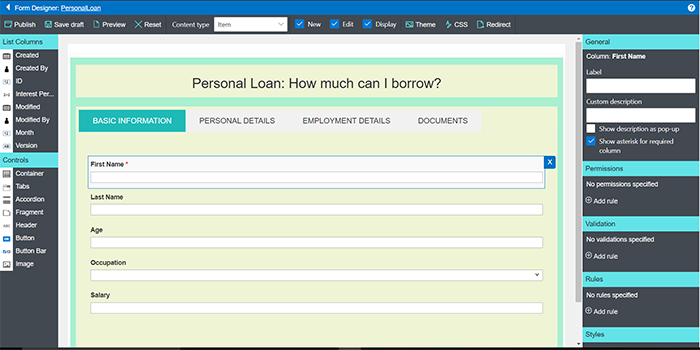 With a few button clicks, I could colour and design the page as per the colour and design I wanted. I also had options to add custom CSS and not just choose the pre-defined options. This helped me to design my form precisely the way I wanted, including the margin and padding.


To capture a large number of columns, I created a tabbed form. Tabs can be added very easily by dragging it from the controls on the form design page. Though I am very comfortable with tabbed types, sometimes accordion also works well with forms that have a large number of fields. You can also create an accordion or add images by dragging the controls.
I also added a tab to upload documents. The document tab allows the user to drag and drop the files they want to upload. It's exciting how Infowise Ultimate Forms fit into SharePoint with few clicks of the mouse.



Another feature of form designing that I appreciate and use a lot is validations. It's quick and easy to add validations for any field. I can also add permissions and rules. I can also choose which kind of form (Create, Edit or View) will have the validations. The preview button also makes it easier to check it on Smartphone and Tablets.
Once my form was completed and tested with the validation, I started by adding alerts to the form. I needed a simple email to tell the user that his request is in progress. If I were not using Infowise ultimate forms, this would be the time for me to open up a new application, SharePoint Designer or maybe Microsoft Power Automate, previously know as Flow.
However, with the Infowise Forms application, I can create alerts, without starting a new application. It is everything useful in one place. Also, it provides a dropdown based UI where it is straightforward to set the alert criteria. I can also see the alert I had previously set on a different form.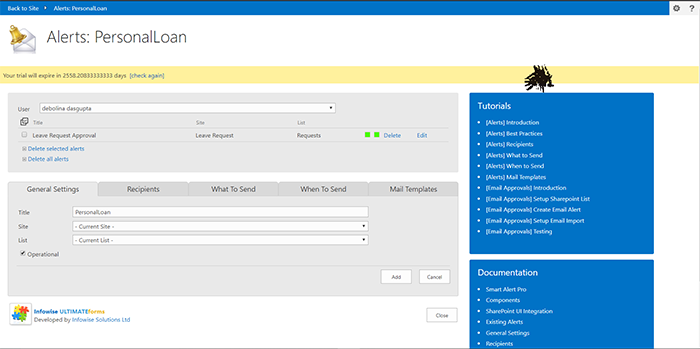 It also provides Tutorials and Documentation about alerts and what are the best practices. I created my alert and added the recipient as the one who created the item. I can also set the criteria based on which I can send the email and the email template. I can easily fetch dynamic data from the list to add it to my email template.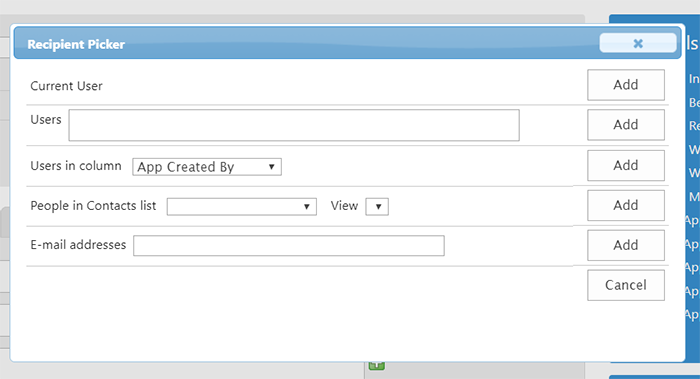 Have you tried the Infowise Ultimate Forms yet to design your forms quickly? Let me know how you find it?

Join me next week as I discuss more the personal loan approval and interest calculation, using the Business Process Module in Infowise Ultimate Forms.
Add your comment
Comments are not designed to replace support calls. If you have a specific issue with one of our products, please send an email to
support@infowisesolutions.com
to open a support ticket.
Ultimate

Forms
Build powerful business applications in SharePoint using only your browser.

100% No-Code Solution
It's never been easier, to create, innovate and share, all you need is your web browser!

Cost-effective
Address business process pain points immediately. Save time and money.

Fantastic Support Team
Facing difficulties installing the application? Contact our fantastic support team.
Related Topics