Microsoft office 365 and digital transformation in manufacturing
The modern workplace needs to change to survive in the competitive arena. Instead of working out of a physical office, at times, they need to work virtually, the system needs to be accessible outside of the office on the cloud and be available globally. Instead of working only on computers, you're expected to use your mobile devices as well. If a manufacturing corporation is embracing digital transformation with the assistance of Microsoft office 365, then they're able to provide their employees with emails and other team collaboration tools to store and share documents; employees are able to manage permissions with other co-workers. Project managers are able to automate processes and distribute workloads to all team members. Manufacturing corporations can create intranet portals to enable self-services for the different departments within an organization.

Microsoft office 365 provides integrated platforms that provide all the features you need to create a modern digital workplace. From Outlook, Word, PowerPoint, Excel, OneNote, Planner, SharePoint, Powerapps and many more, all these functionalities can conveniently be accessed with a single subscription of Office 365 suite. Utilization of all the aforementioned tools provides manufacturing firms with ample opportunity to grow in a decided manner towards full digitization. As a consequence, these businesses will benefit from increased visibility of processes, significant cost reduction, quicker product turn around cycles, in return, they become able to deliver excellent customer service and achieve higher customer satisfaction and even delight.

Industry in our mind conjures up classic machinery, thousands of employees, and tall smokestacks. However, the continuous development in software technology such as Microsoft Office 365, digital transformation in manufacturing is heading towards a new type of manufacturing industry that is 4.0. This digital Industry is transforming every stage of manufacturing operations from supply chain and enterprise to the shop floor and employees. The smart manufacturing connects factories electronically to central machine-linked networks, not only to automate but also to individually learn procedures, adapt to change, create requests, identify quality issues and even delegate tasks to other machines. The technologies used by the manufacturers in the digital Industry is improving every phase of production and are discussing below in detail:

1. Internet of things
The internet of things has been giving enterprises a competitive edge by reorganizing and simplifying operational processes with digitally connected machines. Its existence consists of widely used internet connection, sensors, and cloud computing. By providing real-time input and data, businesses are well notified to take decisions and decrease manual procedures. The internet of things and statistics have a significant impact on productivity. Hence, Microsoft Office 365 and digital transformation in manufacturing offers new chances to integrate activities and changes business procedure. Nowadays, consumers want natural products that enforce manufacturers to create software-based products.
2. Artificial intelligence
Artificial intelligence refers to any device that responds to the environment and takes action to acquire its goal. This technology does not need any human assistance. Instead, it provides automation as Microsoft Office 365 and digital transformation in manufacturing are featured with several control systems for performing business operations smoothly by making decisions by themselves. Hence, it reduces not only manual work but maintains the appropriate workflow and enhances production capacity effectively. Besides, production costs have lowered down the downturn.
3. Robots
Robots are automatic machines that are specifically designed to operate specific tasks. Moreover, they are not only able to make decisions but alarm others in case of any mishappening. Their increasing use in the manufacturing industry has made the industries a better and safer place to work in. They can easily communicate with the members of the control board for the provision of required information and data related to machines and business operations. Fully equipped with sensors, these robots identify and fix issues to minimize delays in performing manufacturing procedures.
4. Cloud computing efficiency
To improve speed and efficiency, advanced engineering and robotics are critical to manufacturing companies. It is also streamlined in its infrastructure, and the employees will access the relevant data they want through geographical locations, allowing quicker, unified collaboration simpler. As a consequence, cloud computing is being introduced by a growing number of manufacturers for Microsoft Office 365 and digital transformation in manufacturing.
5. Data and statistics:
Experts predict that by 2020, digital content will be 50 times higher than it currently exists. Big data processing is difficult and time-consuming, with knowledge regarding users and services being handled, modified, and evaluated. Because of its potential to streamline information, facilitate teamwork, and increased visibility for all participants, manufacturers encourage cloud technology.
6. Augmented reality
Augmented reality (AR) presents digital content through a system in the real world, such as a mobile phone and unique eyeglasses. In the manufacturing industry, there are several different applications for this innovation, such as:
The processes, facilities, and techniques on the ground of the factory are often unknown with new hires. It is vital to provide new workers with instruction as soon as possible and as often as necessary to avoid security incidents. With AR, they may access text overlays and other virtual information to help them understand what's going on the ground without requiring additional workforce or output delays.

Manual reviews are required for most orders and deliveries at fulfillment centers and warehouses. This process is automated with AR to reduce errors, save time, money, and resources.

Maintenance crews save resources and reduce guesswork by using ar tools to provide equipment details such as preventive maintenance plans, potential problems, and the machine's service history.
7. Additive Manufacturing
Although companies are looking to expand the use of additive manufacturing in their operations, in three key areas, techniques such as 3d printing already play an essential role:
Thanks to the versatility of 3d printing technology, design teams may play in making increasingly complicated geometric shapes and frameworks.

3d printing is widely used to model, speed up project times, and reduce costs. In a controlled environment, companies are free to struggle easily and test multiple models before settling on the final designs.

3d printing is the most comfortable and most inexpensive form of production when only a small amount of material is required.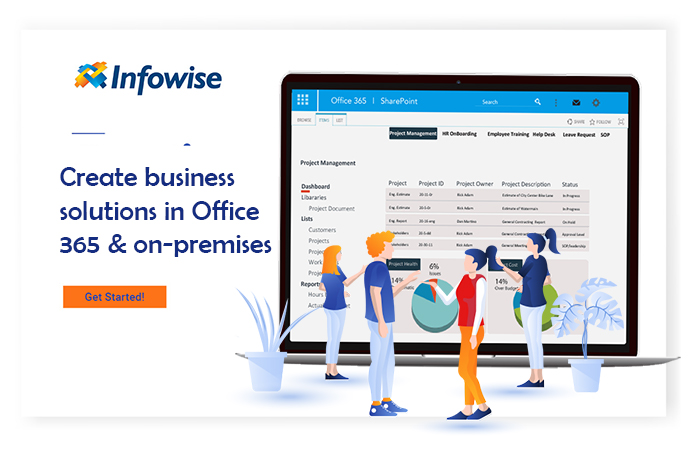 Infowise

At Infowise, we serve as a strategic partner, assisting public and private enterprises in their digital transformation endeavours with our scalable, smart, and robust tools, software, and applications. Our product Infowise UltimateForms Power Suite contains more than 15 standalone SharePoint applications developed to give you the power to innovate, automate, and scale up your processes. Our products have been designed for optimum interoperability and seamless integration within SharePoint. Altogether, they constitute the structural foundation for digitization and facilitate your transition to digital transformation.
Click here to download Infowise ULTIMATEforms 30-days free trial. Simple process. After you've installed Infowise UF, go ahead and create an unlimited number of Business Process Applications. Or even better, do you want to start with a ready template? Great, click here and download the ready-to-use template from our vast business process solution library, re-purpose to service your needs.
Add your comment
Comments are not designed to replace support calls. If you have a specific issue with one of our products, please send an email to
support@infowisesolutions.com
to open a support ticket.
Ultimate

Forms
Build powerful business applications in SharePoint using only your browser.

100% No-Code Solution
It's never been easier, to create, innovate and share, all you need is your web browser!

Cost-effective
Address business process pain points immediately. Save time and money.

Fantastic Support Team
Facing difficulties installing the application? Contact our fantastic support team.
Related Topics