All you need to know about Microsoft Flow
If you need your Apps and services to be integrated on the cloud so that they can connect smoothly with each other, then Microsoft Flow is your efficient tool. This article is all you need to know about Microsoft Flow. This cloud-based tool streamlines the processes by enhancing efficiency and productivity by enabling anyone and everyone within the organization to automate their daily tasks and processes without having to fill a ticket for a developer that comes in on the high horse.
By automating your daily business tasks, Microsoft Flow allows you to focus on more significant milestones. Flow links up different Apps on the cloud, collates data from them, gets them in-sync, sends you timely notifications and well, leaves a lot more to be done with it. It refers to automated workflows as "flows." At present, Microsoft Flow assists you by linking apps and services such as Dropbox, Dynamics 365, Facebook, Office 365, OneDrive for Business, PowerApps, SQL Server Twitter, and many more.
It's the triggers that Microsoft Flow operates on. After these triggers, it will initiate the responses, permitting apps to interact with each other. When a trigger occurs, – you might have gotten mail! – The corresponding app would transmit a signal to other apps saying that certain functionality was activated. These signal receiving Apps would then respond in accord.
How does Microsoft Flow Empower its Users
Microsoft Flow empowers you by making your life a little easier by automating your routine tasks such as data collection, notifications sorting, alerting, pinging, and whatnot. It does so by dividing its automation workflows into three main categories.
The first is automated Flow, and it gets triggered with the onset of a pre-selected event. For instance, a document has been updated by a user, Microsoft Flow will send a notification to all users signalling the document's update. The second category is scheduled Flow, which, as the name suggests, is triggered at a specified time — for example, the users receiving a regular ping about an upcoming meeting. The third category is tagged as button flow, which relies on the touch of a key to trigger a positive flow.
Microsoft Flow's Capabilities
Microsoft Flow's capabilities are wide-ranging. You can start with the list of templates that they have ready for you to carve out an ample amount of time from your otherwise hectic routine.
Here is a sampling of ready-made templates
Template #1: Save Office 365 email attachments to OneDrive for Business
With this template, you would not miss any email attachment if you find yourself cluttered with emails. Through this template, any attachment in the incoming mails would get saved automatically.
Template #2: Get emails for positive tweets
This template lets you track the positive feedback on Twitter regarding any particular hashtag you are following on Twitter. You would receive a notification when any positive post is being tweeted corresponding to your interest.
Template #3: Create new events on Google Calendar from Office 365
Microsoft Flow will create a Google calendar event once an event is formed on an Office 365 Calendar. This way, you won't miss any of your event commitments.
Template #4: Track your work hours and work location
This template will track your out-of-office timekeeping. With the columns, you will create yourself, such as date, timestamp, and location, Microsoft Flow will keep track of your current time and place. You will be receiving a push notification for all your work-related runs.
Template #5: Selectively post Instagram photos to Facebook
No need to switch apps when posting a social media update. Microsoft Flow will display the same photo (with caption) that you published on Instagram, on your Facebook account.
Template #6: Save tweets to an Excel file
With this Microsoft Flow template, you can track your tweets smoothly. Get all your work-related tweets automatically archived to an Excel File which you can create on Dropbox or OneDrive.
Learn more about Microsoft Flow templates
Microsoft Flow Use Cases
Microsoft Flow has a wide-ranging service provision. Because you can create your own flows, the uses cases opportunities are unlimited. It provides users with integration possibilities for Dynamics 365. The following are some of the use cases for how it accomplishes the integration.


Tailoring not-to-be-replied-directly emails with options buttons
Preloaded options are provided with every email sent out by the case managers as they want the customers to not reply directly to their emails. There can be a way for these case managers to send an email without having to tag an options button for the customers. By selecting the "send an email with options," you will have the ease of setting up an option button. The email can also be tailored with corresponding actions or a time delay for shooting the email.
Customers are directed to a "confirmation screen" just as they respond to the email. If they select an option, such as closing off their case, then this selection would activate a workflow in Dynamics to do just that. But the cases cannot be closed directly with the update record action in Microsoft Flow.


Saving Storage by Shifting Attachments to SharePoint
Attachments in Dynamics 365 for Customer Engagement by Notes can take up a lot of storage. Microsoft Flow solves this problem by offering a way for these attachments to be shifted to SharePoint. Users start from a blank Flow template and then select for the Dynamics 365 connector. The Flow is then set to trigger the creation of a new record. Users can set a condition, after which the system checks for an attached document. Users are recommended to check Document Locations for a defined path. And then, affirm the records' length stored presently. Next, the users select a SharePoint connector. Lastly, the action of updating a file removes the attachment, and it gets shifted to SharePoint.


Approving workflows in multiple stages
Often the users need to be notified in various instances – from numerous managers and stakeholders. The hierarchy of approvals can be mapped out with the help of the manager field in the User Entity. This use case is about setting up a multi-stage approvals system. The procedure gets initiated with the sales rep's creation of the record in Dynamics 365, signalling that it needs approval through a custom field.
The Flow gets triggered, spotting the record, its creator, and the creator's manager. It then formulates a dynamic approval email to convey it to the manager. There is a limitation to this Flow, which is that it cannot capture the CRM entity's URL. This URL is usually provided in a custom field from where the Flow can register it. The entity's approval email shoots out, and when it is approved, a signal is sent to the creator after the second person in the hierarchy supports it.


Microsoft Flow Plans and Costs
Microsoft Flow Pricing starts from $5.00/month. They have a free and subscription pricing model. They also offer a free trial without the need for the users to submit their credit card details. Following is a glimpse into their pricing plans: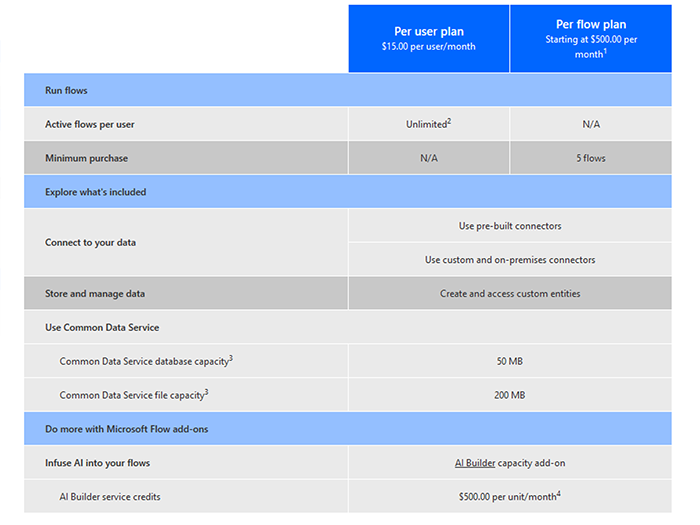 Infowise
At Infowise, we serve as a strategic partner, assisting public and private enterprises in their digital transformation endeavours with our scalable, smart and robust tools, software and applications. Our product Infowise UltimateForms Power Suite contains more than 15 standalone SharePoint applications developed to give you the power to innovate, automate and scale up your processes. Our products have been designed for optimum interoperability and seamless integration within SharePoint. Altogether, they constitute the structural foundation for digitization and facilitate your transition to digital transformation.
Click here to download Infowise ULTIMATEforms 30-days free trial. Simple process. After you've installed Infowise UF, go ahead and create an unlimited number of Business Process Applications. Or even better, do you want to start with a ready template? Great, click here and download the ready-to-use template from our vast business process solution library, re-purpose to service your needs.
Add your comment
Comments are not designed to replace support calls. If you have a specific issue with one of our products, please send an email to
support@infowisesolutions.com
to open a support ticket.
Ultimate

Forms
Build powerful business applications in SharePoint using only your browser.

100% No-Code Solution
It's never been easier, to create, innovate and share, all you need is your web browser!

Cost-effective
Address business process pain points immediately. Save time and money.

Fantastic Support Team
Facing difficulties installing the application? Contact our fantastic support team.
Related Topics