Microsoft 365 for Education: Remote Learning Made Easy
Microsoft has been providing technological solutions for decades. Now, as educational institutes, teachers, and students are searching for ways to enable remote teaching and remote learning, Microsoft has developed an enhanced version of Office 365 for Education. In addition to the basic features of Office 365, the education version provides a wide range of specifically designed tools for students and educators. These tools include but are not limited to OneNote for Education, Microsoft Teams for Education, Minecraft for Education, Immersive Reader Tool, Take a Test App, and Microsoft School Data Sync. In this article, we'll tell you all about these tools and how they help students and teachers.

OneNote for Education


The simplest way to define OneNote for Education is that it is your digital notebook, but it is so much more than that. It allows staff, students, and teachers to transform the way they collaborate and makes it easier for them to organize their work. Every student can create a content library for their handouts and create a space where they can easily collaborate about creative ideas and class lessons; simply put, it empowers students to develop the best version of their work.
Teachers can use OneNote for Education to organize the classroom by compiling course content and lesson plans in a cloud-based digital library, which allows them to keep track of assignments and other course-related materials.
In addition to organizing, OneNote for Education enables students and teachers to use digital ink for creating diagrams, sketches, handwritten notes, pictures, videos, etc. Microsoft's powerful search feature is built-in the powerful note-taking app, making it easier for users to find the content they are looking for.
Click here to learn more about OneNote for Education here.

Microsoft Teams for Education


Microsoft Teams for Education is an essential tool for remote learning and remote teaching, and it wouldn't be wrong to say that it is a complete distance learning solution. The digital hub brings together apps, conversation, assignments, and content under a single room, allowing teachers and staff to create vibrant digital classrooms for the students. Teachers and students can also create teams or groups for collaboration, and teachers can connect with other members of the teaching community around the globe.
Microsoft Teams enables educators to easily connect and converse with the students, create a Class Notebook (OneNote feature), share files such as assignments or presentations, grade papers, etc. Teachers can provide interactive lessons, timely and effective feedback as Teams have built-in assignment management and OneNote Class Notebooks. Using the Professional Learning Communities (PLC), teachers can share instructional material and use Staff Teams for collaboration, relevant conversations, and announcements.

Minecraft for Education


You may be wondering what a game is doing in this list of Office 365 Education apps and tools, but Minecraft Education Edition isn't just a game, it's much more than that. Educational institutes use this app as an inclusive way to teach students how to code and to polish their problem-solving skills.
According to Sean Arnold, a STEM coach and NYC special educator,
"Chat features are enabled with speech-to-text functionality, which lets struggling readers and writers participate with the community at their own pace. Minecraft: Education Edition gives students with physical and intellectual disabilities the opportunity to be creative, explore without fear of failure, and feel a sense of autonomy in the classroom…my students were no longer confined to wheelchairs or leg braces; they could walk, create, and even fly. It's a world where they are free from ridicule, free from their real-world struggles and free to create a world that they desire."
Teachers in Toronto have been using this app to teach students about the environment, geography, urban planning, science; they say that students have become more engaged in learning, their creative problem-solving skills have improved, and they have become more confident.

Immersive Reader Tool


The Immersive Reader tool allows teachers to implement proven techniques for improving reading and writing for students of all ages and learning abilities. This free tool helps students studying in different languages to increase fluency for reading the English language and helps them improve reading comprehension. It can also help new readers to build confidence to read at higher levels and help students with learning differences with the help of text decoding solutions. The best thing about this tool is that it's Optical Character Recognition (OCR) deciphers text within a picture, allowing this tool to work with pictures scanned from books.
With this app, students and teachers can change text spacing, size of the font, background color, break down words into syllables, and highlight sub-clauses, verbs, adjectives, and nouns, change reading speed, and read text aloud, and more.

Take a Test App


Take a Test App, powered by Microsoft Forms, allows students to take quizzes, tests, and complete their assignments with ease. It also allows teachers to save time by eliminating the need for printing and collecting test papers. Not only that, Take a Test App can even grade students' tests as it has a built-in feature to grade test papers.

Microsoft School Data Sync


Microsoft School Data Sync (SDS) is another great tool in the Office 365 Education; it reads roster and school data from the Student Information System (SIS) and automates the time-consuming process of importing and synchronizing data from the SIS. It also enables single sign-on for several third-party apps such as Edmodo, Blackboard, and Canvas. It creates class Teams for Microsoft Teams, Office 365 Groups for SharePoint Online and Exchange Online, school groups for Intune for Education, and OneNote Class notebooks.


Want Even More? Try ULTIMATEforms!


ULTIMATEforms is a versatile and effective solution that allows teachers and students to increase the capabilities of their out-of-the-box SharePoint and Office 365 for Education. Users can create powerful forms, automate processes, set-up alerts, assign tasks, convert and print SharePoint lists and items, automate list creation, enable digital signature capabilities, create shared calendars, etc. These are just a few of the things you can do with this powerful solution; request a demo or download free trial now to learn more about its capabilities.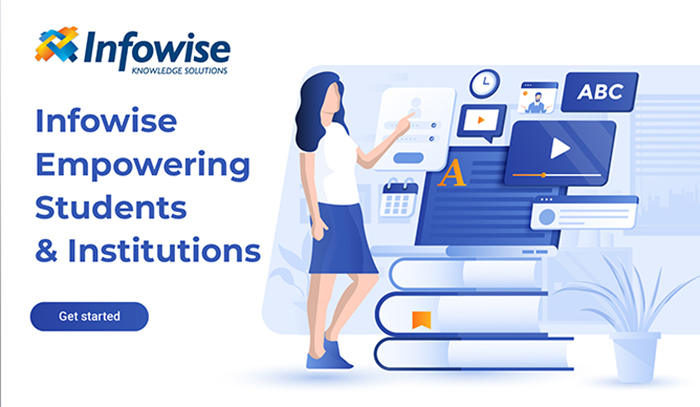 Infowise
Here at Infowise Solutions, our client list includes some of the world's best-known higher educational institutes, which is in addition to many school boards in North America, Europe, Australia, the Middle East and Africa. Our products that are used by the educational institutes are a cross-section of what we offer; workflow automation, process automation, advanced dynamic forms and document management and filing. We have helped thousands of schools and research facilities across the globe in leveraging the power of their Office 365 platform, to its fullest potential to quickly build a wide variety of modern solutions, tailor-made to meet their operational requirements. Through our implementation partners, we have been part of the digitization process for many universities and research organizations. Whether your preference is Microsoft 365 or On-premise our partners will assist and guide you on how best you can get your educational institution on the road onto a successful digitization process.
Add your comment
Comments are not designed to replace support calls. If you have a specific issue with one of our products, please send an email to
support@infowisesolutions.com
to open a support ticket.
Ultimate

Forms
Build powerful business applications in SharePoint using only your browser.

100% No-Code Solution
It's never been easier, to create, innovate and share, all you need is your web browser!

Cost-effective
Address business process pain points immediately. Save time and money.

Fantastic Support Team
Facing difficulties installing the application? Contact our fantastic support team.
Related Topics