Enhance SharePoint capabilities with HR Portals
"SharePoint for the WIN!"
We are primarily using the system for document management. By connecting to a Microsoft Office server, we are able to create and manage all documentation within SharePoint rather than having multiple versions existing on individual PCs. The fact that we can share news and utilize a central corporate calendar are cherries on top.
– SharePoint review by Linda R (Procedure Control Manager)
--------------------------------
SharePoint is a revolutionary platform created by Microsoft used to enhance and simplify various operations of the workplace, including management and services. SharePoint is integrated with useful software, such as office 365. It is an intranet and content management platform used for document management and to manage employees.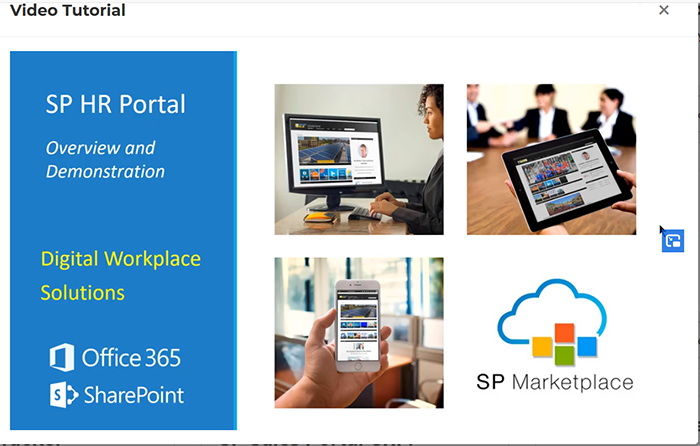 Tutorial of an HR Portal by our partner SP Marketplace, available in classic and modern UI
SharePoint's Limitations
Even though SharePoint can work as an excellent HR system on its own, there are still some limitations attached to it that requires attention.

Complex Set-Up
To configure SharePoint for HR, companies would have to hire specialized professionals. Modifications to the system would also require an expert; this can be an added burden, especially for small businesses.
High Cost
The total cost can become high for SharePoint; you'd have to buy the license, added fees of configuration experts, and pay for support and modifications to the HR system.
Generic
On its own, SharePoint isn't tailored for a specific company or department needs. It can be used by any company and department of the company. This can be a problem as duties differ in various departments; it would require customization according to the department and the company's needs. To do that would have to hire a professional again, which will add to the cost.
Adaption Issues
Hidden features can make user-adaption to SharePoint a bit difficult and time-consuming. Users would need to be trained to use the platform, which can be a problem for many small companies.
How to Overcome SharePoint Limitations?
Companies can overcome SharePoint's limitations by integrating various SharePoint portals. Portals are designed according to the needs of specific companies and departments in mind. They can successfully address the short-comings of SharePoint and enhance its functionality.
If you're looking for an effective HR solution, using an HR portal will provide you with a cost-effective and user-friendly system. Automating business processes by using HR Portals can be beneficial for your company and allow you to maintain the consistency of your digital workplace. Your HR team can track requests and policies, manage employee information and employee onboarding, recruiting, etc.
Infowise provides customized portals that businesses can integrate into their existing Office 365 and SharePoint platforms. HR portal by Infowise allows your HR team to boost their productivity and improve their business processes.
HR portals integrated into your current HR system can offer many advantages for your HR team, such as.

Increased Collaboration
HR portals integrated into your HRMS increases the collaboration between the HR team and the company's employees. HR staff can deliver updates to the employees about policy changes, and share useful information and documents. HR portals efficiently bridge the gap between the HR department and the employees and save valuable time for both that can be used productively.

Enhanced Filing
Repetitive business processes are well-known for reducing the productivity of the employees. Empower your HR staff and make the filing process more manageable with an HR portal that is capable of document management and provides a vast storage option. Your HR staff can quickly locate documents by using the search option and save valuable time that they would've otherwise lost due to manual processing.

Personalized Experience
HR manager, HR staff, and the employees need different content according to their needs and job roles. The customization features of HR portals for SharePoint allows you to customize the platform according to the user's needs so you can deliver relevant content.

Accessibility
SharePoint, on its own, is accessible from Computers, Smartphones, and Tablets. When you integrate an HR portal on your HR system, you'd be able to access the added feature from anywhere. This can be very useful if the employees work outdoor or in case the HR staff has to travel between branches, they can continue their work during the commute (as a passenger).

Ease of Use
SharePoint HR portal is easy to use, single sign-in to all Microsoft products saves the crucial time of the employees. The search options search for documents across the platform instead of a single site; this tool can save a tremendous amount of time for your HR staff.
SharePoint HR Portal Functions
SharePoint HR portals support the HR staff in several HR processes, such as.

Employee Recruiting and Off/Onboarding
SharePoint HR portals allow the HR team to conveniently recruit candidates and simplify the onboarding and offboarding processes by.
Building a resume database

Sending automated Emails

Reporting interview statistics

Monitoring task completion

Reviewing the onboarding process

Creating a knowledge base

Setting up workflows

Manage Employees and Documents
Document management becomes plainer for the HR team; they can manage employees more conveniently by using HR portals. These platforms transform the digital workplace.
Monitoring changes in employee documents

Generating alerts for unauthorized access

Encrypting employee information

Managing payroll

Managing timesheet

Increasing communication

Scheduling shifts through calendars

Approving vacations

Registering sick leaves

Enrolling training courses

Handling requests

Evaluating and Managing Performance
HR staff can assess and track employee's performance by using SharePoint HR portals. These portals offer the following capabilities.
Generate reports

Create Tests

Performance feedback

Design Surveys

Track certification

Analyze competency

Engaging Employees
HR portals are capable of promoting corporate culture, Increasing employee engagement, and loyalty through.
Media galleries of events

Communities and groups of various interests

Employee discounts and benefits

In-house yellow pages

Announcements and news

Leaderboards


Managing Policies


Policy management is a critical aspect of the HR teams' duties. HR portals make it easier for the staff to track changes in the labor laws and update the employees in case of a policy change. SharePoint portals guide the HR team with the help of.
Storing and associating policies with relevant regulations

Policy status dashboards

Compliance testing and training

Acknowledgment of policy compliance

Schedule notifications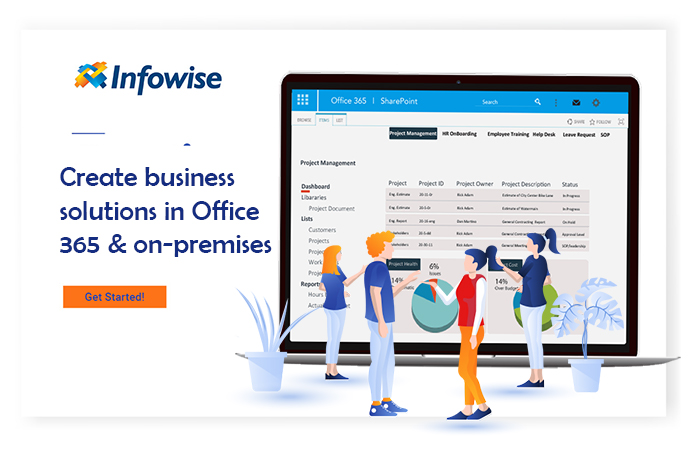 Infowise

At Infowise, we serve as a strategic partner, assisting public and private enterprises in their digital transformation endeavours with our scalable, smart, and robust tools, software, and applications. Our product Infowise UltimateForms Power Suite contains more than 15 standalone SharePoint applications developed to give you the power to innovate, automate, and scale up your processes. Our products have been designed for optimum interoperability and seamless integration within SharePoint. Altogether, they constitute the structural foundation for digitization and facilitate your transition to digital transformation.
Click here to download Infowise ULTIMATEforms 30-days free trial. Simple process. After you've installed Infowise UF, go ahead and create an unlimited number of Business Process Applications. Or even better, do you want to start with a ready template? Great, click here and download the ready-to-use template from our vast business process solution library, re-purpose to service your needs.
Add your comment
Comments are not designed to replace support calls. If you have a specific issue with one of our products, please send an email to
support@infowisesolutions.com
to open a support ticket.
Ultimate

Forms
Build powerful business applications in SharePoint using only your browser.

100% No-Code Solution
It's never been easier, to create, innovate and share, all you need is your web browser!

Cost-effective
Address business process pain points immediately. Save time and money.

Fantastic Support Team
Facing difficulties installing the application? Contact our fantastic support team.
Related Topics