Deploy Business Solutions in SharePoint Online with a Single Click
Hi,
Ultimate Forms is a great platform for developing comprehesive, yet easy-to-use, business solutions in SharePoint. Our customers and partners use it to build everything they need to run their organizations more efficiently, be it rather simple Expense Reports or advanced Project Management, HR or Help Desk solutions. We even offer some of the more common and widely used solutions for download, free of charge, on our website. Once you get one, you can further customize it according to your needs, using just your browser, no development skills of any sort required!
Up until now, the installation process of these business solutions in Office 365 was a bit complex. You had to download a site template, create a site from it, install Ultimate Forms and then use Template Manager (an included component of Ultimate Forms you should really learn more about!) to apply the settings to the site. Not rocket science of course, but the multitude of steps and the implied knowledge of SharePoint inner workings make it less than ideal. There should be a better way!
And now there is. Building upon the amazing technology we developed in our Template Manager, we are now able to replicate any site, including all lists, web part pages and Ultimate Forms settings across tenants. That means that you can replicate a business solutions we created (and in the future, one of our partners) and have it set up in your environment with a single click! We will create a site (or use your existing one), create/modify lists (including columns, columns settings, content types and views), create and update web part pages, set up quick links and apply all of our settings, including alerts, actions, print templates, forms and much more! It really is that easy!
Let me show how it works. First, download and install Ultimate Forms in your Office 365 environment (sorry, this article is about SharePoint Online, our on-prem customers can already use a different, but equally simple, mechanism). Once you load up the app, you will see the new Install Business Solutions button on the top menu bar.
Click on it and you will be taken to our Solution Gallery. Note the vendor selector at the top. At this point you can see our business solutions under Infowise Solutions and our webinars under Infowise Webinars (yes, you can now install the exact sites used in our webinars and workshops and try out what you were shown on your own. Isn't that cool?!)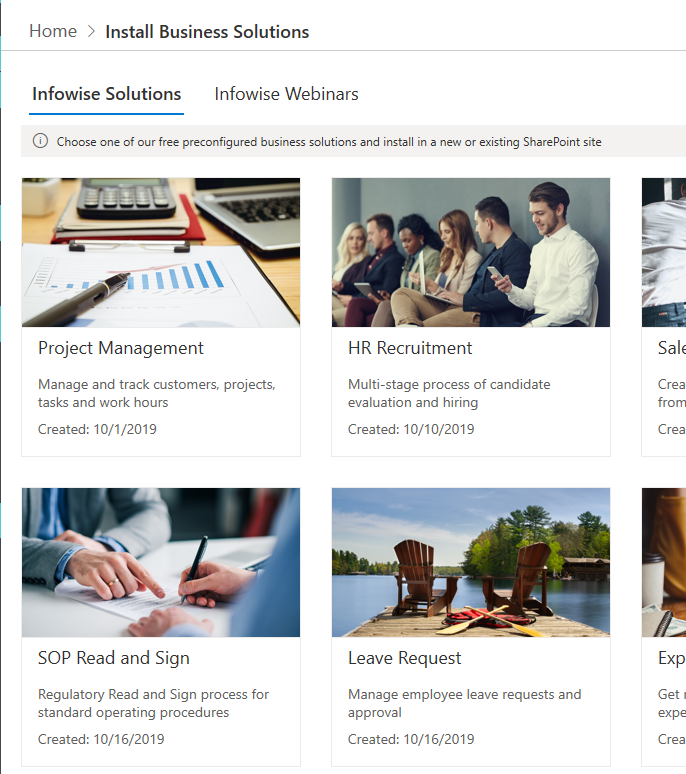 Here you can browse our business solutions. They are free of charge, all you need is a license for Ultimate Forms and you can install whatever you need. And, once installed, you can modify further to exactly match your requirements. Think of it as your starter kit for building advanced modern business processes in SharePoint.
Click on the solution you want to install.
Here you can see a detailed explanation of what the solution offers, as well as a tutorial video. In the top right corner you can find the installation settings. See the big blue "Install" button? That's basically all you need!
You can choose to install as a new subsite under the current site (recommended) or to modify the current site. Note that when you choose to modify the current site, you should be aware that if your site already contains lists with the same names as the ones used by the solution, they will be modified and you might lose your data. You should really only use this option on new sites (and it should be a Modern site).
Clicked on Install and agreed to the prompt? The process will start running now and you will be able to see the real-time progress. You shouldn't expect any problems, but as there are sometimes glitches in the SharePoint Online infrastructure, nothing is ever 100% :) Let's say, 99.9% is where we stand.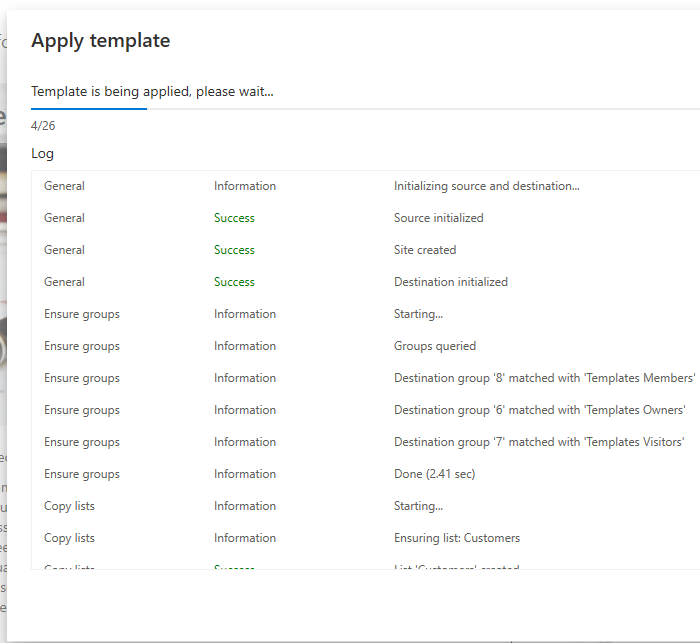 It should take about 2-3 minutes for the process to complete, the longest part is the creation and setup of the various lists and document libraries the business solution uses. Plenty of time to get that cup of coffee you've been dreaming of for the past hour or so!

And we are done! Click on "Close" and be taken to your newly created and configured business solution. You will also receive an email with the log. Now can there be anything easier than that?!
We invite our partners and partners-to-be to use this platform to promote and sell their own solutions. We are working on a trial and licensing mechanism to be integrated as well.
Like what you see and want to be able to develop and install business solutions internally? You already can! All you saw here uses our Template Manager component that you already have. If you haven't done so yet, contact us and get your own credentials free of charge. Log into Template Manager to create, manage and apply your own business solutions within your tenant. The complete deployment mechanism I just highlighted is at your disposal!
Add your comment
Comments are not designed to replace support calls. If you have a specific issue with one of our products, please send an email to
support@infowisesolutions.com
to open a support ticket.
Ultimate

Forms
Build powerful business applications in SharePoint using only your browser.

100% No-Code Solution
It's never been easier, to create, innovate and share, all you need is your web browser!

Cost-effective
Address business process pain points immediately. Save time and money.

Fantastic Support Team
Facing difficulties installing the application? Contact our fantastic support team.
Related Topics