Clean up orphaned associated items
Hello,
Our Associated Tasks Field allows you to create related items for any item, directly from within the parent item itself. For instance, create tasks for a support ticket while editing the ticket. You can even create new related items from the New form of the parent item, even before saving the parent item.
What happens when you decide not to save the parent item, after having created several related items? Well, as they are separate items located in their own list, they are still preserved and become orphans. How can you clean up these orphaned items?
It's actually very easy using Smart Action Pro. By simply creating a timer-based Delete List Items action, you can identify and delete the orphans automatically.
Create the following action in the related list:
General Settings – create a new Delete List Items action and set it to run 2 hours after creating the item (gives the user enough time to save the parent or cancel):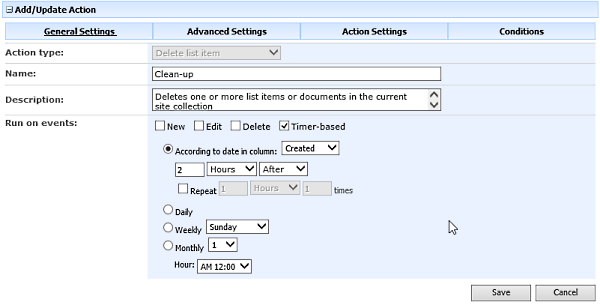 Action settings – delete the current item (item with ID field equal to the current item's ID)
Conditions – compares current item ID to itself minus the ID of the parent item. When the parent item does not exist, it equals to zero and condition is passed, otherwise it's a positive number, condition fails and item is not deleted.

This is it, save the action and it's ready to work. 2 hours after creating a new related item, the action is executed. If the parent item cannot be found, the item is deleted automatically, cleaning up your system.
Add your comment
Comments are not designed to replace support calls. If you have a specific issue with one of our products, please send an email to
support@infowisesolutions.com
to open a support ticket.
Build powerful business applications in SharePoint using only your browser.
100% No-Code Solution
It's never been easier, to create, innovate and share, all you need is your web browser!
Cost-effective
Address business process pain points immediately. Save time and money.
Fantastic Support Team
Facing difficulties installing the application? Contact our fantastic support team.
Related Topics