Create relationships in SharePoint
Hi,
Today I want to talk about one of our most versatile and useful products - Associated Tasks Field.
Using SharePoint lists and document libraries to store and manage real world entities is an everyday task. We use them to represent lifecycles, projects, stages, events, what not. And as in the real world, we need to maintain relationships between the different entities. For instance, holding a trade show requires preparations, giving out and tracking tasks, your project can have subprojects and your documents are related to each other.
Unfortunately, SharePoint only supports rudimentary tools for managing these relationships. It basically boils down to the ubiquitous Lookup field that you can use to point to the parent item from a child item, that's about it. Tracking and maintaining these relationships is a truly daunting task.
That's where Associated Tasks Field can help! Don't let the name fool you, it is not just about tasks. You can use the field to create relationships between all kinds of items and documents. You can now create, view and manage any number of related items associated with any item or document, directly from within the parent item itself. This is just one way of how it might look: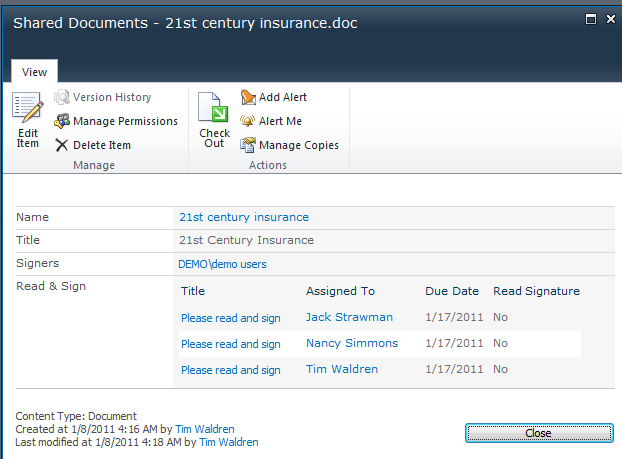 As you can see, the related items, in this case tasks, appear right inside the Display form of the parent. The Title column of the tasks contains the complete item context menu so you can manage the related item straight away.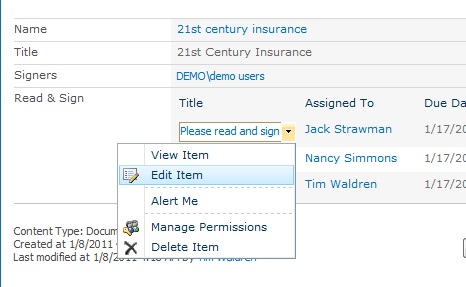 Now let me just give you a few examples of what you can accomplish in minutes using our product. Remember, these are just examples, you will find that the product can be helpful in so many ways!
Many-to-many Relationships
Just imagine managing a list of your partner companies and a list of products. In some of the products Company A is a supplier, but in others it's a client. But you would prefer to manage its details only once. Well, Associated Tasks Field can help you!
Just create a list for Companies and Products. You decide on how the lists should look like.
Now create two relationship lists (just regular custom lists with lookup column for both Companies and Products lists). One relationship list is to be called Suppliers and the other - Clients.
In Companies list create two Associated Tasks columns, one pointing to the Suppliers list (called Supplies) and the other to the Clients list (called Buys)
In Products list also create two Associated Tasks columns, one pointing to Suppliers list (called Suppliers) and the other - to Clients (called Clients)
This is it! Now you can view the suppliers and the customers for each product and you can see which products each company supplies and buys from you. You can even see the related items directly from views!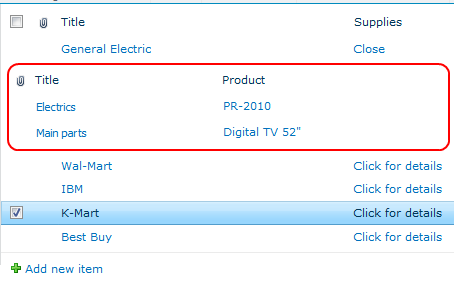 Read and Sign
In regulated environments some documents, such as SOPs, must be read by the relevant employees each time a new version comes out. This formal process has to be properly managed and documented. Usually such systems take weeks if not months to develop.
Well, it's a snap using the Associated Tasks Field!
Create a User/Group column called Signers in your document library. This is where you specify who should read each document. You can enter users or groups. When groups are entered, each group member receives a separate task, so you can track each employee individually.
Create an Associated Tasks list. This is a special list type we supply, similar to the built-in Tasks list, the only difference being that it posseses additional support for the Associated Tasks Field.
Create an Associated Tasks column in the document library pointing to the newly created Tasks field. Specify in the column properties that you want tasks to be auto-generated, what User/Group column to use and what Title to give to the generated tasks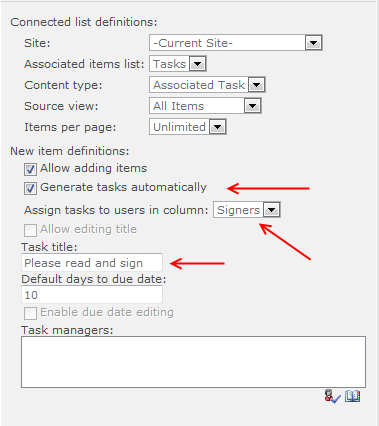 You are done! Now when you upload a document, you specify the Signers group. Once ready to be distributed, you just click the Generate button and a separate related task is generated for each user in the group.

You can track the related tasks from within the document properties or from views.

You can even use the SharePoint Designer workflow actions and conditions to integrate the Read & Sign into a bigger lifecycle process.
Related Documents
You can enable attachments in any SharePoint list. But can you do the following with attachments?
Manage document properties
Check-in/check-out and manage versions
Assign different related documents to different parts of the list item
View related documents in parent list views
Add attachments to other documents
Associated Tasks Field allows you to do all that and more, turning your attachments into full-fledged managed documents. And these documents can have their own attachments as well!
To sum things up
Associated Tasks Field is a powerful tool to turn your SharePoint into a platform for building real life business applications using nothing but your browser! Download a trial version to test drive it yourself. And take a look at our Ultimate Forms bundle that includes 8 of our top sellers you can use to build all the business processes you need, just take a look at our demo applications (on the bundle page, at the bottom)!
Add your comment
Comments are not designed to replace support calls. If you have a specific issue with one of our products, please send an email to
support@infowisesolutions.com
to open a support ticket.
Build powerful business applications in SharePoint using only your browser.
100% No-Code Solution
It's never been easier, to create, innovate and share, all you need is your web browser!
Cost-effective
Address business process pain points immediately. Save time and money.
Fantastic Support Team
Facing difficulties installing the application? Contact our fantastic support team.
Related Topics