Hand-written signatures in print-outs and PDFs
Hi,
Electronic Signature Field and Smart Print Pro are two powerful components of Ultimate Forms that help you implement your business processes in SharePoint, without any external tools.
Electronic Signature Field allows you to sign the data in your SharePoint forms, helping make SharePoint comply with regulatory requirements. You can sign the whole form or just specific fields. Any change made to the item will then break the signature in a highly visible fashion, obvious at a glance even densely populated list view. Signature Field supports 3 different signature providers, one of which is hand-written signatures using Topaz signature pad.
Smart Print Pro allows you to display your list item in a printer-friendly layout, according to a template of your own design. Custom headers/footers are also supported, as well Export to PDF and Email functionality, allowing you create documents for your customers/supplier directly from within your SharePoint list.
Both products have been integrated since their creation, allowing you to print signatures. But until now you could only print the signature status, the hand-written part was never included.
With the new versions of both products this changes. The hand-written signature image is not integrated into the print-out and can even be saved as part of the PDF document.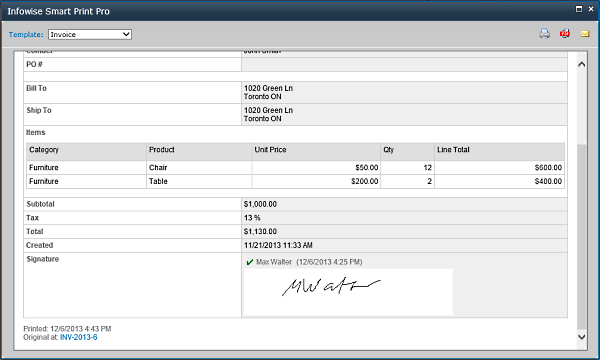 Note that only signature created with the new version of Signature Field are supported.
Add your comment
Comments are not designed to replace support calls. If you have a specific issue with one of our products, please send an email to
support@infowisesolutions.com
to open a support ticket.
Build powerful business applications in SharePoint using only your browser.
100% No-Code Solution
It's never been easier, to create, innovate and share, all you need is your web browser!
Cost-effective
Address business process pain points immediately. Save time and money.
Fantastic Support Team
Facing difficulties installing the application? Contact our fantastic support team.
Related Topics