Print your data with Smart Print Pro
Hello,
Announcing the latest addition to our product line: Smart Print Pro
Managing information inside SharePoint is just great. You can set up complex applications in virtually no time at all, especially with the help of such great tools as our Ultimate Forms bundle. It is just a bit more difficult to print the information or send it out to external parties. Simply printing the page will include the whole page with it, including the navigation bars, logos and all the unrelated stuff. Sure, you can export it to Excel first, but the extra steps required are simply not convenient.
This is where Smart Print Pro can really help you out. It adds a nifty Print buttons to all your lists and list items. Click on it and you will see the print preview in a pop-up window (yes, in SharePoint 2007 as well). There you can send it to the printer, convert to PDF or have it emailed to you for forwarding.
By default, the printed item includes all the columns. But you can create your own custom print templates, select the columns you want, group them into sections and add custom header and footer. You can created multiple templates for the same list, so you can have different print-out for customers, for archives and for internal use.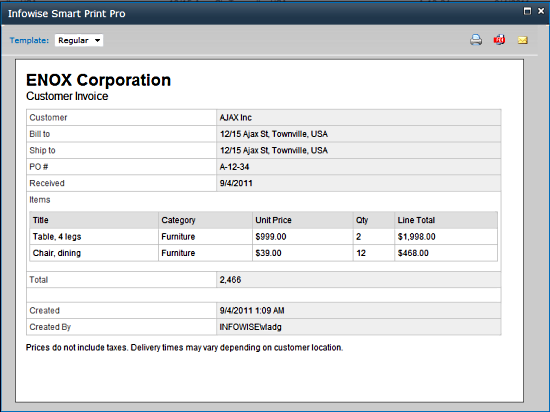 Get your 30-day trial installation today!
Add your comment
Comments are not designed to replace support calls. If you have a specific issue with one of our products, please send an email to
support@infowisesolutions.com
to open a support ticket.
Build powerful business applications in SharePoint using only your browser.
100% No-Code Solution
It's never been easier, to create, innovate and share, all you need is your web browser!
Cost-effective
Address business process pain points immediately. Save time and money.
Fantastic Support Team
Facing difficulties installing the application? Contact our fantastic support team.
Related Topics