Automate project generation with Smart Action Pro
Hi,
Infowise Smart Action Pro is a great tool for turning your regular SharePoint lists into real life business application. Using no-code approach you can build advanced solution using nothing but your browser. With 14 (and counting) different action type you can automate almost anything, from updating list items, creating site, managing permissions and even creating users in Active Directory.
Today we will demonstrate how easy it is to build a project tracking solution based entirely on SharePoint lists. Our goal will be to automatically create a predefined set of project tasks whenever a new project is added. In our example 3 tasks will be created:
Check resources - set to start on the same day as the project and last for 7 days, we are supposed to check resource availability for the project
Prepare documentation - during the first 30 days of the project prepare the necessary documentation
Review project - assign a review task to the manager 30 days after the project starts
All the users need to do is create the project entry itself, all the tasks are generated automatically.
Lists
We start by creating two lists:
Projects - custom list with Title, Description, Start Date and End Date columns
Project Tasks - tasks list, add a lookup column Project pointing to the Projects list
We can also create an Associated Tasks column in the Projects list to display the related tasks for each project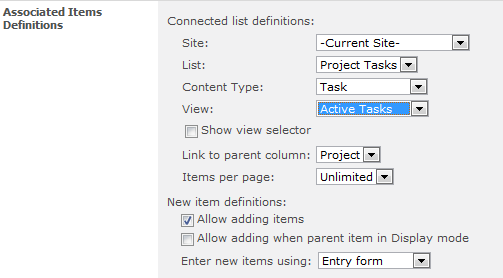 Actions
Now we are ready to add our actions that will actually generate the required tasks. Go to List Settings of Projects list and then click on Actions Settings.
First we need to create our Action column. The action column hosts the actions and enables their execution.

The default name Actions is fine and you can also type in your e-mail address to receive notification if actions fail for some reason.
Now we can create the actions themselves. The action type we will use is Create list item action. The actions only need to run when a new item (project) is created. Give each action a short name and a description.

Switch to Action Settings tab. Now select our Project Tasks list and enter the values to be used in the new task. You can use column values from the current list, Projects, by entering column name surrounded by square brackets. You can also use the value builder by clicking on the icon to the right of the field.

Do the same for all three task actions. You should get the following result:

Testing
This is it, now when we create a new project, we will see the actions to be executed after adding the project: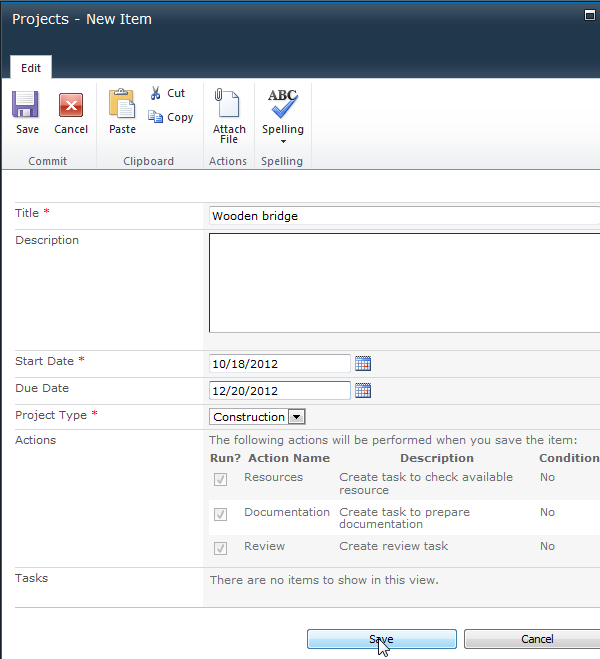 Once we save the new project and return to the Projects list view, we will be able to click on Click for details link under our Tasks column (the Associated Items column we created). That will show us the newly generated tasks related to our new project:

Click on the project itself to open it in Display form. You will see all your related tasks and will be able to manage them directly.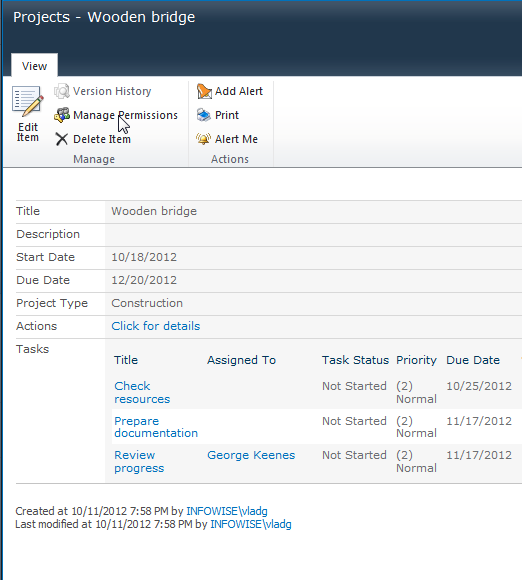 You can also click on Click for details on the Actions column to view your action history.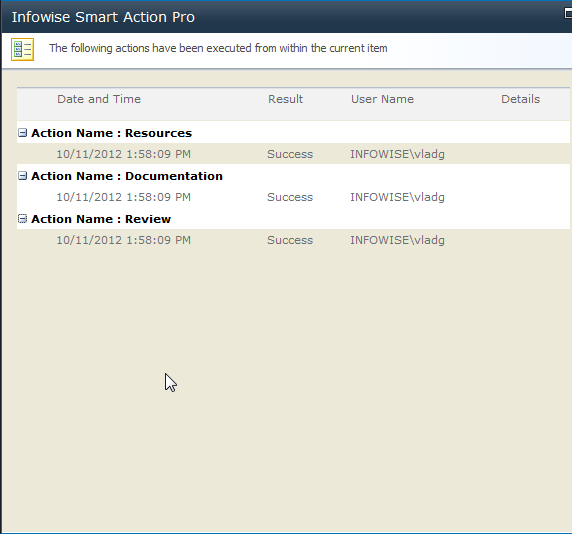 This is how easy it is! You can download 30-day trial versions of both products to see for yourself.
Add your comment
Comments are not designed to replace support calls. If you have a specific issue with one of our products, please send an email to
support@infowisesolutions.com
to open a support ticket.
Build powerful business applications in SharePoint using only your browser.
100% No-Code Solution
It's never been easier, to create, innovate and share, all you need is your web browser!
Cost-effective
Address business process pain points immediately. Save time and money.
Fantastic Support Team
Facing difficulties installing the application? Contact our fantastic support team.
Related Topics