Tutorial
Show Additional Columns on Hover
SharePoint at its heart is an intranet application, and for this reason, it is also an excellent place to combine calendars to increase transparency in an organization. However, calendars often become overwhelming and therefore ineffective as you add more details to them. Luckily, with the Infowise Event Calendar Pro web part, we can easily set it so that more information from an event appears when a user hovers over the event.
Instructions
Lets first take a look at what our calendar looks like without the hover feature enabled.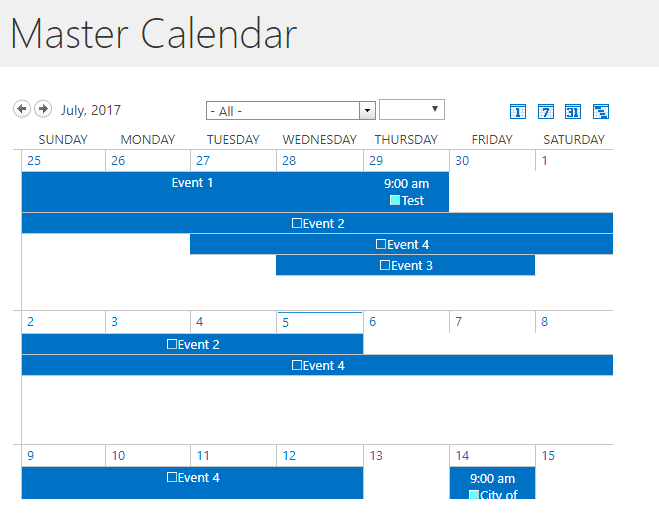 In this example, there are only two data sources but you can easily see that the more data sourced we add, the more crowded our calendar becomes.
Let's see what difference adding the hover feature will make. In the Office 365 version of Infowise, navigate to your Infowise Design screen. Under Configure App Parts select Event Calendar.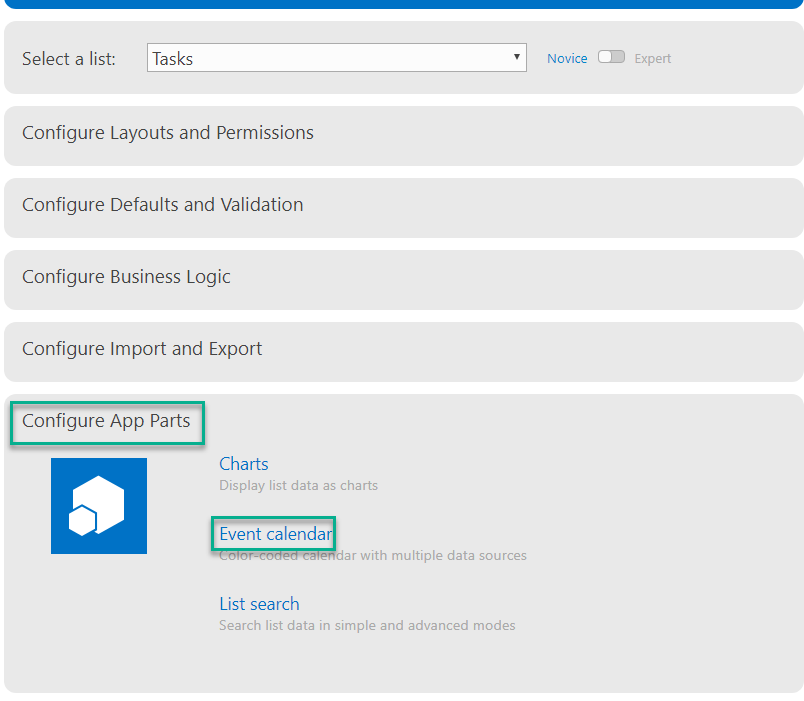 In this example, we already have our data sources set up but the process is the same. Inside your data source section, check the Show additional columns on hover checkbox as shown below.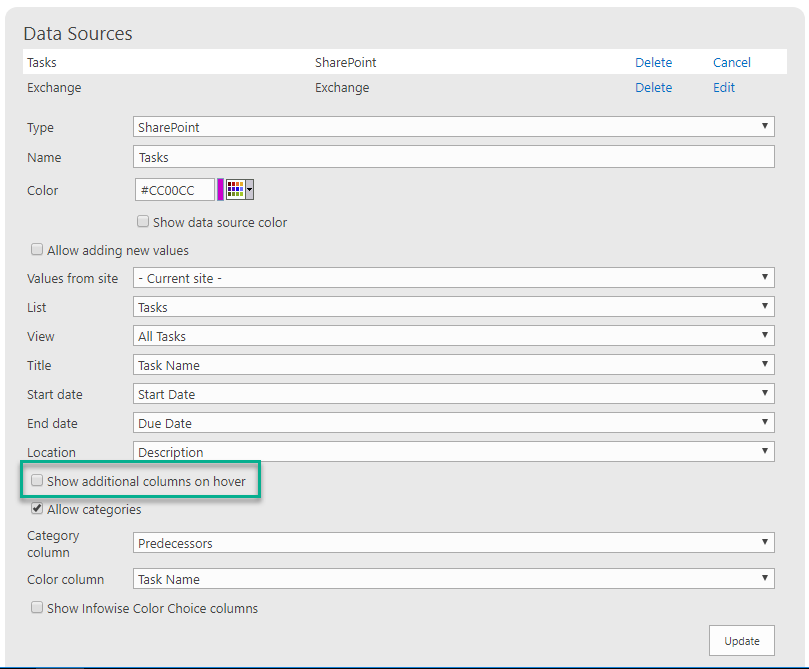 Once this has been checked, Infowise will give you the ability to select which columns you want to appear on hover. I have selected the "% Complete", "Assigned to" and "Description" fields. Select the columns you believe will be most useful to your user and click the Update button if this is an existing data source or the Add button if it is new. Make sure to also click the Update or Add button at the bottom of your screen to ensure this change is added to your Profile as well.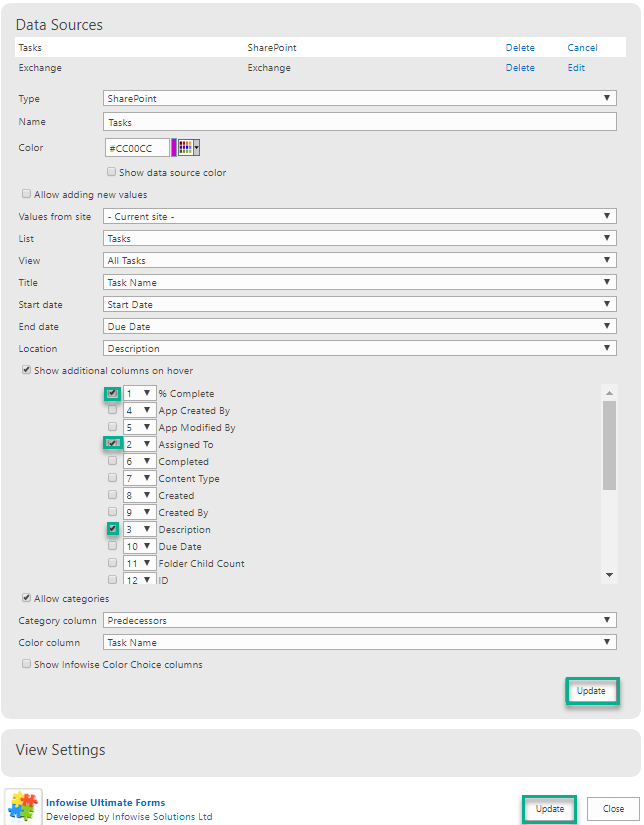 Now navigate to your calendar page and refresh to see the difference. When I hover my mouse over Event 1, we can see that it offers me the "% Complete", "Assigned to" and "Description" fields.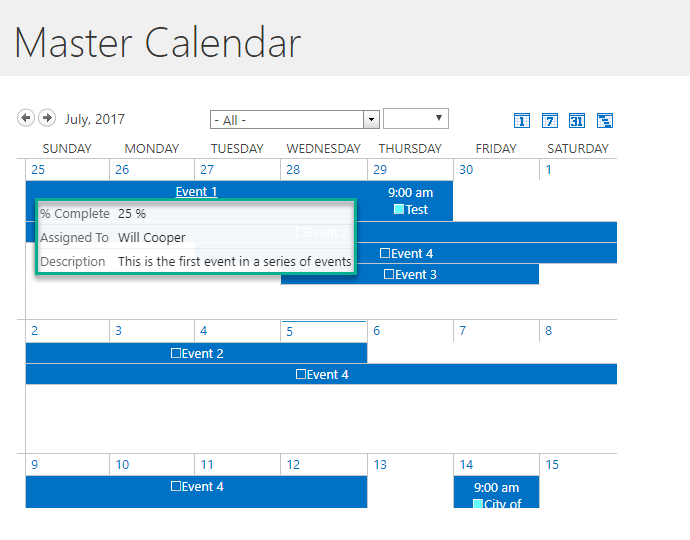 This information only shows when I hover over a specific event! This keeps our users from being overloaded by excess information while allowing them to access crucial details easily.
The on-premise version of Infowise has the same hover feature available and it is just as easy to set up. We have an in-depth video that walks you step by step on how to set up an Events Calendar Plus in the On-Premise Version of Infowise.
For the on-premise product, we set up our data sources and other settings in the Web Part Properties section in SharePoint. Once you have added your web part to your page, go to the upper right-hand corner of your web part and click the drop down. Select Edit Web Part from the dropdown.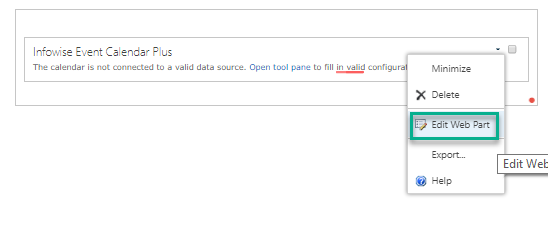 Once in the Web Part Properties screen, scroll down below the setup of your initial data source and you will see the Show Additional Fields on Hover settings. Select columns here that you wish to display to the user and save your web part.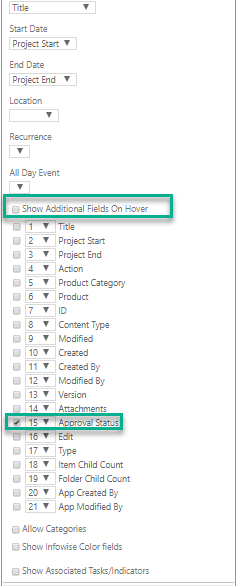 As you can see below, Infowise is now displaying information from my Approval Status column when I hover over an event.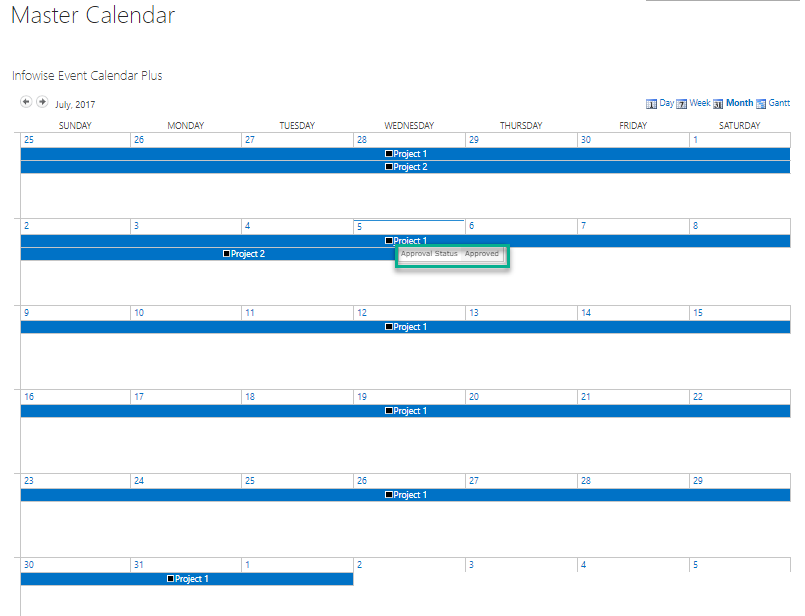 Summary
In this example, we walked through how to enable our Infowise Events Calendar Plus web part to show additional columns from our data source on hover. in both the Office 365 and on-premise Infowise environments. Use this feature to add additional content to your calendars without overwhelming users.
Last modified: 10/2/2018 6:51 PM
Add your comment
Comments are not designed to replace support calls. If you have a specific issue with one of our products, please send an email to
support@infowisesolutions.com
to open a support ticket.