Tutorial
Filter By View in Connected Fields
Connected Fields are a powerful tool in the Infowise Suite. SharePoint's out of the box lookup functionality is often limited but with the Infowise Ultimate Forms Suite we filter by a view of your lookup column. This allows us to use all the sort, filter and additional functionalities to dissect our lists however we want.
Instructions
SharePoint can often end up being unpredictable in that a list you built for one reason ends up serving a different purpose. Infowise gives you the ability to break down any list with filtering and sorting across columns. By combining the sorting and filtering capabilities of views with a lookup column, we can create more complex relationships between our lists and libraries.
I have used these same lists to create a Shopping Cart application. In this example, you want to be able to make a Sandwich List using your Products List, but you need to ensure that the user selects the correct Product for each part of the sandwich- Meat; Cheese; Vegetables. We could set it up to allow users to enter multiple values per each record but then the different parts of the sandwich won't be separated out. Instead let's create a column for every portion of our sandwich.
First thing we need to do is go ahead and create the additional views in our list. Navigate to your Products list and either in List Settings or from the ribbon select Create View. We will name our first view Meat. Scroll down to the Filter section of your view and select the Category column. We want the Category column to be equal to Meat so enter that value into the box as shown.

Equal to is the default operator, however we have many different options as shown below.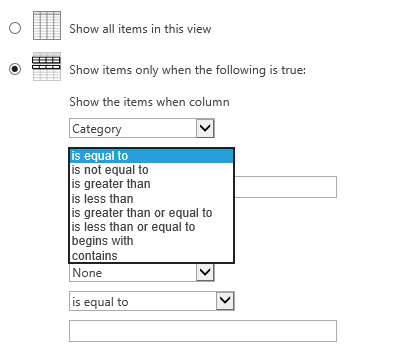 We can use these to slice and dice the values in our list however we would like. However, for this example let's leave is equal to as our operator. Once Meat is entered as your value, scroll to the bottom and select OK.
Go ahead and create a view named Cheese that has a filter where Category is equal to Dairy. It should look similar to below.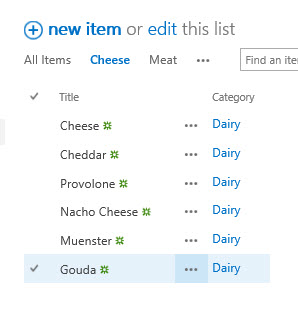 Create a Vegetable view that filters by the Category Vegetables. It should look similar to below.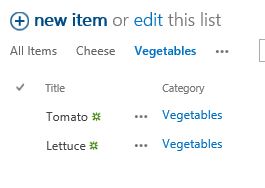 Now that we have used views to slice our list into appropriate values, we can add columns to our list for each of these views. Below is the Infowise Design screen for the Office 365 version. We need to enter in the name of our column, unselect the Filter by parent box and select our Cheese view from the Filter by View dropdown.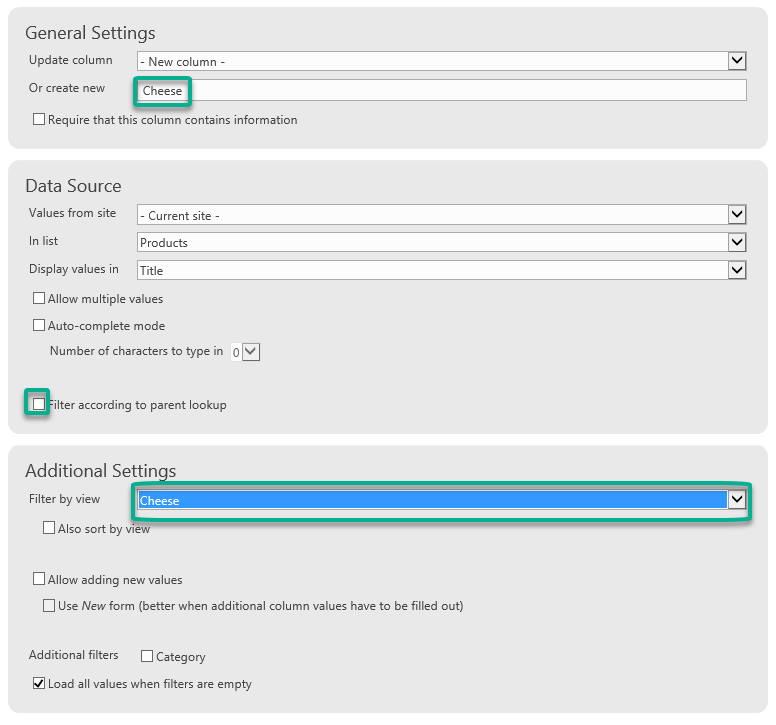 Reselect New Column at the top of the page and repeat these steps with your Meat and Vegetable view. Once you have all three columns created, navigate to the New Item form of your list to test the functionality.
Our Meat column is filtered by the Meat Category view we created.

Our Cheese column is filtered by the Dairy Category in the view we created.

Our Vegetable column is filtered by the Vegetables Category in the view we created.

By using different filters, we were able to break down one list with simple but specific filters that make our Sandwich list way more intuitive.
Creating and filtering by a view in on premise Infowise is very similar to creating it in the Office 365 environment except that instead of the Infowise Design screen we use List Settings.
For this example, I will assume you have already created your Product and Product Category list and added the necessary Meat, Cheese and Vegetable views.
First, in our Sandwich List, we want to go ahead and create a new column and select Master-Detail Lookup column. Name your first column meat and uncheck the box 'Link to parent column'. Check the box labeled 'Advanced Settings' and select 'Meat' from the dropdown. Save the column.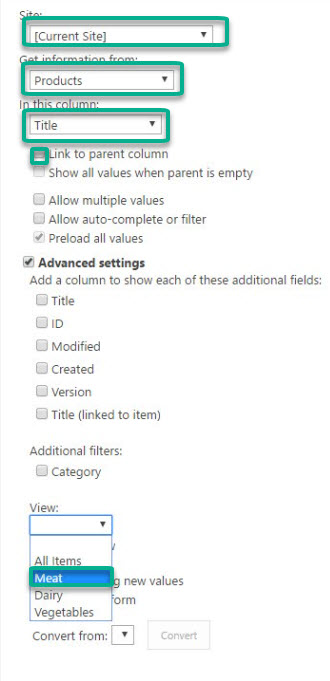 Repeat this step for Vegetables and for a Cheese column. Your third column should be labeled Cheese and will connect to the 'Dairy' view.
Now to ensure that the list operates as expected. In my Sandwich List, when I go to New Item, you can see that the fields are filtered by their views. My Meat field is being filtered by the 'Meat' view I created.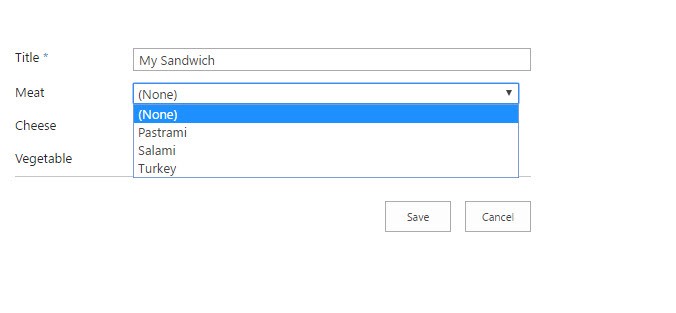 My Cheese field is being filtered by the 'Dairy' view I created.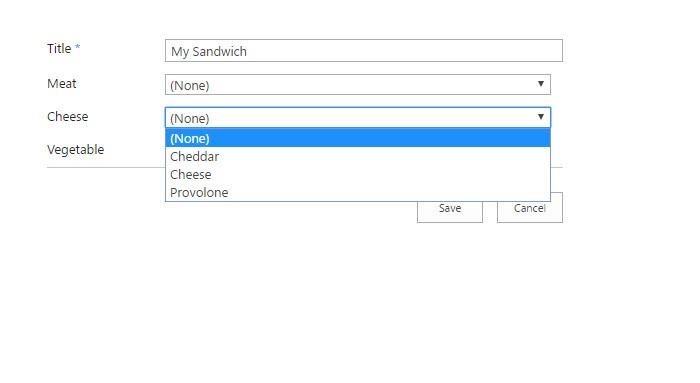 Finally, my Vegetable field is being filtered by the 'Vegetable' view I created.

Summary
In this example, I showed you how to connect you Master-Detail lookup column with a view in your child list and how that can be helpful for managing your data.
A List you originally built for keeping track of your personal hardware components can quickly turn into a list for the whole office. By combining the capabilities of a lookup column with the sort and filter capabilities of views, Infowise allows the user to add more functionalities to the relationships between their lists and libraries. It allows you to further breakdown and work with the metadata of SharePoint.
Last modified: 10/2/2018 6:52 PM
Add your comment
Comments are not designed to replace support calls. If you have a specific issue with one of our products, please send an email to
support@infowisesolutions.com
to open a support ticket.