Visitors Pass Application using SharePoint for Leading Hospital
Hi Readers, I hope you all are doing good and taking care of yourself and your surroundings. In these times, it's imperative to take care of yourself and your family; this is the only way we can fight this pandemic.


I am writing this blog about one of my recent projects with a leading hospital. We have developed a Visitors Pass application using SharePoint and Infowise Ultimate forms. This project is a result of the COVID-19 pandemic, the Hospital was manually doing all the visitor entries, and sometimes they don't have a record of visitors like the vendors, contractors and temporary workers. So our new online system for visitor pass helped them to track each visitor and reduce human interaction, which is a primary requirement to minimize the spread of COVID-19.
Now it seems, Infowise forms are part of all my SharePoint projects. Infowise becomes my first choice when we need to create the forms. And with the available features and easy to use interface, it's quite time-saving and worth working with.


_________________________________

The pass is intended for visitors who come to the hospital for different purposes, such as business meetings, contracting, auditing, research associates, technicians of medical equipment, pharma sales agents, vendors and members from NGOs and community groups associated with the Hospital.
________________________
Technology is playing a very important role in this time of COVID-19. In the healthcare industry, where people depend on in-person meetings or manual processes, COVID-19 has changed all the traditional methods or workplace interactions. Due to COVID-19 spread, the client was looking for some solution that can help them to collect and keep up all visitor data so that they can trace them in the future if needed. As a precautionary step and a mandatory action for all public places, they wanted to track each visitor, and most importantly, they wanted to minimize or better eliminate direct human contact between staff and official visitors.


With that, they also want their team to be able to make some small changes in the future based on requirements without needing any help from IT support. As I mentioned in one of my previous blogs, managing the apps is very easy if you have used the Infowise Forms in your applications.
Visitor Pass, this needs to be a form for the gate coordinators. All the gate coordinators can use this information at their systems; also, if required, an alert can be generated for gate coordinators to give any more information about the visitor. This alert method helped a lot in COVID-19 impacts as the coordinator directly gets the alerts on systems, and they don't need to interact with the visitor for longer times. A printed copy of that gate pass needs to be provided to the visitor, and there should be a record of all the visitor passes generated for future reference.
To give you more context of the problem we were tasked to solve, this gate pass is not for visitors of patients. The pass is intended for visitors who come to the hospital for different purposes, such as business meetings, contracting, auditing, research associates, technicians of medical equipment, pharma sales agents, vendors and members from NGOs and community groups associated with the Hospital.
Below are the fields which we have used to generate a gate pass:

| | |
| --- | --- |
| Field | Type |
| Visitor No. | Number type (auto-generated) |
| Visitor Name | Text |
| Visitor Contact | Number |
| Date | Date and Time |
| Meeting With | Text |
| Purpose | Text (Multiple Line) |
| Address of Visitor | Text (Multiple Line) |
| Estimated Visiting Time | Text |
| Appointment Confirmed | Choice (Yes/No) |
| In Time | Date and Time |
| Out Time | Date and Time |
| Valid Till | Date and Time |
We created a SharePoint list and used Infowise forms to customize that, Infowise is made for this type of work, it's best suited and has all the required features which we need to develop this and complete the task.
Here is the Infowise form designer landing page: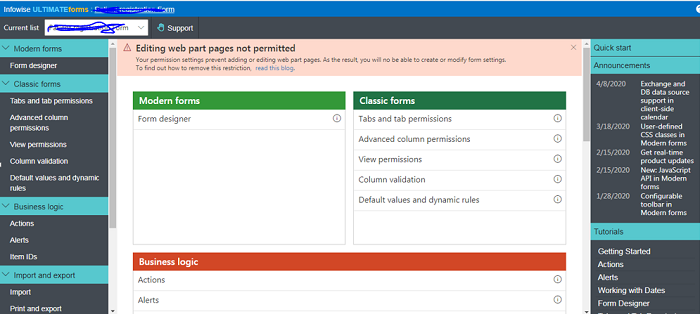 Below is the screen which we have developed for gate coordinators: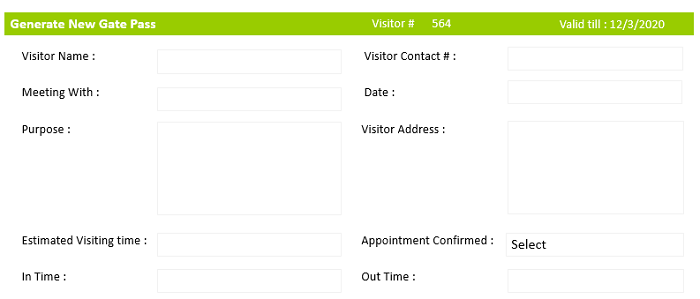 In the above screen, we have fields to add visitor details. Using Infowise forms, we have the option to customize the form and get the desired UI. I remember how we used to do this in InfoPath and then in between we lost because there were some limitations that came in the middle of the projects while using InfoPath, people who have worked in InfoPath will understand this. Now, when we use Infowise forms with SharePoint, we don't have that limitation thing, they have added so much into this tool that I don't think it's possible to use all the features in one application. I am using Infowise for quite some time now, and I haven't used all the available features of this tool. With this, they always come up with a new addition to the tool, so it's always great to explore and use this.
The next screen we have created is for visitors. This is the gate pass which visitor will carry and show in different gates. This is the print view of the form, and we can easily generate this using Infowise, below is the screenshot of the print view.



Record keeping and using the information in the future is very easy in SharePoint, and with Infowise we have the option to display in our required manner. Using SharePoint lists and Infowise features, we have options available to show the reports in different ways, we can even create dashboards using Infowise charts, but in this case, we just need a database where they can see all the visitor pass generated. So we just used a report view of the list.



Below are screenshot setting alerts options: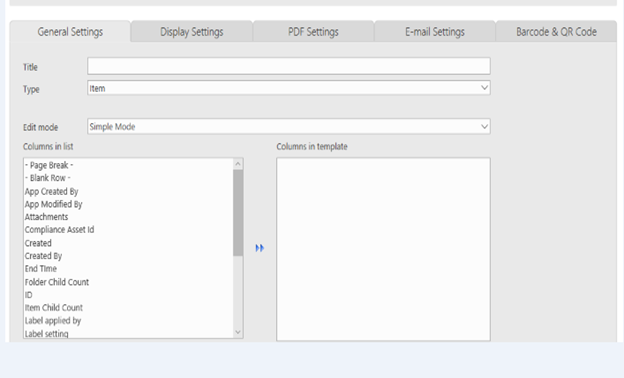 This record-keeping is very important in hospitals because there are security issues, and multiple times they have to give this information to local government security agencies and so this needs to be updated and safe.
Finally, we have trained their team on how to use the Application, small changes that are not related to the application backend can be done by their team, and one of their team members was also trained in Infowise designer for forms. Which helps them in a great way.
Thank you for reading this, and I will come up with my new experiences in the future, till then take care and enjoy developing no-code solutions using Infowise and SharePoint.
Disclaimer: Images are taken from dummy applications.
Add your comment
Comments are not designed to replace support calls. If you have a specific issue with one of our products, please send an email to
support@infowisesolutions.com
to open a support ticket.
Ultimate

Forms
Build powerful business applications in SharePoint using only your browser.

100% No-Code Solution
It's never been easier, to create, innovate and share, all you need is your web browser!

Cost-effective
Address business process pain points immediately. Save time and money.

Fantastic Support Team
Facing difficulties installing the application? Contact our fantastic support team.
Related Topics