Ultimate Forms rolling out to modern experience views in SharePoint 2019
Hi there!
At this point many of our customers have upgraded or built new SharePoint 2019 farms and some of them even want to use the new modern experience UI. Well at this point they had probably noticed that some features do not work as they used to in the classic experience or are working in office 365..
I am talking about our Ultimate Forms custom fields and ribbon customizations, that had to be adjusted to be supported in the new UI.
At the bottom of this post I will be updating a table that will include each component support, but for now let's dive a bit and understand how this will work in your brand-new SharePoint 2019 farms.
First of all, you should know that those features are implemented by an app package which built upon the new SharePoint Framework (just like in SharePoint online). Worry not, our trusted installers will do most of the work for you!
More about the installers later, first there are some steps that you will have to do in order to allow apps deployment and activation: Install and manage apps for SharePoint Server
When all the configuration stuff is over with, all you will have to do is download the latest versions of our installers and.. run them :)
Each freshly built installer will perform the following:
Add and deploy our "Infowise Ultimate Forms Extensions" package into each of your app catalogs
Go over the sites you had selected during the installation and add the new app to each one of them
Each product installer released after December 19, 2019 will contain the app installation part in it and support for new experience of the relevant product (if applicable).
Please mind that for now, the app will have to be added manually in to sites created after the installer ran. Just go into the new site content, click Add > App and look for "Infowise Ultimate Forms Extensions" in the search box.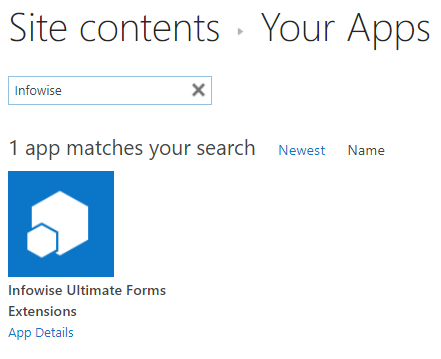 While this app is installed locally on your farm, the scripts it uses are hosted on our company servers, so in order for all of it to work, your client browsers must have access to the web.
That is awesome!!! But what will you get from all of this??
First of all, we get all the ribbon buttons that got lost in the new UI: Print, Alert, Actions and Design.

And of course we will be able to see values in our favorite Infowise custom fields, like: Master-detail lookup, Associated items, Color Choice, Indicators and the rest..
Without further ado, the following list will show you which components are already released and supported in the new modern UI:
| | |
| --- | --- |
| Ultimate Forms Design button | V |
| Smart Action Pro ribbon | V |
| Smart Alert Pro ribbon | V |
| Smart Print Pro ribbon | V |
| Electronic Signature Field | V |
| Color field and Indicators | V |
| Connected lookup Field | V |
| Associated Items Field | V |
| Document Link Field | V |
| LOB Item Link Field | V |
| User Property Field | V |
| Voting Field | V |
Enjoy the new UI and thank you for reading!
Add your comment
Comments are not designed to replace support calls. If you have a specific issue with one of our products, please send an email to
support@infowisesolutions.com
to open a support ticket.
Ultimate

Forms
Build powerful business applications in SharePoint using only your browser.

100% No-Code Solution
It's never been easier, to create, innovate and share, all you need is your web browser!

Cost-effective
Address business process pain points immediately. Save time and money.

Fantastic Support Team
Facing difficulties installing the application? Contact our fantastic support team.
Related Topics