The benefits of adopting SharePoint and Office 365 in Manufacturing
With the increased use of SharePoint and Office 365 in the manufacturing sector, manufacturers had to reconsider roles, talents, and tools throughout their organizations. Technology adoptions provide employees with new digital and soft skills, encouraging workers to expand their technical horizons by providing them with modern tools, for immersive learning experiences.
SharePoint and Office 365 for Manufacturing are revolutionizing the sector by providing a simple management system for each phase of production. Consequently, it is not only increasing productivity but optimizing operations and unlocking new areas for growth. SharePoint and Office 365 for Manufacturing modifies and automates manufacturing processes by using integrated workflow capabilities and manual information handling. This digitization of industries assists in developing and validating processes that ensure the reliability of products. Manual processes such as inventory transfer approval, purchase requirements, seller/consumer operation, product set-up, and cost compensation are run by SharePoint and Office 365 for Manufacturing. Such granular control of the supply chain allows industries to concentrate on their core activities of customer satisfaction and delight.
Making people-centred data storage, communication of ideas across mobile devices, and access to information to every employee are the key features of SharePoint and Office 365 for Manufacturing. Office 365 and its components provide services such as design, infrastructure and application development, personalized workflows production, and managing and reporting on-going maintenance of machines. SharePoint and Office 365 for Manufacturing is super-easy to install, configure, customize and upgrade according to the need of the enterprise. Hence, SharePoint and Office 365 for Manufacturing, leading industries towards progress.
SharePoint and Office 365 in industries is capable of the following:

1. Paperless Documentation
The document management capabilities of SharePoint assist in keeping seller/consumer contract documents, product histories, and equipment commands. Hence, it reduces high reliance on manual documentation. Besides, ERP/ CRM can be integrated with SharePoint by using out-of-the-box connectors for managing and maintaining documents such as procedures, agreements, work orders, and compliance records. These documents are administered by resilient document management policies, for instance, versioning, preservation and record statement. SharePoint provides a medium to associate scheduling, administrative structures, and the shop floor.


2. Cashflow Management
SharePoint makes streamline cash flow by avoiding delays and reducing tasks' finishing time. It manages late bills, scheduled shipment, contested POs, and issues of shipping. In this way, SharePoint builds a strong seller/consumer relationship. The follow-up of the tasks and co-ordination among employees of the industry both have a significant impact on the growth and development of the products. Therefore, SharePoint deals with these impacts by providing item tracks through closure.

3. Business Intelligence
SharePoint is a software that transforms data into applicable intelligence and knowledge by estimating the needs of the products, identifying trends, controlling production development, and optimizing record levels. It is a fully-featured system that offers innovative BI self-service capabilities that work with a flexible array of applications by combining data from different systems. To improve inventory planning, this software provides front end input to a master production scheduling system. Hence, it increases product development effectively by planned decision making using real-time data.
4. Integrated Platform collaboration
SharePoint provides a unified communication platform to collaborate with cross-functional teams of the industry to remove duplicity, misalignment, repetition of common mistakes, and limited information dissemination. Various stakeholders can also communicate together via the SharePoint communication platform to discuss multiple processes involved in the manufacturing of the products, such as conceptual design, research, drafting, documentation, quality, and quantity.


5. Enhanced Mobility Features

SharePoint is an excellent medium that assists the mobile sales team. It benefits organizations with information on the products, metrics, presentation, case studies, document templates, and real-time production data on mobile devices. The provision of additional information is made possible by maintaining sales collateral that is essential to improve the legitimization of the industries.
6. Established Vendors and Clients Connections

Web Portals are necessary for the connection of organizations with trading partners to take advantage of collaborative opportunities and benefits. SharePoint provides web portals that build specific management tools and enable the organization to exchange contract reports, performance metrics, and purchase orders with their trading partners. It manages and monitors contracts with their suppliers and develops various contract management capabilities. In this way, SharePoint offers a better view of manufacturing processes to suppliers, which eventually increases their efficiencies in cater to your industry. Besides, SharePoint allows license holders to serve supplier portals with no additional costs.
7. Product Lifecycle
SharePoint has become the progressive CIO's top-priority for PLM/PDM. It is used to improve innovation, teamwork, and management on a global scale. Besides, it can also free PLM/PDM team members from the haphazard of time-consuming requests from extending members by providing information through a centralized and searchable database. In this way, members are encouraged to search the data themselves. SharePoint promotes the creation of collaborative work-spaces for work-in-progress projects and offers a database of mark-up comments for the preservation of virtual objects. To facilitate process-centred functions such as engineering change orders, the workflow of SharePoint is leveraged.
8. Higher ROI

ERP solutions are often generally developed for an industry with minimal adaptation to your enterprise. By using a generic answer, competitive advantage can be lost. ERP tools cannot fully support the business processes that have changed over time and are unique to your organization. Systems should be assisted by systems, rather than dictating which systems will operate. Adaptation of ERPs is often prevented and can be expensive. A cost-effective solution for customized business applications and particular business roles arrives with the SharePoint Framework. The flexibility and abundance of features of SharePoint's platform off-box reduce development times by 40 percent, thus improving ROI and market time.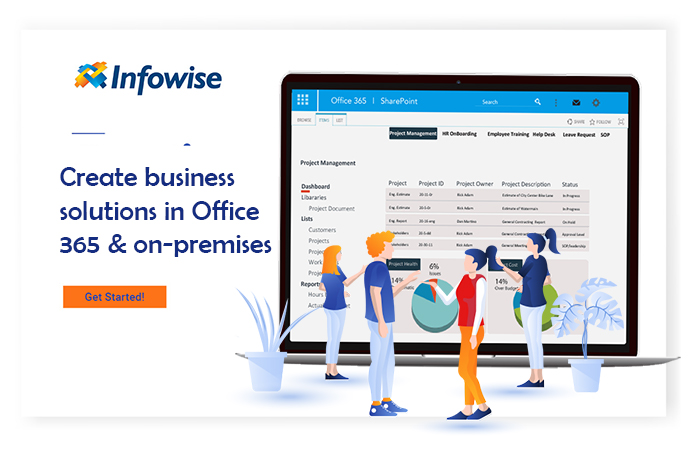 Infowise

At Infowise, we serve as a strategic partner, assisting public and private enterprises in their digital transformation endeavours with our scalable, smart, and robust tools, software, and applications. Our product Infowise UltimateForms Power Suite contains more than 15 standalone SharePoint applications developed to give you the power to innovate, automate, and scale up your processes. Our products have been designed for optimum interoperability and seamless integration within SharePoint. Altogether, they constitute the structural foundation for digitization and facilitate your transition to digital transformation.
Click here to download Infowise ULTIMATEforms 30-days free trial. Simple process. After you've installed Infowise UF, go ahead and create an unlimited number of Business Process Applications. Or even better, do you want to start with a ready template? Great, click here and download the ready-to-use template from our vast business process solution library, re-purpose to service your needs.
Add your comment
Comments are not designed to replace support calls. If you have a specific issue with one of our products, please send an email to
support@infowisesolutions.com
to open a support ticket.
Ultimate

Forms
Build powerful business applications in SharePoint using only your browser.

100% No-Code Solution
It's never been easier, to create, innovate and share, all you need is your web browser!

Cost-effective
Address business process pain points immediately. Save time and money.

Fantastic Support Team
Facing difficulties installing the application? Contact our fantastic support team.
Related Topics