Sharepoint and Office 365 in Manufacturing
Machines and assembly lines are humming across the globe, turning billions of capital dollars into millions of products every day. The manufacturing world is vast, and it is quite challenging to keep track of all changes and where you fit in as an organization. Manufacturing products involve various stages, such as research, design, development, prototyping, production, quality control, and marketing. The conversion of raw materials into useful products is a complicated process to manage. Controlling several interdependent production lines is a challenge on its own. Having been at one end or the other in the supply chain, you can quickly see how multitudes of compiling errors can happen. When such misfortunes occur, they are a cause of significant financial losses to the business and personal pain to all involved in the production process — and the importance of software that creates and manages your information becomes more evident than ever. SharePoint office 365 is a perfect information management software for manufacturing.
Office 365 and its various components not only assist enterprises in managing complicated manufacturing processes but enhances productivity through empowering personnel with open and shared knowledge systems.
SharePoint office 365 for manufacturing provides many services that enable industries to run administrative and operating processes smoothly. It assists enterprises in operating product manufacturing efficiently by improving visibility and quality tracking. Besides, it provides immediate access to experts by taking advantage of team sites where employees can not only share ideas but view product deliverables and convert resources to tasks. SharePoint office 365 for manufacturing makes industries free from manually managing complex documentation necessary for production and distribution processes. It stores data about product manufacturing specifications, contracts, reports, product histories, along with CRM processes.
SharePoint office 365 for manufacturing manages to streamline cash flows by tracking records of bills, shipment, and on-time delivery. It deals with overdue bills that can cause adverse effects on the productivity of the industries. The provision of business intelligence via SharePoint office 365 for manufacturing helps industries to cater to demands, identify trends, manage production strategies and maintain records for the progressive growth and development of the products. With this software, the trades can avail presentations, statistics, document templates, and product research. Hence, SharePoint with Office 365 software used for product manufacturing establish a strong relationship between seller and consumers.
SharePoint office 365 for manufacturing tackles manufacturing challenges by providing enterprises with distinctive sector-focused packages. The packages are super easy to install, update, and configure according to the demands of each enterprise. Due to the simplicity, mobility, and flexibility, this software is a top priority of business owners.
Following are some of the services/benefits provided by SharePoint and office 365 for the manufacturing sector:

1.

Document Management

SharePoint Office 365 manufacturing software deals with complex documentation of the industries. This software offers a generous space to store data. It is a replacement of physical storage that does not need any manual effort. With this software, the industries can maintain seller/consumer contract documents, product information, track of equipment usage, and maintenance. It does not need any high reliance. Instead, it provides a platform to associate forecasting, organizational systems, and the shop floor. Hence, it reduces time and effort in documenting manufacturing processes and keeps the focus of the organization on the core activities of the product manufacturing.

2. Unified Platform

The miscommunication between cross-functional teams can lead the organization towards a downturn. Therefore, SharePoint with Office 365 provides a centralized platform where employees collaborate and share their ideas related to product manufacturing. It ends the repetition of common errors, duplicity, and misalignment. Through this platform, employees are well informed about their tasks. This software also provides a search engine through which employees can gather not only information about the product but can even know news, upcoming events related to the marketing of the products.

3. Mobility
In this era of digital transformation, the change and adaptation in business strategies and policies are necessary to meet the increasing challenges of product development and its marketing. So, SharePoint with Office 365 is empowering the sales team by providing enhanced mobility features. Through this service, the sales team can avail of every information about product manufacturing and its marketing on their mobile devices. In this way, a strong bond is built among the members of the sales team that enhances the credibility of the product and industry.

4. Vendors Portals

Industries are using web portals to communicate with stakeholders or trading partners for a better understanding of initiative, purpose, and launching of products into the market. SharePoint Office 365 for manufacturing software is used to create seller, consumer and employee portals. Through this software, the industries can administer, monitor and share contracts with their trading partners. It facilitates the trades to track performance metrics, purchase orders and on-time delivery of the product. In this way, not only the products grow and develop, but it gives a better view of the vendors to see the efficiencies of the industries that are serving them.

5. Product Cycle Mangement

SharePoint Office 365 for manufacturing software manages the product lifecycle, engineering change orders (ECO), and complex workflows. It is used to boost entrepreneurship, collaboration, and international communication. This makes SharePoint with Office 365 software a successful CIO's top preference for product life cycle management. Besides, it provides information through an organized, search powered inventory that reduces the inconvenience of time taken requests from extended members and makes the team members of product lifecycle management stress-free.

6. Lean Manufacturing

Recycling of waste products is a challenge to the industries as these waste products are toxic enough to threaten our environment. Therefore, lean manufacturing is adopted by the industries to minimize the exposure of waste products in the environment. Through this process, waste products are recycled without affecting the growth and development of the product. By using SharePoint, the industries can digitize and control their manufacturing processes by utilizing built-in workflow capabilities. It eliminates waste produced by manual handling. This software is designed primarily to control manual processes such as stock transfer authorization, purchase request, vendor/customer system, item templates, and reimbursement of expenses, thus freeing up resources to assets to emphasis on core business.|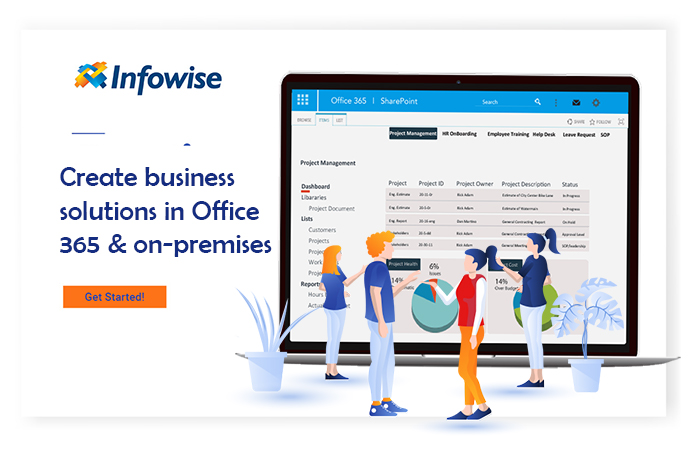 Infowise

At Infowise, we serve as a strategic partner, assisting public and private enterprises in their digital transformation endeavours with our scalable, smart, and robust tools, software, and applications. Our product Infowise UltimateForms Power Suite contains more than 15 standalone SharePoint applications developed to give you the power to innovate, automate, and scale up your processes. Our products have been designed for optimum interoperability and seamless integration within SharePoint. Altogether, they constitute the structural foundation for digitization and facilitate your transition to digital transformation.
Click here to download Infowise ULTIMATEforms 30-days free trial. Simple process. After you've installed Infowise UF, go ahead and create an unlimited number of Business Process Applications. Or even better, do you want to start with a ready template? Great, click here and download the ready-to-use template from our vast business process solution library, re-purpose to service your needs.
Add your comment
Comments are not designed to replace support calls. If you have a specific issue with one of our products, please send an email to
support@infowisesolutions.com
to open a support ticket.
Ultimate

Forms
Build powerful business applications in SharePoint using only your browser.

100% No-Code Solution
It's never been easier, to create, innovate and share, all you need is your web browser!

Cost-effective
Address business process pain points immediately. Save time and money.

Fantastic Support Team
Facing difficulties installing the application? Contact our fantastic support team.
Related Topics