SharePoint and Office 365 as a Lease Management System
SharePoint and Office 365 is a complete management system, from lease management to providing better customer service to the clients; it can handle it all. It is a user-friendly management system that offers easy access to documents, increased efficiency, better security, prevents duplication, and much more. Today we're going to review some of the basic features of SharePoint and Office 365.
Dedicated Project Site Pages
When you use SharePoint as a lease management system, you can have a dedicated portal for all your projects and sites. You can add images of the property or the location on the map. These sites can consist of the relevant contacts working on the project, documents related to the property, and even tags.
Synchronize Documents Online and Offline
When you have a lot of documents to work on, sometimes you can forget to upload it. SharePoint allows you to sync these documents with just a click of the button from your computer. This enables you to sync files directly to SharePoint when working on your computer. Another way of uploading files instantly to SharePoint is by creating a shared folder in the system. Just drop your files in the folder, and they'll automatically get uploaded on SharePoint. You can also use OneDrive to create a shared folder, as it can be easily integrated with SharePoint.
Keep Up with Contract Renewals with Notifications
Another useful application of SharePoint as a lease management system is that you can set-up notifications for contract renewals. By doing so, SharePoint will remind you when the renewal date of the contract arrives.
Customer Portals
Using SharePoint and Office 365 for lease management, you enable yourself to provide better customer service to your customers by setting up customer portals. In these portals, you can add the details of the property, mortgage information, tax documentation, etc.
External Document Sharing
When it comes to document sharing, SharePoint and Office 365 can be highly beneficial for you. You can configure the external sharing option of the site, and when enabled, you can share the contracts and documents with external users easily. You can also dictate the privacy of the document and assign read-write privileges to users.
Metadata Management
When you use SharePoint and Office 365 for lease management, you can define tags and metadata for the document. Metadata could be keywords of the project and the department they relate to. You can set up metadata as Construction, Rent, Lease, Insurance, Operations, etc. You can even define metadata for the sub-items such as Plumbing, Electronics, Safety, etc.
Advanced Search
SharePoint and Office 365 takes the search capabilities to the next level because of its metadata repository. When you use it as a lease management system, you can easily find the documents you're looking for. And document versioning makes it even easier for you to find the correct version of the document.
E-Signature
When you use SharePoint and Office 365 for lease management, you can easily integrate an e-signature application. This enables you to manage contracts digitally and eliminates the need for face-to-face meetings. This saves time for all the parties and streamlines the entire process.
Dashboards
SharePoint can generate real-time dashboards so you can monitor the progress of your projects. This tool makes SharePoint and Office 365, a powerful lease management system.
Conclusion
SharePoint and Office 365 is an all-rounder enterprise solution; if you are already using it to carry out some of your business processes, you should also consider using it as a lease management system. It is easy to use, and it can integrate with external software making your business processes even more efficient. There are several out-of-the-box portals available in the market that are designed specifically to enhance SharePoint's capabilities; by using them, you can increase the overall efficiency of your company and maximize your output.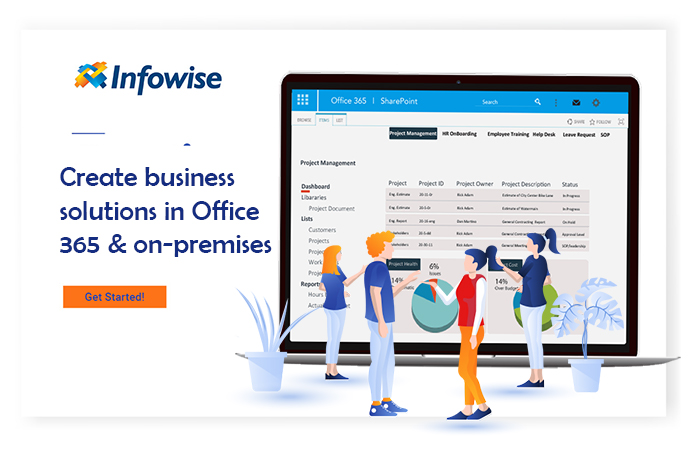 Infowise

At Infowise, we serve as a strategic partner, assisting public and private enterprises in their digital transformation endeavours with our scalable, smart, and robust tools, software, and applications. Our product Infowise UltimateForms Power Suite contains more than 15 standalone SharePoint applications developed to give you the power to innovate, automate, and scale up your processes. Our products have been designed for optimum interoperability and seamless integration within SharePoint. Altogether, they constitute the structural foundation for digitization and facilitate your transition to digital transformation.
Click here to download Infowise ULTIMATEforms 30-days free trial. Simple process. After you've installed Infowise UF, go ahead and create an unlimited number of Business Process Applications. Or even better, do you want to start with a ready template? Great, click here and download the ready-to-use template from our vast business process solution library, re-purpose to service your needs
Add your comment
Comments are not designed to replace support calls. If you have a specific issue with one of our products, please send an email to
support@infowisesolutions.com
to open a support ticket.
Ultimate

Forms
Build powerful business applications in SharePoint using only your browser.

100% No-Code Solution
It's never been easier, to create, innovate and share, all you need is your web browser!

Cost-effective
Address business process pain points immediately. Save time and money.

Fantastic Support Team
Facing difficulties installing the application? Contact our fantastic support team.
Related Topics