Office 365 and SharePoint have Optimized Financial Services on the Cloud
Microsoft defines SharePoint Online as "a cloud-based service that helps organizations share and manage content, knowledge, and applications to empower teamwork, quickly find information and seamlessly collaborate across the organization." SharePoint Online is part of the Office 365 family. Office 365 pretty much gives you the standard, time-tested Office productivity software like Word, PowerPoint, Excel and email packages and all based in the cloud. Now, your favourite software is on the cloud, so it updates itself, and your documents and presentations are available and accessible in the cloud at all times. The entire suite of software can be accessed from any device- mobile or desktop. You can work seamlessly anywhere using any device you own. So it offers ease of use, convenience, and flexibility. You're never away from your work or your teams.
SharePoint Online is a powerful collaboration platform that can be used across teams remotely. In SharePoint collaboration is accelerated, and since its part of Office 365, you can use all of the goods that come with Office 365. OneDrive for Business is a cloud storage service that allows you to store all your data on the cloud securely. It can be accessible on all devices compatible with OneDrive for Business.
Financial Institutions thrive on providing excellent customer service, and this is where Office 365 and SharePoint Online come in. All confidential customer data can be stored in the cloud by financial institutions via OneDrive for Business. Data can be shared across different customer service departments via SharePoint Online. Since everything is in the cloud, it's all highly secure, and collaboration is easily possible as well. At the click of a button, customer service agents of financial institutions can access all customer-related data when a customer calls. It's perfect for remote operations and even if your customer service team has been outsourced to another part of the globe. Office 365 will enable agents to update customer data on the fly, and there's less hold time on the phone. If the customer wants to access his or her data online via online banking, all his or her transaction history, current balance and more will be available. This is because the online banking system is powered by Office 365. All the data is already stored in the cloud, and IT admins can simply make every information available for customers at their fingertips.
There are several reasons why Office 365 has been an instrumental tool in the digital transformation journey of a few financial services power players such as TD and Bank of America. The reasons lie within the software suite itself and are as follows:
Reasons that make these platforms suited for Financial Services:
Compliance
Microsoft's Financial Services Compliance Program (FSCP) is designed to make sure the cloud services and products, including Office 365 comply with regulatory authorities' requirements. This way, financial services institutions can rest easy that using Office 365 will keep them safe in front of regulatory authorities.
Collaboration

Office365 provides excellent opportunities for collaboration in the Cloud. SharePoint Online is superb when it comes to collaborating with teams across the globe remotely. Ideas, documents, presentations and more can be exchanged on the fly. Microsoft Teams helps different teams work well together on their projects wherever they are in the world. Microsoft Teams allows teams to communicate and collaborate effectively via group chat, share data and files, and even work together on business apps. It's all part of the Office 365 family and very useful.
Productivity

Office 365 provides world-renowned productivity software and all accessible on the Cloud. Word, PowerPoint and more are at your fingertips. For generations, these have been enjoyed by businessmen, college students on their laptops and desktops, but now Office 365 has updated them for the modern businessman, IT admin and student. All customer and client data can be stored with on Excel and Word and accessed from any device anywhere in the world. Documents can be made and sent off on the fly. They can be stored securely on the Cloud.
Customer Service

Whenever any tech support is needed, Office 365 has agents ready to help 24/7/365. Whenever IT admins are stuck, they can avail support on the fly and get back to work. At the same time, Office 365 is a Microsoft product, and the company has been at the forefront of productivity software for decades. This is why one can always expect and receive the most excellent support from reliable techs wherever you are in the world.
Mobility

Office 365 was designed with Mobility in mind. Mobile phones, desktops, tablets, or laptops- you can access Office 365 on all these devices. Ultimate productivity is in the palm of your hands. If you work remotely with teams across the globe, you are connecting via Office 365 thanks to the power of the Cloud.
Cost-effectiveness

One suite of productivity and collaborative software brings you so much in one package. There are three editions of Microsoft Office 365, including Business, Business Premium, and Business Essentials. Financial institutions can purchase a subscription to whichever edition that best works for them. All three versions are reasonably priced, and overall, three of them offer the best productivity and collaborative software on your fingertips.
Security

Office 365 offers excellent protection for financial institutions. All documents, presentations, customer data and information, are stored securely on the Cloud. Azure and OneDrive for Business provide excellent storage for all crucial and critical customer data that can be accessed anywhere via the Cloud. Microsoft engineers are working round the clock to make sure the data is safe and secure and protected from all threats and attacks. Passwords, usernames and all online banking data is safe and securely stored and can only be accessed by authorized users and away from the wrong hands.
Conclusion:

IT admins of financial institutions can make use of platforms such as Office 365 and SharePoint because these Cloud solutions offer convenience, flexibility and enable productivity. Improving user experience for not just customers of financial services but also staff, agents, brokers and off-site team members. All customer data can be securely stored on the Cloud and be made available to agents, customers, online chat specialists. It is also in compliance with local banking regulatory authorities. There's a whole lot of confidential data that customers want to have access to. Office 365 offers productivity software that organizes the data correctly so that the end consumer and customer service agents benefit. If there are any issues, they can be resolved with ease and simplicity. The data can be accessed on all supported mobile devices if one is away from their home PC or laptop. There's an increased demand for dependable customer service in financial services today because customers want to know where their money is and how they are managing their finances. It's because the data is so crucial and critical, Office 365 helps IT admins come up with solutions to provide customers and agents with the best solutions possible. Office 365 harnesses the power of the Cloud to deliver the best experience possible, and it's a win-win for everyone.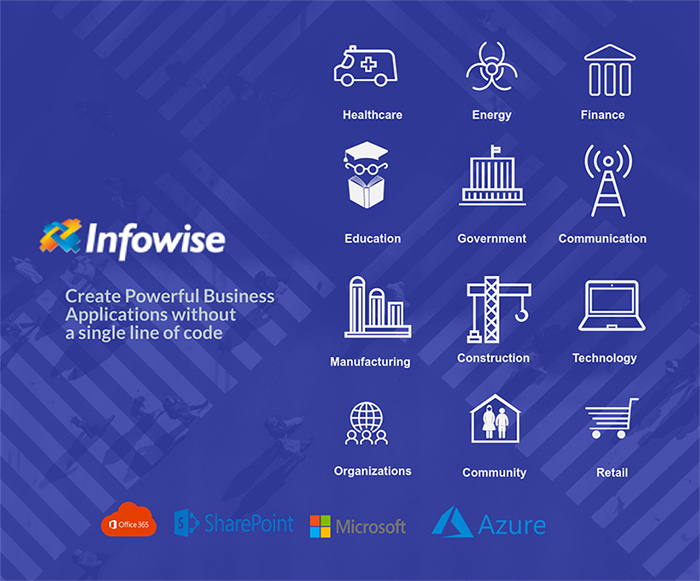 Infowise

infowise is a leading provider of forms and processes solutions for the Microsoft SharePoint platform. Financial services providers make a large section of our client's list. As authors of productivity and agility software, we're pleased, yet not surprised that these global financial businesses have adopted our tools in their daily productivity cycles. Our flagship package Ultimate Forms is an integrated suite of SharePoint components that enables users to create advanced, dynamic forms, sophisticated business processes and striking visualization.
UltimateForms supports all Microsoft SharePoint platforms, including Office 365 and all on-premises SharePoint versions.


Add your comment
Comments are not designed to replace support calls. If you have a specific issue with one of our products, please send an email to
support@infowisesolutions.com
to open a support ticket.
Ultimate

Forms
Build powerful business applications in SharePoint using only your browser.

100% No-Code Solution
It's never been easier, to create, innovate and share, all you need is your web browser!

Cost-effective
Address business process pain points immediately. Save time and money.

Fantastic Support Team
Facing difficulties installing the application? Contact our fantastic support team.
Related Topics