Microsoft Teams With Infowise ULTIMATEforms For Public Sector
"This has completely changed how we're thinking about forms, metadata collection, and how to use that for our company's benefit. Infowise's tool makes our forms smooth, so it's a lot easier to get end users adopted. Metadata is such a huge benefit, but not an obvious one to our end users, so our simpler forms will really help in that regard." – ULTIMATEforms review.
Microsoft Teams, also known as the hub for teamwork in Office 365, is a chat-based platform that enables team members to work more productively by providing them with a secure, single platform for everything they need, including meetings, chats, calls, files, and other tools. Microsoft has built Teams to meet the government regulations and requirements for the GCC, GCC High, and DoD. By implementing Microsoft Teams in a government environment, organizations can easily increase collaboration and communicate effectively. They can streamline their daily work and increase efficiency for delivering necessary services to the constituents and citizens according to their mission.
ULTIMATEforms with MS Teams
ULTIMATEforms is the flagship product of Infowise Solutions, which allows you to build advanced business solutions using just your browser and without writing a single line of code. With ULTIMATEforms, you can build both simple and complex solutions required in the government environment while meeting the government regulations and requirements. From expense reports and vacation requests to project and help desk management, government cloud customers can easily create the solution they need and enhance capabilities of office 365 by integrating ULTIMATEforms.
As a result of the ongoing health crisis, remote work with collaboration has become necessary for all industries in order to maintain business continuity. The government sector is no exception; it also needs an advanced business solution that allows team members to work remotely so they can continue to serve the citizens. They can use MS Teams and integrate it with ULTIMATEforms to create a powerful and secure solution that is compliant with regulations and fulfills all their requirements. The best part about ULTIMATEforms is that it is mobile-friendly, which means that government cloud customers can access necessary information from anywhere—anytime.
By integrating ULTIMATEforms in Office 365, you can use key features of an MS app on a different MS app. For instance, you can bring SharePoint components, including web-parts, sites, lists, forms, dashboards, and much more into your MS Teams environment.
If you want to learn how to use ULTIMATEforms to integrate components in MS Teams, click here.
Benefits of MS Teams in the Government Environment
MS Teams offers several benefits to GCC high and DoD and suits well in government environments where collaboration and communication are crucial. Here are a few of those benefits.
Efficient Time Management
When you use MS Teams for remote work, you can easily collaborate with team members, share files to work on, and increase productivity. For online meetings, you don't need to spend time setting up the solution or perform audio-checks, and you don't have to travel anywhere in order to meet with someone. These are just a few of the features of MS Teams that allow employees to manage their time more efficiently; there are several others.
Cloud-Based Storage
All the files and resources, including organization customer content, are stored on a secure cloud that meets the government regulation and requirements for cloud services. The files and customer content is restricted and can be viewed, edited, or shared by those who have permission. This central storage allows you to eliminate the need to send documents back and forth and makes it easier for remote employees to access the files that they need.
Security and Compliance
MS Teams was designed to meet the compliance required by the different industries. For the government sector, it meets requirements for cloud services, including FedRAMP Moderate and CJI & FTI (IRS-1075) data types that are necessary for federal tax information and criminal justice systems. It also supports the US Department of Defense Cloud Computing Security Requirements Guide for Level 2 systems. Screened Microsoft personnel monitor these servers for unauthorized access; these personnel meets GCC requirements to access customer content.
A Complete Solution
Another benefit of using MS Teams is that team members don't have to switch between multiple apps when working. Microsoft Teams have several applications with the tool, allowing employees to work from the Team environment. When you integrate ULTIMATEforms into your Teams, you can bring even more features and capabilities into your Teams, making it even more advanced and complete solution.
Conclusion
Integrating ULTIMATEforms with the Office 365 suite and MS Teams allows government cloud customers to enable remote work, increase collaboration, and enhance communication; features and capabilities that are becoming the new normal as a result of the coronavirus outbreak.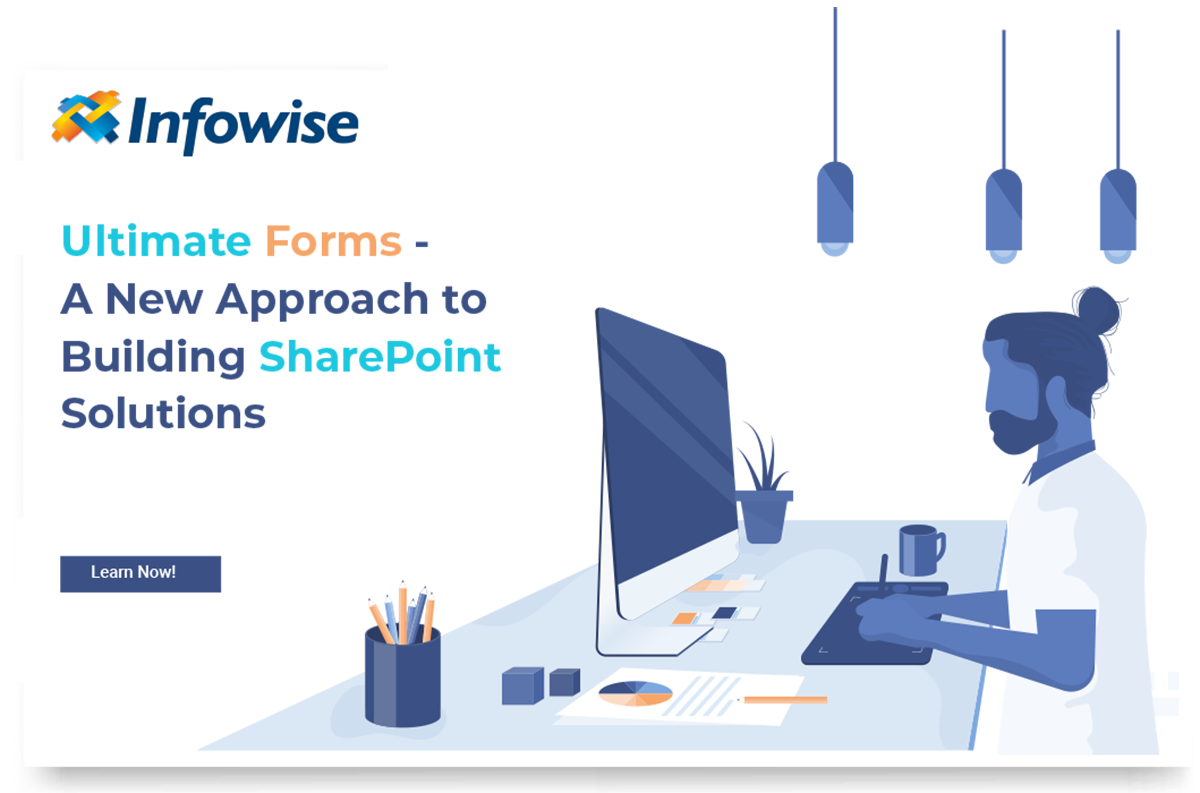 Infowise

Infowise has been servicing various public sectors for several years, being listed as a vetted and approved GSA (General Services Administration) vendor only helps us to further focus our products for US government clients.

At Infowise, we serve as a strategic partner, assisting public and private enterprises in their digital transformation endeavours with our scalable, smart, and robust tools, software, and applications. Our product Infowise UltimateForms Power Suite contains more than 15 standalone SharePoint applications developed to give you the power to innovate, automate, and scale up your processes. Ultimate Forms helps you create amazing, advanced business solutions based on your SharePoint list and document libraries, using nothing but your browser! Anything from simple Vacation Request or Expense Report and all the way to complex Help Desk or Project Management solutions can be built in minutes, without writing a single line of code.

Click here to download Infowise ULTIMATEforms 30-days free trial. Simple process. After you've installed Infowise UF, go ahead and create an unlimited number of Business Process Applications. Or even better, do you want to start with a ready template? Great, click here and download the ready-to-use template from our vast business process solution library, re-purpose to service your needs.

Avi Pagi, Infowise Business Development
Add your comment
Comments are not designed to replace support calls. If you have a specific issue with one of our products, please send an email to
support@infowisesolutions.com
to open a support ticket.
Ultimate

Forms
Build powerful business applications in SharePoint using only your browser.

100% No-Code Solution
It's never been easier, to create, innovate and share, all you need is your web browser!

Cost-effective
Address business process pain points immediately. Save time and money.

Fantastic Support Team
Facing difficulties installing the application? Contact our fantastic support team.
Related Topics