Microsoft Azure Cloud Services vs. Amazon AWS services - When Cloud Giants Clash, Users Benefit
Competition is healthy for the end-user. When two rivals clash in any industry, the ones who benefit most are customers. When Microsoft and Apple clashed, we saw some amazing products, whether it was the latest Windows or iOS operating system or the latest iPhone or Windows-powered devices. An even better example was when Sony and Microsoft competed on video game consoles. The Xbox and PlayStation consoles kept getting better with each generation offering consumers more choice and better products.
Similarly, cloud computing is a growing industry, and global tech giants have joined in on the bandwagon. Two major players are Microsoft Azure Cloud Services and Amazon Web Services (AWS). With these two giants competing with each other, the benefits go to the end user because each of them will try to out-do each other.
Amazon Web Services and Microsoft Azure are two very powerful technologies and depending on your needs; you can choose either service. Both will offer a solid set of features so it may be difficult, but we'll try to make it easier for you by giving you an overview of both and see where they clash.
Amazon Web Services
Amazon Web Services started in 2006 and has come to a very popular cloud services provider since then. AWS's cloud hosting and storage are known to be extremely reliable. The official website claims it offers an array of 165 services from data centers all around the world. Two major components of AWS are Amazon Simple Storage Service (S3) and Elastic Compute Cloud (EC2). S3 is AWS's storage service component where you can store huge amounts of data via the object storage design. You get a fully functional web interface and can even host static websites as well. Space is scalable so if your needs change and require more storage space, it can be scaled to your requirements. That kind of flexibility is Amazon's hallmark. Amazon's website runs on this platform for data storage needs. This is proof that if Amazon's web infrastructure is using S3, then you can count on it yourself. There's 99.9% downtime which is hardly noticeable and negligible.
Web applications or any kind of applications that require to be hosted on the cloud can utilize Amazon EC2. The cloud space used to install and run applications is known as an instance by Amazon. As and when you want, you can terminate any instance not needed or add more, which is what the 'elastic' component refers to. Once again, Amazon provides an extremely flexible service for its cloud customers. Web apps could be websites or other kind of applications that require cloud storage. It's pretty impressive technology, and it's backed by Amazon- a brand name one can count on. It's a reputation built over two decades for reliability and trust.
So with S3 and EC2, you get two amazing cloud storage options that businesses all over the world can use. Datacenters are global, so you're never short of storage and data is always accessible. Websites can be hosted via EC2 that is dynamic instead of static. E-Commerce websites or regular blogs or major business websites, whatever you want, can be hosted and ran on EC2. As your web traffic increases, you can scale your resources and how you see fit.
Amazon AWS has been an attractive cloud computing option for financial services providers to migrate to the cloud. Several financial services companies have adopted cloud computing technologies. One such example is UK's Starling Bank that is an entirely digital bank and runs on Amazon AWS. One major US bank known as Capital One has taken advantage of the powerful features of AWS. All Capital One company applications since 2015 have been running on the cloud via AWS. That goes to show that AWS has been a viable cloud computing platform for financial services providers globally, and the success is evident as seen with Starling and Capital One.
Microsoft Azure
Now, Microsoft Azure is an equally solid option when compared to AWS. It was launched by Microsoft in 2010, and it's another impressive cloud computing service. We talked about Amazon's brand appeal and how it implies trust and reliability. Microsoft is no different. This tech giant is a household name. From the days of MS-DOS to Windows to Xbox to now Azure, Microsoft has always been innovative. It's one of the most diverse tech and software companies in the world. Bill Gates transformed it into a global giant, and the name means business. When you get Azure, you're getting decades' worth of technology packed in one nice package. It's brilliant how Microsoft has shaped computing and technology as we see it today.
Azure is a cloud computing platform that offers an immense amount of options depending on your needs. Website publishing, application hosting, virtual machines and more- it all comes under Azure. Virtual machines running both Windows and Linux can be utilized. Preconfigured virtual machines can also be provided for different kinds of software packages. Windows and Linux are two of the world's most widely used operating systems. The former, especially, has been around since the mid-1980s, and since Windows 95, the platform has been extremely popular globally.
Microsoft Azure is a very powerful platform for cloud computing. For example, the Machine Learning Service can train, automate and deploy machine learning models. The Bot Framework can help you connect with customers on different channels such as Skype, Twitter, Microsoft Teams, Office 365, Slack, and more via bots. Azure Batch can allow you to run powerful cloud-hosted applications seamlessly.
As with Amazon AWS, Microsoft Azure has been a viable alternative for cloud computing for financial services companies. The feature set and options available in Azure are extremely powerful, and the tools available are essential for financial services companies to move to the cloud. A few examples of financial services companies that have harnessed the power of Azure include TD Bank, Redwood Bank, Nedbank and more. Canadian giant TD Bank is at the forefront of cloud computing thanks to Azure. Similarly, we see a cloud revolution in banking in Africa, thanks to Nedbank. UK's Redwood Bank is revolutionizing banking in the cloud there. Group COO of Kuwait Finance House Mazin AlNahedh is quoted to have said, "If I could advise someone interested in digital transformation, my advice is a partner with Microsoft. It is not about technology. It cannot be. It is about the quality and depth of the partner you work with to implement your digital vision." Endorsement from banks and financial services companies worldwide shows how much Azure has helped banking institutions and such to transform their services in a way to take advantage of the benefits of cloud computing.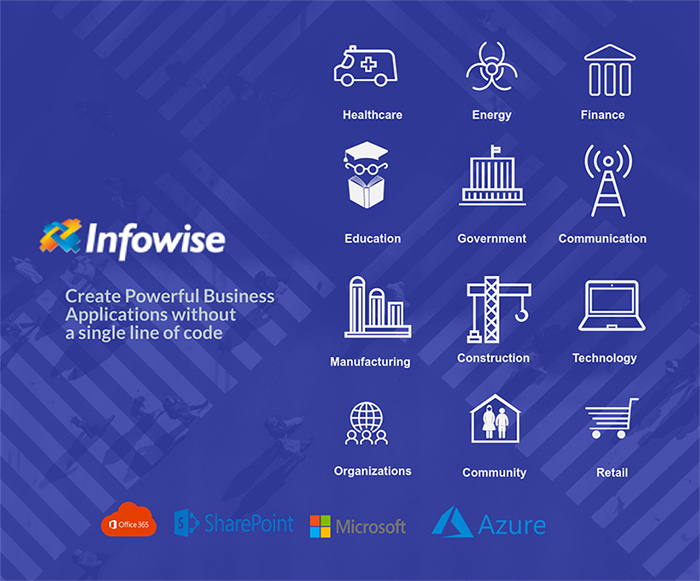 Infowise
Here at Infowise Business Solutions, our client list includes some of the world's best-known financial institutions. Our products that are used by the financial sector are a cross-section of what we offer; Workflow automation, process automation, advanced dynamic forms and document filing. We have helped thousands of businesses across the globe in leveraging the power of their Office 365 platform, including SharePoint, to its fullest potential to quickly build a wide variety of modern business solutions, tailor-made to meet their business requirements. Through our implementation partners, we have been part of the digitization process for many businesses in the financial sector. Whether your preference is Microsoft Azure or Amazon AWS, our partners will assist and guide you on how best to get your financial institution on the cloud like so many others have taken advantage of. If you are unsure, then they can guide you on what works best for the institution's needs and customized solutions can be provided to fit the requirements. Cloud computing is the future, and the future is now. If you want your financial institution to widen its footprint in the cloud and be part of the digital transformation, then Infowise Business Solutions and its partners can help you. Please visit our
References:
https://azure.microsoft.com/en-ca/overview/azure-vs-aws/
https://aws.amazon.com/financial-services/
https://azure.microsoft.com/en-ca/industries/financial/
Add your comment
Comments are not designed to replace support calls. If you have a specific issue with one of our products, please send an email to
support@infowisesolutions.com
to open a support ticket.
Ultimate

Forms
Build powerful business applications in SharePoint using only your browser.

100% No-Code Solution
It's never been easier, to create, innovate and share, all you need is your web browser!

Cost-effective
Address business process pain points immediately. Save time and money.

Fantastic Support Team
Facing difficulties installing the application? Contact our fantastic support team.
Related Topics