Introducing the new Stages
Hi,
Ultimate Forms components take care of the complete lifecycle of your SharePoint items and processes. With a combinations of different settings, you can create advanced forms, perform background workflows and updates, send emails, print and much more.
With such a wealth of possibilities it might be sometimes easy to get lost, it's hard to manage everything in your head. But as always, we're here to help!
Introducing Stages, new for SharePoint Online customers and redesigned for on-premises. Stages are groups of cross-application settings, combined by a specific set of conditions. You will see form settings, both Modern and Classic, Actions, Alerts and Item ID rules, all together on one page, with the ability to quickly switch to adding new settings or editing the existing ones.
Why combinations of conditions? When you implement a business solution in your SharePoint list, you probably already have a distinct set of states in your head. For example, your expense report is first submitted, then approved. In this case, the Status value would be the condition that determines the current state of the report. Of course, in more complex scenarios you will have more states and more conditions. For each state, you might have column permissions on the form (both direct or through containers/tabs), alerts or actions. To see them all combined together on a single page is a great help!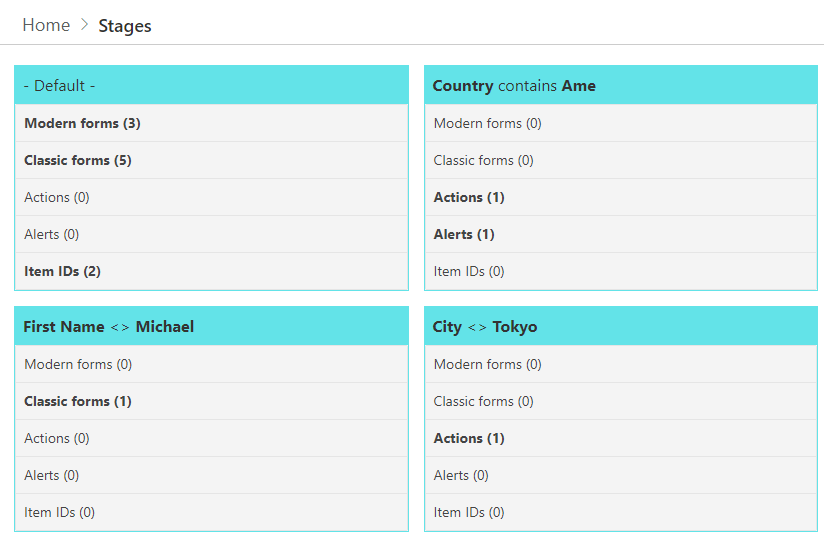 Regarding forms: as you know we support both the original Classic forms and the new Modern form. When you have a modern form configured for the list, it always takes precedence and any classic form settings you might have will not be used. You can always click on Reset to go bqck to your original classic form.
Add your comment
Comments are not designed to replace support calls. If you have a specific issue with one of our products, please send an email to
support@infowisesolutions.com
to open a support ticket.
Ultimate

Forms
Build powerful business applications in SharePoint using only your browser.

100% No-Code Solution
It's never been easier, to create, innovate and share, all you need is your web browser!

Cost-effective
Address business process pain points immediately. Save time and money.

Fantastic Support Team
Facing difficulties installing the application? Contact our fantastic support team.
Related Topics