Infowise partner program is a new approach to building SharePoint solutions
"
"The start of a partnership process is a simple one; all you need to do is fill an online
Enrollment Form
."
Avi Pagi, Infowise Partnership Program Manager
avip@infowisesolutions.com
"As a SharePoint consultant, my goal is to guide enterprises when SharePoint is a good fit for their requirements, culture and environment. However, one of the pain points for them is having the resources and SharePoint specific skills internally to put in place custom solutions when out of the box features can't meet the requirements. They don't want to be dependant on external consulting each time they need a custom solution. Infowise products provide this level of autonomy. The ROI for the product is a no brainer. With a small learning curve and guidance from the internal SharePoint governance, IT or power users can quickly build solutions that will be easy to maintain. Something that we don't often hear about SharePoint custom solutions..."
– Martin Coupal, IT Consultant. Unika Solutions
Infowise ULTIMATEforms is the prevalent SharePoint, Office 365 Add-on for creating, managing forms, automating, executing business logic, and generating reports. It's an undeniable fact that the Infowise UltimateForms makes working with SharePoint more efficient and fun. With Infowise ULTIMATEforms, you can create business solutions in Office 365 and on-premises with great ease and no need for coding at all.
As we all know that SharePoint is a powerful platform, and a well-designed SharePoint site can be a powerful business solution. However, using out-of-the-box SharePoint can sometimes be a little frustrating. There are gaps in functionality and some things you just can't do without time-consuming development or the use of complicated third-party tools.
Infowise Ultimateforums is here to make the whole procedure easy for you. It is a no-code platform that makes it fast and simple to develop advanced business applications by the use of the browser. The flexibility of Infowise lets you add features and functionality by using an intuitive, form-based interface. In this regard, you have to select the options in the menu. The plus point is that no programming is required for this procedure
Three main areas of functionality
Infowise has three main areas of functionality. Here are they:
Forms and form permissions
Business logic
Reporting and display
Infowise allows you to create easy-to-configure forms that are not only attractive but provide real-life business functionality as well. With built-in dynamic features, you can start automating your processes to enhance speed and cut down errors.
Advanced permissions and Infowise associated items
The advanced permissions permit you to decide who can read, edit or even delete data. With Infowise, you can control this at the field level. Through Infowise associated items, you build parent and child relationship between list. Besides, adding multiple detail lines in a form is made possible via Infowise solutions that you are unable to do in SharePoint.
Infowise business logic functions
Infowise business logic functions blow the roof off of limited SharePoint alerts and workflows. Moreover, Actions perform a wide variety of tasks such as adding or updating records, flexible importing or exporting of data, and creating folder or sites. Almost twenty different functions with more coming all the time, and you set the action timing, conditions all with a simple menu-based interface.
Infowise alerts
Infowise alerts enable you to build customized messages for a wide variety of events and offer you numerous options. They control these messages and have a check on how they are sent and to whom they go. Infowise also ramps up your ability to provide reporting and visual indicators on your site. They include graphs, charts, countdowns, KPIs, set up and ready in minutes. And wherever you are in the Infowise tool, you are connected to useful context-specific tutorials that show you what to do step-by-step.
Leverages and resources of partners and end-users
It provides seamless integration into the existing user interface of SharePoint.
It develops your browse with no tools, programming and deployment.
With Infowise Ultimate Forms, you can make large selection fo building blocks for routine business activities. For instance, PDF conversions, approval stages, data import, repeating sections, etc.
The Infowise works with every version of SharePoint. There is no need for CALs or particular server licenses.
It builds, stores as templates and replicates site templates and functionality that is preserved in the list.
It enables users to generate powerful SharePoint applications with no custom-code.
It has a comprehensive process, library of forms and reporting components that are designed to work together flawlessly. Consequently, it will create reliable and easy-to-use solutions.
The business users will be capable of creating robust solutions quickly to stay focused on upgrading business value.
Build once but use multiple times
Infowise Ultimate Forms are made from the ground up to support this approach "build once but use multiple times". After designing a business solution, you are able to package it as well as distribute it to a variety of clients. The bonus feature of this Infowise ultimate Forms is that it maximizes your investment.
Both Office 365 and on-premises versions support templates. As you are our partners, therefore, we provide you with fundamental components and guides on how you can start selling your pre-configured solution packages.
How to become a partner with Infowise
As a partner-first company, we assist you in leveraging our proficiency and devotion to providing the best service for your customers.
Becoming a partner is not an uphill task. All you need to do is to fill an online form that is available on our website. Then there is an agreement. After agreeing with our terms and conditions, you can be one of our registered partners.
In the form, you will have to write your company name, contact person, email, phone number and remarks.
Contact Partnership program manager Avi Pagi avip@infowisesolutions.com
Conclusion
Overall, Infowise Ultimate Forms is a complete package that delivers all the capabilities you need to build comprehensive business solutions at a fraction of time and effort, fast and easy with no code required.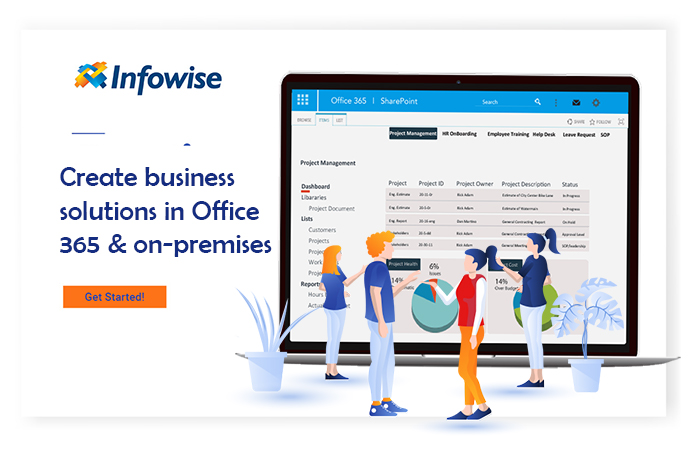 Infowise

At Infowise, we serve as a strategic partner, assisting public and private enterprises in their digital transformation endeavours with our scalable, smart, and robust tools, software, and applications. Our product Infowise UltimateForms Power Suite, contains more than 15 standalone SharePoint applications developed to give you the power to innovate, automate, and scale up your processes. Our products have been designed for optimum interoperability and seamless integration within SharePoint. Altogether, they constitute the structural foundation for digitization and facilitate your transition to digital transformation.
Click here to download Infowise ULTIMATEforms 30-days free trial. Simple process. After you've installed Infowise UF, go ahead and create an unlimited number of Business Process Applications. Or even better, do you want to start with a ready template? Great, click here and download the ready-to-use template from our vast business process solution library, re-purpose to service your needs
Add your comment
Comments are not designed to replace support calls. If you have a specific issue with one of our products, please send an email to
support@infowisesolutions.com
to open a support ticket.
Ultimate

Forms
Build powerful business applications in SharePoint using only your browser.

100% No-Code Solution
It's never been easier, to create, innovate and share, all you need is your web browser!

Cost-effective
Address business process pain points immediately. Save time and money.

Fantastic Support Team
Facing difficulties installing the application? Contact our fantastic support team.
Related Topics