Improving Customization of Forms using Infowise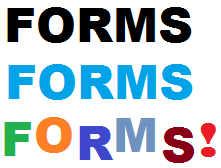 There is tremendous opportunity when it comes to customizing SharePoint forms using Infowise. In working with various organizations I often feel that form (pun intended!) is not balanced with functionality. There is a focused effort to model the business process, but not enough attention is put towards making forms attractive and delivering a user friendly experience that is visually appealing.
In many cases, this type of customization has required someone with coding experience and the process of customizing anything related to look and feel in SharePoint forms has been cumbersome. Therefore this key part of the process often gets thrown right out the window.
Infowise provides great tools which make this process accessible and even fun to do. (At least a little bit!)
I really feel that there are many kinds of opportunities to improve web forms in SharePoint.
Here are some newly added training topics that explore significant steps that you can take to help your forms to look great:
There are so many possibilities when it comes to form customization. In many cases, small changes can lead to a lot of positive feedback and add polish to the whole experience.
Have you discovered other form customizations? I always love to see what new things people are coming up with. Please let us know if you have any questions related to these steps!
Add your comment
Comments are not designed to replace support calls. If you have a specific issue with one of our products, please send an email to
support@infowisesolutions.com
to open a support ticket.
Ultimate

Forms
Build powerful business applications in SharePoint using only your browser.

100% No-Code Solution
It's never been easier, to create, innovate and share, all you need is your web browser!

Cost-effective
Address business process pain points immediately. Save time and money.

Fantastic Support Team
Facing difficulties installing the application? Contact our fantastic support team.
Related Topics