Implementing a successful digital transformation in manufacturing: Microsoft office 365
By now, it is evident that only those who adapt to change are the ones that are going to thrive in the new digital era. Practically what we do today is for a tomorrow. The advancement in the tech sector brought unforeseen improvements in production management and propelled businesses to achieve higher levels of efficiency. Several manufacturing corporations already enjoy the benefits of successful automation. However, the implementation of new technologies can disrupt the daily workflow. One of the biggest challenges faced by manufacturing corporations when implementing a digital transformation strategy is people. For that reason, leaders of change must understand the mindset of their own people and how they executed their daily tasks before the upcoming upheaval of full digitization. The second challenge faced by the manufacturing sector is aligning their business model with the newly acquired technology architecture. They both are the critical sides that need to be adequately considered during the planning of the digitization. At the end of the day, all change has to meet the business's overall goals and objectives.
Technology is ubiquitous, and this exposure to digital services plays a vital role in not only creating new products but transforming and accelerating innovations. The secret to a successful change, growth and development nowadays is to focus on recent trends in technology, what offered by Microsoft's Office 365 is a great example of such a shift in technology trends. From the proliferation of connected devices and other "stuff" within the Internet of Things (IoT) to increasing information mounds, the advent of advanced analytics, machine learning, and artificial intelligence, everything has reshaped the very face of industries. The industries are now more transformed, competitive and eco-system friendly.

Reshaping manufacturing by Microsoft office 365
Microsoft office 365 and digital transformation in manufacturing give enterprises the chance to ponder and act as digital firms through their interaction with their clients, empowerment of their staff, automation of their processes, and turning their goods into valuable products. Organizations doing this have reliable results: reduced costs, energy efficiency, higher profits, and improved operational efficiencies. The organizations that have successfully adopted a digital transformation journey generate millions of dollars more in additional operating income each year than those lagging. In this way, industries will be reshaped, and this era will be defined as transformation and disruption. Microsoft Office 365 offers services, solutions, and roadmap for successful separation and differentiation that lead to remarkable potential.

Mindset for a better tomorrow
In the past, an industry took twenty years to establish. However, due to implementing Microsoft office 365 and digital transformation in manufacturing, the time has been reduced to two-three years for launching a mega-size manufacturing business. But, to make the most of digital transformation, industrialists must reframe their goals and shift their thinking towards rapid growth through the diruption of current markets. Microsoft office 365 is a reliable agent for a successful transforming the industry by providing a unique collaboration of innovative technologies and equipment that automate all manufacturing operations. Hence, this digital transformation is leading enterprises to agile productivity with ease.

Digital change is a proposal for technology. Technology's influence on modern business is monumental. And, it is demonstrated in many ways; infinite computing power and limitless space that has become a reality today, as well as possibilities provided by disruptive innovations such as the Internet of Things, artificial intelligence, profound learning, virtual reality, etc. Therefore, it is fair to say that innovation is going to change the world again.

Embrace the digital revolution, or else!
We are on the verge of a digital revolution that is going to change how we live, act, and connect fundamentally. The first industrial revolution benefitted humanity in automated steam power output, preceded by the second revolution that introduced electricity, and the third revolution came up with the introduction of information technology. As a consequence, we entered the era of massive mass manufacturing. The speed of current advancements and the exponential leap of disruptive novelties are now leading to the fourth industrial revolution. It is featured by extraordinary processing control, storage, data access, and line unclear between physical, digital and biological space.

Get onboard with innovations
For constructing a traditional technology corporation, the digital economy generates unprecedented demands for corporate structures and business resources. Its goal is to architect for agility and new business models, empowering employees and customers to innovate at a speed that was unimaginable in earlier generations. This transformation is due to the agile innovations such as machine learning, integrated significant data statistics, hybrid cloud computing, cyber-physical, machine-to-machine systems, etc.

Transforming industries via Microsoft office 365
The idea of becoming a digital business does not depend solely on technologies or equipment. A modern transformation strategy pays a lot of attention to controlled development, change management criteria, and comprehensive organic digitization that aligns technology with business goals and objectives. Sales, marketing, and human resource leaders, therefore, view technology as a core component of innovating their processes. Microsoft office 365 and digital transformation in manufacturing plays a significant role in a company, including transforming the company by managing infrastructure, working equipment, security, and serving in the role of advocating business customers by testing new software products, services, and providing feedback.

Empowering employees
Organizations cannot digitally change completely unless their staff and workers do. Microsoft office 365 and digital transformation in manufacturing outstrip the skill level of organizations and the ability of the workforce to become skilled with the new technologies. To meet all the needs of a modern economy, the willingness of the workers to have technical expertise is essential. As a result, many industrialists are now adopting technological education approaches, supplying them with instruction on how virtual devices function and coordinating projects to smooth their introduction to new technologies.

Re-inventing customer's engagement
The core focus of implementing Microsoft office 365 and digital transformation in manufacturing involves not only the running of business operations smoothly or generating valuable products but interacting with customers as well. With the rise of social tools, customers are now more commanding than ever. They can have access to every information related to services or products of industries in seconds. This has forced the industrialists to build a strong relationship with their customers. It includes recurrent online connections and solving their issues.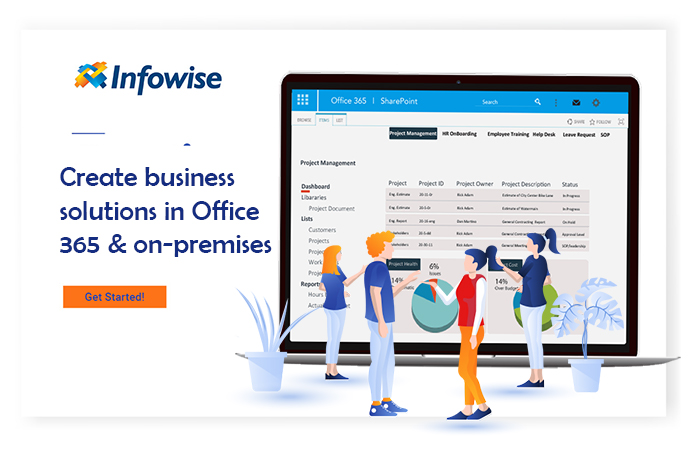 Infowise

At Infowise, we serve as a strategic partner, assisting public and private enterprises in their digital transformation endeavours with our scalable, smart, and robust tools, software, and applications. Our product Infowise UltimateForms Power Suite contains more than 15 standalone SharePoint applications developed to give you the power to innovate, automate, and scale up your processes. Our products have been designed for optimum interoperability and seamless integration within SharePoint. Altogether, they constitute the structural foundation for digitization and facilitate your transition to digital transformation.
Click here to download Infowise ULTIMATEforms 30-days free trial. Simple process. After you've installed Infowise UF, go ahead and create an unlimited number of Business Process Applications. Or even better, do you want to start with a ready template? Great, click here and download the ready-to-use template from our vast business process solution library, re-purpose to service your needs.
Add your comment
Comments are not designed to replace support calls. If you have a specific issue with one of our products, please send an email to
support@infowisesolutions.com
to open a support ticket.
Ultimate

Forms
Build powerful business applications in SharePoint using only your browser.

100% No-Code Solution
It's never been easier, to create, innovate and share, all you need is your web browser!

Cost-effective
Address business process pain points immediately. Save time and money.

Fantastic Support Team
Facing difficulties installing the application? Contact our fantastic support team.
Related Topics