How SharePoint and Office 365 Shaped the Modern Government Procurement Process
Government procurement is a critical part of both state and local government operations. It fuels the government engine and empowers the public servants to deliver the required products and services to the public. Modern and effective government procurement requires a capable procurement system like SharePoint and Office 365.
Sharepoint can be integrated with custom made portals that can substantially improve the business processes of any department. In public procurement, Sharepoint and its procurement portals provide the following benefits.
Increased Supplier Diversity
By using a cloud-based procurement system like SharePoint and Office 365, state and local governments can simplify the involvement of the new vendors. Procurement offices can create a self-registration form and collect all the information about potential suppliers at once without any hassle. A well-designed form will increase the accuracy and efficiency of the procurement processes and help procurement offices to engage with most suitable vendors. Free trial versions can be used to save taxpayers dollars, but they have limited functionality, so in the long run, the full version is the right choice.
In public procurement, a large number of suppliers and vendors are involved, SharePoint and Office 365 can compile a shortlist of the preferred vendors. The procurement office can set up several parameters, including the type of business, price, location, payment, delivery dates, etc. Automatic alerts can be set up to increase the efficiency of the procurement process; the alerts can be made for critical dates such as contract expiry, bidding schedule, etc.
Better Vendor Management
When procurement offices use SharePoint and Office 365 as a procurement system, they can pre-assess the vendors with just one click on the vendors' profile. The profile has all the necessary information of the vendor, including previous tenders, signed contracts, schedule of payment, invoices, procurement orders, etc. It may also have critical indicators and markers such as business age, recommendations, feedback on unsold/non-marketed products, discounts, support, etc.
Specific information can also be covered in the profile, which may include.
Minimum batch requirement.
Quality standards being followed.
Storage Conditions.
Product life.
The technology used for the manufacturing process.
Description, certificates, test reports.
Terms of delivery and much more.
State and Local Governments can benefit from the automated performance reviews of the vendors. The procurement system will calculate the overall score of each vendor and even provide a history of previous business interactions, including deliveries, returns, and their reasons, inspection results, etc.
Competitive Bidding
Bidding is made stress-free when you use SharePoint procurement portals to manage the procurement processes. State and Local governments can publish the requirements and set the list of the related categories. All the information regarding the bid is kept in one place, so you will not lose time manually searching your inbox to find the relevant emails. Invitation statuses can also be tracked when you use SharePoint and Office 365 as a procurement system, and changes in a tender's condition can be introduced immediately while making sure that the vendors see them.
The procurement system automatically highlights the best options available according to their price and rating. It is also capable of organizing and comparing the bidders. The procurement office can create a Q&A section where bidders can find answers to common questions; by doing so, they can save several hours that they'd otherwise spend answering queries.
Stronger Community
SharePoint's procurement portals allow you to create forums and Q&A sections through which you can create a strong community of your suppliers. The community shares goals and may have a desire to discuss and improve the quality of the products.
SharePoint and Office 365 also enables users(both internal and external) to share their feedback and communicate their expectations to increase the level of co-operation. The procurement office can instantly reach any vendor using IM; it fast-tracks the negotiation phase of the procurement process, particularly relating to crucial decisions.
Motivate Suppliers
Using SharePoint and Office 365 as a procurement system allows the procurement office to provide feedback on the vendors' performance. The vendors can view the selected vendors, bid winners, etc. this will enable them to develop their proposal accordingly. This healthy competition between vendors results in you getting the best value of your money.
Cost-Effective
Using a SharePoint procurement portal allows the procurement office to compare the prices of different vendors and even avail volume discounts. The visibility of the portal makes it easier for you to find what else to buy from a supplier to increase the volume to avail discounts. Even if you place these orders independently on the companies' page, they'll automatically appear in a single shopping cart of the vendor.
The procurement portal also allows the procurement office to engage sub-suppliers in the supply of its vendors. This process optimizes the supply, helps reduce the production cost, and ultimately may result in a lowered price of the product for you.
Make Timely Payments
State and local governments can become reliable partners of the vendors by using SharePoint and Office 365 for procurement processes because of alerts and notifications. The procurement office will receive alerts for upcoming payments and can view the available payment options. They can even integrate payment systems and make direct payments.
Comprehensive Overview
SharePoint and Office 365 as a procurement system displays all relevant applications along with their status such as approved, open, pending, etc., Vendors selected or recommended, RFI/RFP, RFQ, LPO generated/sent, etc. The procurement office can also see where their involvement is required, which makes it easier for them to pinpoint unsolved issues, resulting in increased efficiency.
SharePoint procurement system identifies trends such as company spendings, areas where budget exceeds, etc. The procurement system then processes the patterns and presents them in the form of tables, dashboards, diagrams, etc.
The cloud-based SharePoint procurement system stores all the information on the cloud; this allows users to access the information from their mobile phones. This makes it easier for them to reach the required information and take care of the procurement processes regardless of their location.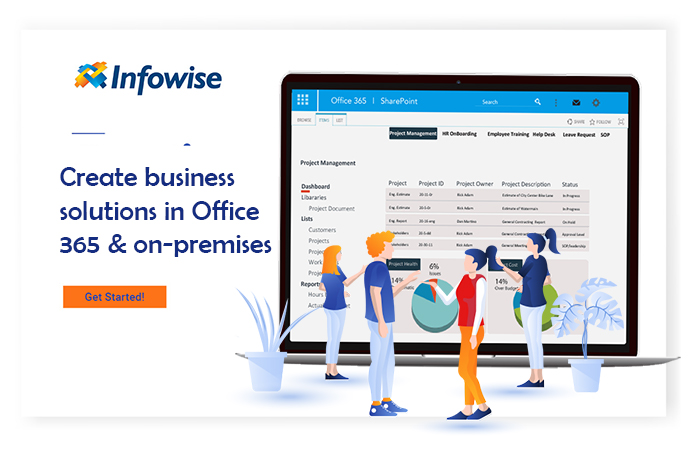 Infowise

At Infowise, we serve as a strategic partner, assisting public and private enterprises in their digital transformation endeavours with our scalable, smart, and robust tools, software, and applications. Our product Infowise UltimateForms Power Suite contains more than 15 standalone SharePoint applications developed to give you the power to innovate, automate, and scale up your processes. Our products have been designed for optimum interoperability and seamless integration within SharePoint. Altogether, they constitute the structural foundation for digitization and facilitate your transition to digital transformation.
Click here to download Infowise ULTIMATEforms 30-days free trial. Simple process. After you've installed Infowise UF, go ahead and create an unlimited number of Business Process Applications. Or even better, do you want to start with a ready template? Great, click here and download the ready-to-use template from our vast business process solution library, re-purpose to service your needs
Add your comment
Comments are not designed to replace support calls. If you have a specific issue with one of our products, please send an email to
support@infowisesolutions.com
to open a support ticket.
Ultimate

Forms
Build powerful business applications in SharePoint using only your browser.

100% No-Code Solution
It's never been easier, to create, innovate and share, all you need is your web browser!

Cost-effective
Address business process pain points immediately. Save time and money.

Fantastic Support Team
Facing difficulties installing the application? Contact our fantastic support team.
Related Topics