How I created a Businesses App of my choice in just half an hours using Infowise Ultimate forms for SharePoint and Office 365
I am Abhishek working on SharePoint for the last 12 years, and Microsoft certified SharePoint 2013 developer. I have worked on many business process automation projects for industries like Healthcare, Insurance, Information Technology, Legal and Automobile. SharePoint is quite popular among these industries because of the rapid development of applications, flexible workflows, forms and of course its popularity. I have been part of many implementations of SharePoint as Document Management System, automation of the business process, ECM, Intranet portals etc. In all the above applications, there were always requirements for building customized input forms with professional look and feel.


SharePoint is better and faster with great Addins/ Third part tools – Nintex, K2 and Infowise.
I have used a few third-party tools for building various business applications on SharePoint like Nintex, K2 and Infowise in my career. These tools help to build responsive forms and complex workflows conveniently and rapidly. With the help of these tools or add-ins, we could achieve complex functionality delivered quickly and precisely to the customer expectations.


Why we jumped to Infowise?
I was working on one project for Healthcare Company, this company was using SharePoint online and wants to automate Employee Onboarding process on it.
We initially thought of using InfoPath forms but client's requirement for customized UI could not be fulfilled with InfoPath forms, as they wanted a tabbed form with custom CSS based styling, and also news about the deprecation of InfoPath forms after 2023 made client reluctant to use it. We researched and found Infowise Ultimate forms, after reading reviews about it, and after chatting with Infowise team, we were surprised by their claim of learning Infowise in two hours and build simple SP template in half an hour All these factors compelled us to give a try to it.


Training packages were easy to find.
As professionals, we always keen on the product which has detailed and precise training support, and Infowise did not disappoint us, we went through its basic training, resources for training can be found here.
https://www.infowisesolutions.com/training/
https://www.infowisesolutions.com/webinars
https://www.infowisesolutions.com/documentation/
Thanks to its detailed training which covers all aspects of it, after few hours of research and training we were able to create POC for our requirements, we could get the tabbed views with custom CSS style very quickly, thanks to well-structured training which helped us to get the quick understanding of Infowise Ultimate forms.
We followed their tutorials which can be found here https://www.infowisesolutions.com/training/. They have extensive lists of topics which cover everything from basics to advance features of it. Here is the snapshot of their training page.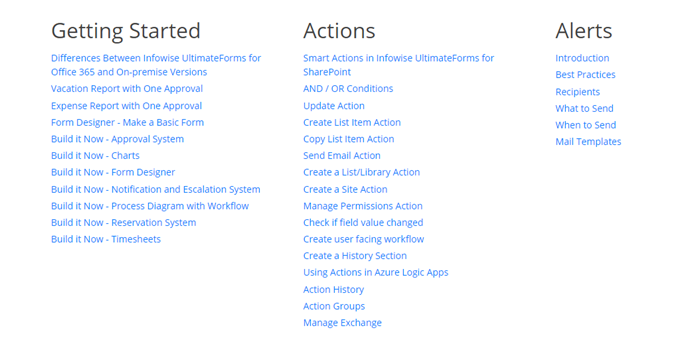 Apart from it, there are blogs https://www.infowisesolutions.com/blog and documentations https://www.infowisesolutions.com/documentation/ available, which helps to gather views of others and also get information about installations, troubleshooting and pricing.


How much time did I spend on training?
I followed their documentation and tutorials to get an understanding of the product and could implement the prototype in a couple of hours. Also, if you have worked with InfoPath or similar products like Nintex, it will be easier for you to grasp it quickly.
I believe one can start building an actual project after spending 4 to 6 hours on their training resources and as mentioned earlier if you have a background of InfoPath forms, then you would require to put lesser efforts. Topics like Getting Started, Actions, Alerts, Form Designer, Views and View customization and Validation will help in understandings its basics and deliver project end to end.
I would recommend going their Quickstart guide available at https://www.infowisesolutions.com/start for easy reference about installation, licensing and demo.
Installation and configuration of Infowise Ultimate Forms in my environment.
As the first task of any third party tool is its installation and configuration in our environment, I must admit Infowise installation was a piece of cake, thanks to their clear and accurate instructions, which are listed at below URL https://www.infowisesolutions.com/documentation/?ID=180#catalog
one can easily follow and install it in their O365 environment.

Added its package in our environment.

Extracting Ultimate Forms files from its package, there were two files, one with extension .sppkg and other with .app, upload both of them to the app catalogue site of your environment.

Below screenshot shows the app catalogue after file being uploaded.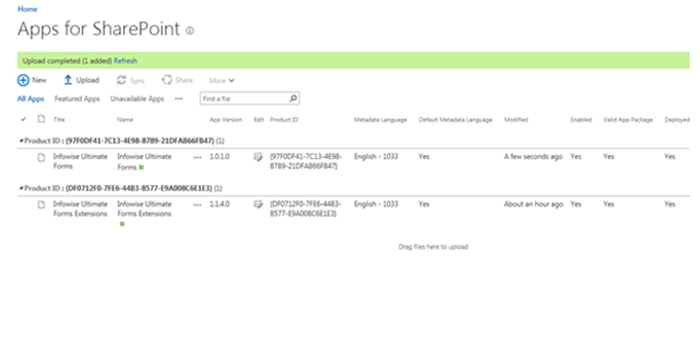 Added app in the site collection and voila it is done.

The Site Content and add an app from

AppStore for your organization

. Apps will be available in site contents.

Below figure shows the icons created in site contents.



Infowise Ultimate Forms
On clicking Infowise Ultimate forms app in site contents will launch the app in full-page view, where selection for admin settings, tutorials, web parts, template manager etc. are available.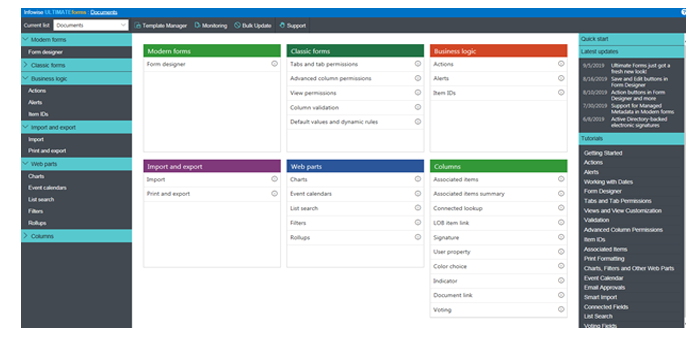 I was amazed at the variety of columns available some of them are signature, connected lookups, voting, indicator, LOB item link, associated items, associated item summary etc.
Web parts like charts, event calendars, list search, filters and rollups are quite useful.
Monitoring provides an administrative view of its operations.
Template Manager- provides free templates which could be added to our sites easily and extend it further. Templates like Expense Reimbursement, Room Reservation, Project management etc. are available here. One can add his\her new template from here too.
Infowise Form Designer console
Infowise Form designer console is simple to use but enriched with all the latest functionalities. The below screenshot is for a modern view of form, which is responsive. Look at the left toolbar; it has controls for tabs,
accordions, fragment, header etc. These controls can be easily dragged and drop on the design panel.
At the top one can select available content type from drop-down, similarly New, Edit and Display form could be selected as a checkbox.
Also option for injecting custom CSS, it helps to provide a customized look and feel to form, which makes it best among others available similar products.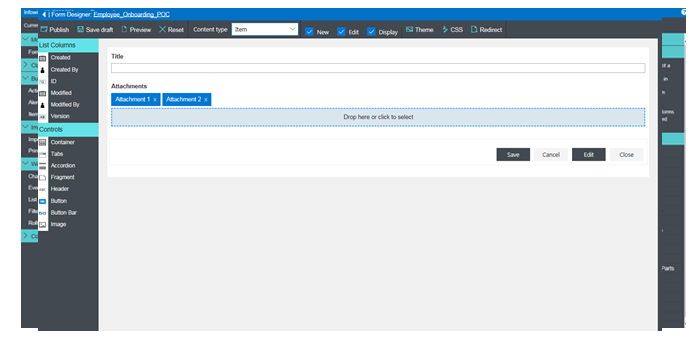 After designing form, it can be quickly published form top left and available for use.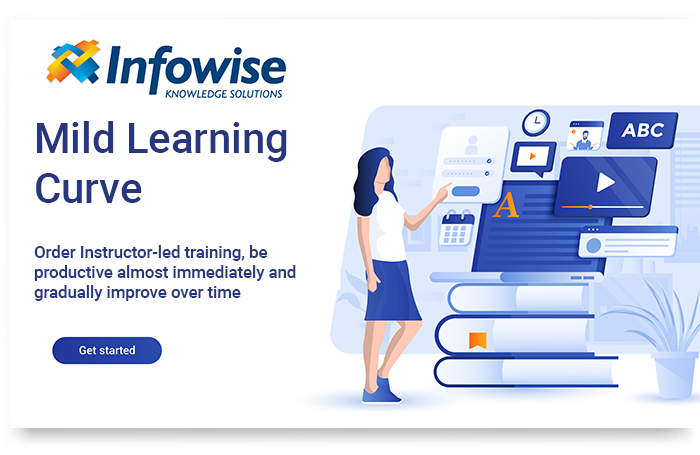 Infowise
infowise is a leading provider of forms and processes solutions for the Microsoft SharePoint platform. As authors of productivity and agility software, we're pleased, yet not surprised that global financial businesses, Healthcare, Technology, Education and Transportation services have adopted our tools in their daily productivity cycles. Our flagship package Infowise Ultimate Forms is an integrated suite of SharePoint components that enables users to create advanced, dynamic forms, sophisticated business processes and striking visualization.
UltimateForms supports all Microsoft SharePoint platforms, including Office 365 and all on-premises SharePoint versions.
Add your comment
Comments are not designed to replace support calls. If you have a specific issue with one of our products, please send an email to
support@infowisesolutions.com
to open a support ticket.
Ultimate

Forms
Build powerful business applications in SharePoint using only your browser.

100% No-Code Solution
It's never been easier, to create, innovate and share, all you need is your web browser!

Cost-effective
Address business process pain points immediately. Save time and money.

Fantastic Support Team
Facing difficulties installing the application? Contact our fantastic support team.
Related Topics