Upgrading to Modern forms
Hi,
It's been almost two years since we debuted our Modern forms in Ultimate Forms. They are a huge upgrade for the form building experience in SharePoint and were enthusiatically received by our customers! Unlike our classic forms, they are not bound by the various limitations of SharePoint and let you build your forms with the level of flexibility simply not possible before.
Some of the features are:
Fully flexible layout system, using nested controls, letting you build exactly what you want
Fully responsive forms that automatically adjust and look great on any device
Cascading, multi-level permission rules, allowing you to dynamically control permissions at any nested control level
Conditional styling on any level
Multiple themes for that sophisticated look and feel
Scripting support, already built-in
Actions integration, trigger Actions with buttons directly on the form
External forms, allowing you to expose your lists outside of your organization in a secure fashion
Export/import of form settings for replication between lists or environments
Data connections, allowing you to create forms that work with external, non-SharePoint data
Drag & drop Form Designer with all capabilities in one location, including the ability to create and modify columns
Payment integration, because why not? :)
As a lot of our long-time customers have already made significant investments in the classic forms and are running complex business solutions using this technology, we are not planning to make it obsolete. But we do want you to use the wealth of features modern forms have to offer!
This is why we built an automated upgrade feature right into the classic forms. With a click of a button, we will generate a modern form for your list, based on your classic form settings. We will create tabs, assign columns to tabs, add permissions, validation rules and default value rules. In most cases, the automatic conversion will be enough! Some adjustments might be needed if you are using some specific stylings though.
How is it done? Just head over to Tabs and tab permissions, switch to General tab and click on Upgrade to Modern.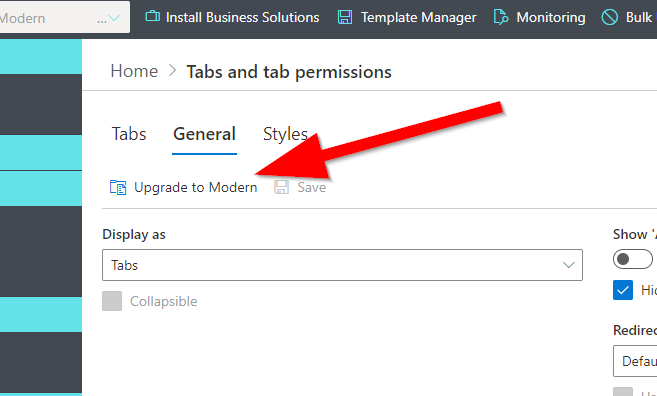 In just a few seconds, a new modern form will be generated and published for you. You can then go to Form Designer to make any adjustments you need. If you want to roll back, click on Reset on Form Designer's toolbar and the modern form will be disconnected from your list (do not click Publish or Save after Reset!).
If you want to work on the form without publishing, click Reset, then leave Form Designer and go back to it. You will see the modern form again, not published and you can make any changes you want. Once you're happy with it, publish. Until you publish, your old classic form is in effect.
Enjoy!
Add your comment
Comments are not designed to replace support calls. If you have a specific issue with one of our products, please send an email to
support@infowisesolutions.com
to open a support ticket.
Build powerful business applications in SharePoint using only your browser.
100% No-Code Solution
It's never been easier, to create, innovate and share, all you need is your web browser!
Cost-effective
Address business process pain points immediately. Save time and money.
Fantastic Support Team
Facing difficulties installing the application? Contact our fantastic support team.
Related Topics