User Friendly Color Picker for Form Designer
We've upgraded to a much improved color picker tool! As you can see below, there are two rows of color swatches totaling 20 options for one-click color choices for all the popular options.
This really makes life easy so that you don't have to use hex color codes or RGB values except for precision control.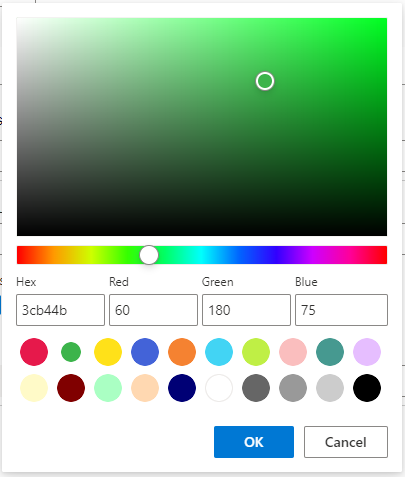 Why is this a big deal? Because setting colors needs to be fast and easy. And now it is!
What's great is that simple color assignments are fast but you have the ability for customization if you need it.
Color settings are used all the time throughout the process of form design and now it is really fast.
This is a great example of the type of "quality of life improvements" that are being rolled out monthly in Ultimate Forms.
Add your comment
Comments are not designed to replace support calls. If you have a specific issue with one of our products, please send an email to
support@infowisesolutions.com
to open a support ticket.
Build powerful business applications in SharePoint using only your browser.
100% No-Code Solution
It's never been easier, to create, innovate and share, all you need is your web browser!
Cost-effective
Address business process pain points immediately. Save time and money.
Fantastic Support Team
Facing difficulties installing the application? Contact our fantastic support team.
Related Topics