External forms for your SharePoint Online
Hi,
In today's world, you need to connect and integrate your information systems with your customers, vendors, subcontractors and other external parties to facilitate fast and smooth data exchange. SharePoint Online provides abilities to share your sites and lists with external users, it's a great feature and many use it successfully.
Unfortunately, there are some scenarios where it just wouldn't work. What if you need to collect some information from a large diverse group of external persons, some of whom you might not even know? Or they might not have the necessary Microsoft credentials to use the external sharing feature? Or maybe you're trying to collect the information using a kiosk and having people logging in and out is simply not an option?
This is the reason why we added External Forms feature to our modern forms in the SharePoint Online version of Ultimate Forms. And, as per our usual, it's ridiculously easy to use!
Once you're done developing the form with Form Designer, you simply click on External form on the toolbar. You can expose the form to external users with a single click. By default, that would be only the New form, but you can also use the same functionality for Display and Edit forms, if needed.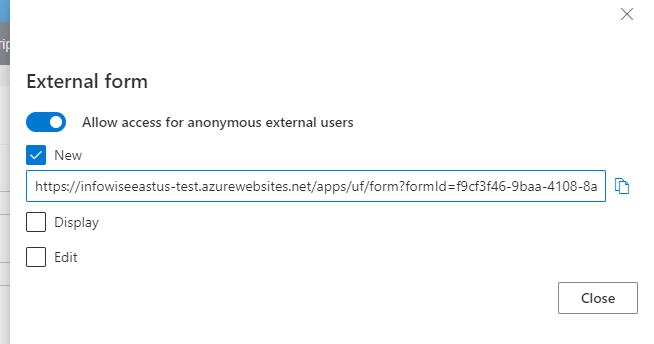 When you enable external forms, you are presented with a unique external URL. The form is located on our website and can be access from anywhere, without having to authenticate. The form does not expose your list to the outside world. Instead, it serves as a security barrier and ensures that only the permitted interaction with the list data is allowed to go through. For instance, when you allow New forms only, users will be able to submit new data, but won't be allowed to access the list or view any existing items.
You can expose any type of form, you are not limited in any way. Any form that can be designed using Form Designer, can be exposed. And once you are done with it, you can stop exposing it just as easily, simply uncheck external access and that's it!
Some ideas for what you can use it for:
Signups
Contact requests
Quote generators
Problem reports
Surveys
Anything else really...
Give it a try, that might just be what you're missing!
Add your comment
Comments are not designed to replace support calls. If you have a specific issue with one of our products, please send an email to
support@infowisesolutions.com
to open a support ticket.
Build powerful business applications in SharePoint using only your browser.
100% No-Code Solution
It's never been easier, to create, innovate and share, all you need is your web browser!
Cost-effective
Address business process pain points immediately. Save time and money.
Fantastic Support Team
Facing difficulties installing the application? Contact our fantastic support team.
Related Topics