Permissions through a lookup column
Hi,
We added a new feature to the app version, that was already present in the on-premises version for quite some time, but I'm not sure many people were aware of. It's an extremely powerful feature that helps create sophisticated application in virtually no time.
Consider the following scenario. I'm creating a vacation request form. I'm filling in my details, start and end date of the vacation and the department I belong to. The Department field is a lookup to the list of departments. Once submitted, the form needs to be approved by the department head, who is different for each department. The approval is done through a second tab, that is only opened for editing for the appropriate department head. How can we do it easily with Ultimate Forms.
You can use permissions rules based on lookup columns. In the source list of the lookup we will add a Person or Group column, in our case Manager column in the Departments list. In that column we will specify the manager for each department. We will then create a Write permission rule and assign it to the column Department. As it's a lookup column, our product will show a selector for the secondary, Person column from the source list of the lookup, in our case, Departments. Select our Manager column there and that's it! The correct manager only will be allowed to approve the request.
And of course, pictures are worth 1000 words.
The Departments list will look like this: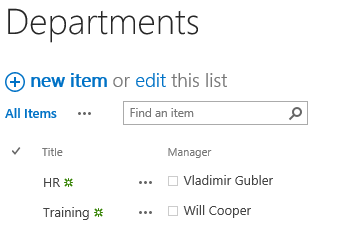 Now, we set permissions on our Approval tab in the Vacation Requests list: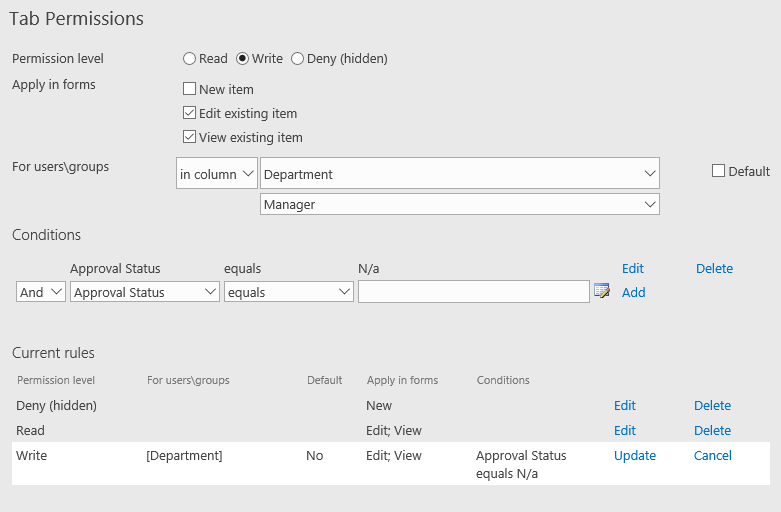 Now we are ready to see some results. When I open a request for a department where I am the manager: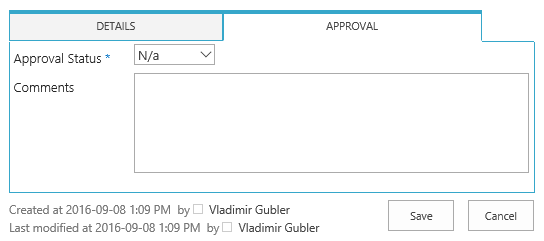 As you can see, I can edit the approval status. But what happens when I edit a request where I am not the department manager:

The tab is now locked down and I can't edit it. Pretty cool, right? :)
Add your comment
Comments are not designed to replace support calls. If you have a specific issue with one of our products, please send an email to
support@infowisesolutions.com
to open a support ticket.
Build powerful business applications in SharePoint using only your browser.
100% No-Code Solution
It's never been easier, to create, innovate and share, all you need is your web browser!
Cost-effective
Address business process pain points immediately. Save time and money.
Fantastic Support Team
Facing difficulties installing the application? Contact our fantastic support team.
Related Topics