Build Sites Fast with Business Solution Templates
I used to get asked a lot, "Can we copy Ultimate Forms Actions or Alerts or Forms from one site to another?" and, "Can't I just copy a SharePoint site, so I don't have to rebuild all my lists and stuff?"
In the old days, the answer was a disappointing, "Nope, sorry."
However, good new is here! Ultimate Forms now includes prebuilt Business Solutions.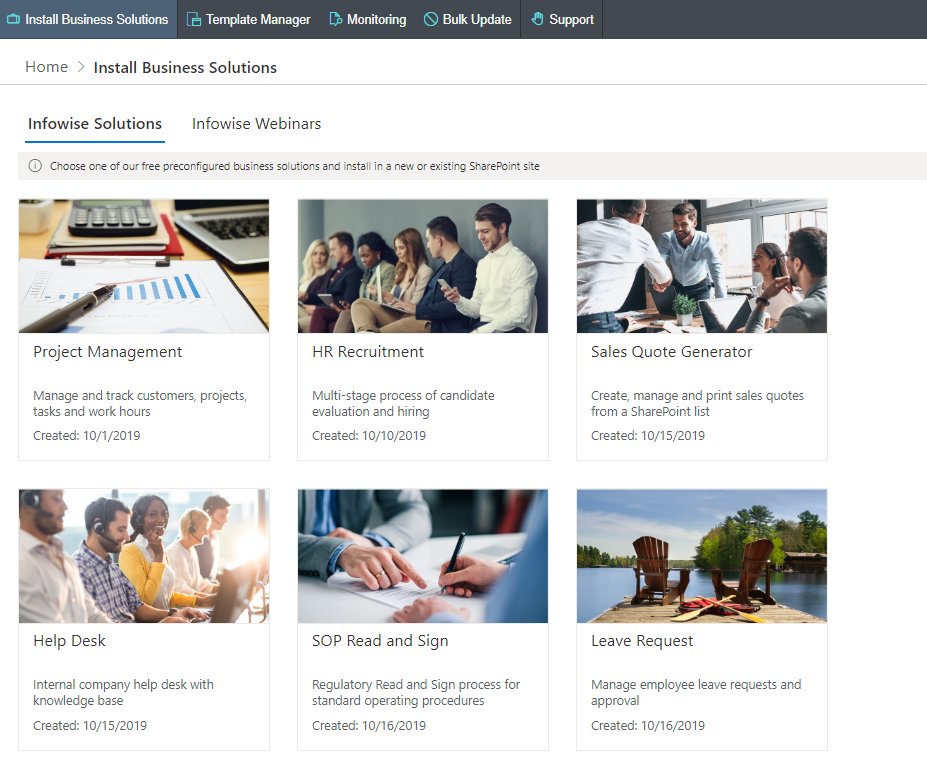 Business Solutions are just that – solutions to common business problems and scenarios. They are entire SharePoint sites - templatized, with all the pertinent lists, libraries, pages, and navigation pre-created. Even better, they include customized Forms, Actions, column formatting, and other Ultimate Forms features as appropriate for the individual solution.
For instance – the HR Solution includes the following:
Process initiation by either forwarding candidate's CV via email or manually adding candidate to the recruitment list.
Five process stages: HR Recruiter, Technical Interview HR Interview, Division Approval, and HR Final Approval.
Auto rejection and job offers letters
Email notification at any stage
Track current stage with color-coding on the recruitment list.
The only thing that's missing is the data.
Installing the new site is super easy – just decide if you want to overlay an existing site or create a new one, give it a name, and away you go.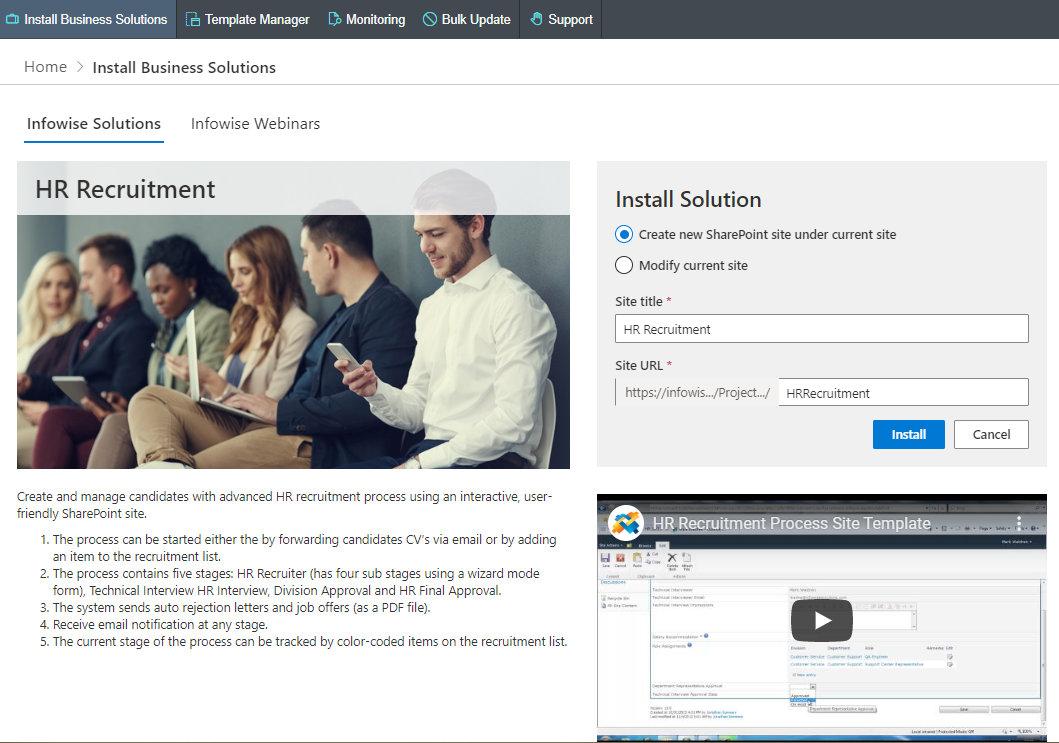 Just one more little bonus – we are also adding sites that we use for demonstration purposes during webinars to the Business Solution templates. If you see something that grabs your interest during a presentation, you'll be able to duplicate that in your own environment.
Even if the templates don't exactly fit your needs, they provide a great place to start from, with some of the work already done for you. And saving time is always a good thing, right?
Check out Business Solutions today!
Add your comment
Comments are not designed to replace support calls. If you have a specific issue with one of our products, please send an email to
support@infowisesolutions.com
to open a support ticket.
Ultimate

Forms
Build powerful business applications in SharePoint using only your browser.

100% No-Code Solution
It's never been easier, to create, innovate and share, all you need is your web browser!

Cost-effective
Address business process pain points immediately. Save time and money.

Fantastic Support Team
Facing difficulties installing the application? Contact our fantastic support team.
Related Topics