Benefits of using SharePoint and Office 365 as a Vendor Management Software
Infowise Ultimate Forms
"The ultimate software for any business needing an all in one office solution."
– Capterra Review by Matthew S.
Vendor management empowers your company to take appropriate actions to control cost, reduce risk, ensure excellent service output, and generate mutual value from vendors. You would have to follow several processes for effective vendor management, including searching suitable vendors, finding and managing pricing details, measure the work quality, maintain business relations with vendors, etc. It can be daunting for many to keep up with these tasks, so to avoid a disaster, companies use SharePoint and Office 365 as a Vendor Management Software. By doing so, contract management becomes easy; companies can get a better selection of vendors, monitor performance of the vendors, assign goals for vendors to generate value, build long-lasting relationships, and much more. And today, we are going to review some of the stand-out features of SharePoint and Office 365 for vendor management, so let's get started.
Integrated with Other Microsoft Apps
The most stand-out reason to use SharePoint and Office 365 for vendor management is that no other management software matches its level of integration with Microsoft Applications. This can be a convenient feature for you if you are already using other Microsoft apps such as Word, Outlook, Excel, etc. because you won't have to train your team to use the new management software.
You can save crucial time and increase your productivity by easily importing/exporting your data on the Office 365 platform. This will allow you to eliminate repetitive processes and bring some level of automation to your processes, making them more efficient. Your legal team can create, review, monitor changes, and manage user permissions for efficient vendor and contract management.
Shared Database
SharePoint and Office 365 come with OneDrive, which provides up to 25 TB for storing your contacts and documents. You can save achieved targets, responsibilities, profiles, and other relevant information in a single database that is shared across the company. The centralized search feature makes it easier for the management to search and filter documents across the platform. They can also create custom views for their documents to increase the search capability of their management software.
Enhanced Security
A data breach is one of the major concerns of many businesses, and it should be, as almost 60% of the companies in the US and the UK experienced a 3rd party data breach in 2018. In vendor management, this risk increases substantially; that's why a safe and secure management software is a must for your business.
SharePoint and Office 365 have a state-of-the-art security system that allows you to keep sensitive information safe. You can set-up multi-factor authentication, create dedicated admin accounts, block malware, encrypt your data and messages. You can also configure Advanced Threat Protection against malicious files, websites, and phishing attacks. The audit trail allows the management team to view who gained access, made changes to the data, and other related actions.
Increased Collaboration
Collaboration is vital in vendor management; it can help you make an improvement to your existing processes, encourage innovation for products or services, etc., and SharePoint and Office 365 are widely popular because of their collaboration capabilities. It allows you to share sensitive documents safely both inside and outside the company. Office 365's co-authoring feature is handy for contract management, different departments can not only review the records, but they can also edit and write contracts. The shared document database makes it easier for the contract team to increase productivity by providing real-time read-write access.
Document Versioning
Without efficient management software, it can be problematic for you to keep up with the contracts; you would have to search through documents manually, you can inadvertently update a document and rewrite over it. Subsequently, it'd be harder to determine the most updated version of the report, etc. SharePoint and Office 365 can effectively handle all these problems. Document versioning allows your vendor management team to track changes made to the documents in real-time, maintain a record of previous versions of contracts during the contract lifecycle, make changes to a report without worrying about overwriting/replacing the document, create a uniform file-naming system across the company, etc.
Manage Metadata
Metadata can be very helpful if your company is managing several contracts; with SharePoint and Office 365, you can create metadata for the document. Metadata can include the business area of the agreement, type of contract, the title of contract, number of the contract, assign start-end or renewal date, the value of the deal, etc. You can customize the metadata to search and manage the documents, and the centralized database allows the management to configure and apply changes to the contract across the company.
Expandability
A company's requirements changes as they grow, they might require more storage space, install new software, etc. And if their current management system is limited, they'd have to adapt to a new system. With SharePoint and Office 365, you can scale-up your platform as your business grows. At least 500 million documents can be supported by the platform, which is more than enough for a large-scale enterprise. And if you run out of space, you can request additional space according to your needs. This eliminates the need to adapt to a new platform every time you upscale.
Advanced Search
As mentioned earlier, searching for one document among thousands can be problematic and kill productivity. SharePoint and Office 365's search capabilities make it the undisputed champion among management software. Your team can search across a large number of documents from a single search bar, they can also create filters according to their need, and can even perform a multilingual search.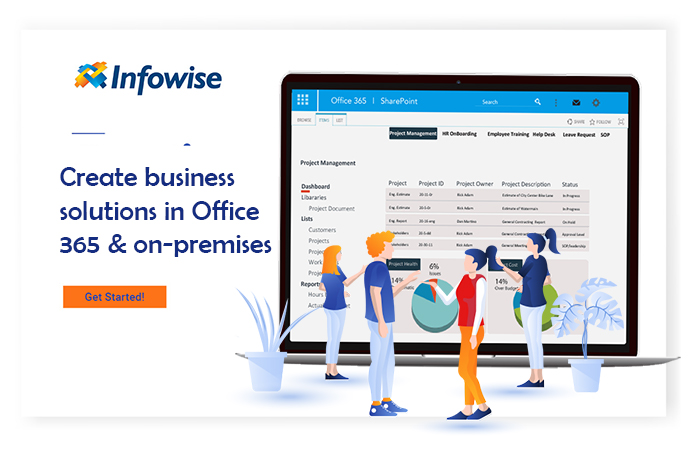 Infowise

At Infowise, we serve as a strategic partner, assisting public and private enterprises in their digital transformation endeavours with our scalable, smart, and robust tools, software, and applications. Our product Infowise UltimateForms Power Suite contains more than 15 standalone SharePoint applications developed to give you the power to innovate, automate, and scale up your processes. Our products have been designed for optimum interoperability and seamless integration within SharePoint. Altogether, they constitute the structural foundation for digitization and facilitate your transition to digital transformation.
Click here to download Infowise ULTIMATEforms 30-days free trial. Simple process. After you've installed Infowise UF, go ahead and create an unlimited number of Business Process Applications. Or even better, do you want to start with a ready template? Great, click here and download the ready-to-use template from our vast business process solution library, re-purpose to service your needs.
Add your comment
Comments are not designed to replace support calls. If you have a specific issue with one of our products, please send an email to
support@infowisesolutions.com
to open a support ticket.
Build powerful business applications in SharePoint using only your browser.
100% No-Code Solution
It's never been easier, to create, innovate and share, all you need is your web browser!
Cost-effective
Address business process pain points immediately. Save time and money.
Fantastic Support Team
Facing difficulties installing the application? Contact our fantastic support team.
Related Topics