An overview of Microsoft SharePoint-1
Microsoft has been at the forefront of offering productivity solutions to various kinds of business and conventional customers. Office 365 is an all-round productivity suite that takes all your favourite Microsoft Office apps like Word and PowerPoint on the cloud. Then there's SharePoint. SharePoint Online is also part of Office 365. SharePoint is a powerful collaborative tool for teams and works with OneDrive for cloud file storage. It's a great platform that allows seamless collaboration with teams all across the organization regardless of geographical location. Wherever your team is, SharePoint bridges that distance. It works with all your favourite Office applications, so you're covered wherever you go. Whether its physical or virtual collaboration, you can count on SharePoint to help you and your team to get the job done.
The best thing about Microsoft Office 365 is that all the included software are designed to complement each other. For example, we know already how SharePoint and OneDrive work so well in tandem with each other. Then, there's Word, PowerPoint, and Excel, that can work with OneNote and SharePoint. OneDrive will store all your documents and presentations in the cloud. This way everything is available as and when you need it.


SharePoint Document Library
The SharePoint Document Library is an excellent resource to store all your essential files and documents that can be used for collaboration. These will be accessible from any part of the world with any compatible device. The documents can be edited offline if you have the desktop version of SharePoint, but for the most part, document editing is done online because it's more convenient to save them in the cloud for easy access.
SharePoint Allows for Seamless Collaboration
It's effortless for multiple users to edit and work on documents at the same time in real-time. Like Google Docs, you'll know everyone that's working on your document at the same time, but SharePoint is more potent because it's part of the entire Microsoft Office 365 software suite. It's brilliant, practical, convenient, and saves time. Users can be logged on to SharePoint from different devices, mobile or desktop. This way, you and your team are always connected wherever they are. One excellent example here for teacher-student collaboration is as follows. A student is part of a distance learning program or for some reason, unable to attend his classes. All he needs to do is to read up on class notes left by friends or teachers and then submit the required assignment via SharePoint where the teacher can access the document and work on it. It's impressive how SharePoint can enable this kind of seamless collaboration so well.


SharePoint Site Creation
You can easily create project and group sites with Microsoft SharePoint. If you use Office 365, which is highly recommended, the site can easily be created from the home page. That also creates a group within the Office 365 environment for you and your collaborators, teammates and group. The sites can be easily shared with others if and when needed. Since the site is created within Office 365 and SharePoint, you and your team can work in both places if required. Permissions can be created for other people outside the team to have access to it as well.


Document Edit History is Maintained by SharePoint
A document, presentation, or a spreadsheet goes through various changes as the student works on it. It's possible that the student may require to go back to an earlier version of the document. In most cases, when one uses regular Word or PowerPoint, document history is usually not available or only saved temporarily. Most times, it's hard to go back to a past edit, especially when it's gone through so many changes. SharePoint maintains a history of your document, so it's easy to go back in time and edit on an earlier version of the document. The document history is located on the SharePoint Server.


Everyone on the Team has Access to Latest Document
When working in teams, everyone wants access to the latest document. If five people, for example, are working on the document, then whenever one of them makes changes to it, the changes are synchronized to all of the users of the document seamlessly. It doesn't matter which device the team members are using. Each of the collaborators will have the latest changes synced, and they could access the most recent document from any compatible device.


SharePoint and Compatible tools
SharePoint is more powerful when combined with other applications, especially within the Office 365 framework. To keep track of document changes, one can use OneNote to document any changes made to it. Calendars can be shared where vital deadlines and dates can be shared with members of the team. It's also a lot easier to break down tasks into smaller ones, and then use the calendar to mark deadlines for each of them. This way, everyone is aware of the work done on the document and how much time is remaining for the smaller subtask. To communicate with members of your team, you can use Yammer or Skype for Business.


SharePoint does everything!
SharePoint does everything from creating, sharing, and collaborating. It works equally well with content created elsewhere, and if you work within the Office 365 environment, the benefits are even more significant. It's extremely flexible. It's dependable and has been around for a good 18 or so years now. It's time-tested and backed by Microsoft, and you're getting the best in one software. There's a whole lot more you can discover once you start using Microsoft SharePoint. It's recommended to use SharePoint Online as its part of Microsoft Office 365, and that's where your productivity is greatly amplified. SharePoint puts the power and control firmly in the hands of you and your team and backs you at every step. Simply put, it does everything!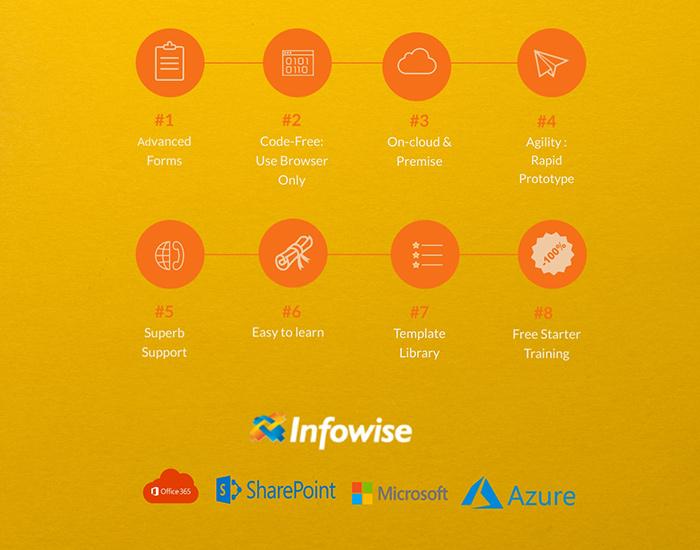 Infowise
Here at Infowise Business Solutions, our client list includes some of the world's best-known financial institutions. Our products that are used by the financial sector are a cross-section of what we offer; Workflow automation, process automation, advanced dynamic forms and document filing. We have helped thousands of businesses across the globe in leveraging the power of their Office 365 platform, including SharePoint, to its fullest potential to quickly build a wide variety of modern business solutions, tailor-made to meet their business requirements. Through our implementation partners, we have been part of the digitization process for many businesses in the financial sector. Whether your preference is Microsoft Azure or Amazon AWS, our partners will assist and guide you on how best to get your financial institution on the cloud like so many others have taken advantage of. If you are unsure, then they can guide you on what works best for the institution's needs and customized solutions can be provided to fit the requirements. Cloud computing is the future, and the future is now.
Add your comment
Comments are not designed to replace support calls. If you have a specific issue with one of our products, please send an email to
support@infowisesolutions.com
to open a support ticket.
Ultimate

Forms
Build powerful business applications in SharePoint using only your browser.

100% No-Code Solution
It's never been easier, to create, innovate and share, all you need is your web browser!

Cost-effective
Address business process pain points immediately. Save time and money.

Fantastic Support Team
Facing difficulties installing the application? Contact our fantastic support team.
Related Topics