An Overview of Microsoft 365 Security Center and Microsoft 365 Compliance Center
An Overview of Microsoft 365 Security Center and Microsoft 365 Compliance Center
Security and compliance are two significant concerns for businesses, especially in IT and financial services, and Microsoft realizes that. For businesses to make sure they're safe when it comes to security and compliance, Microsoft had an excellent solution known as the Microsoft 365 Security and Compliance center. It has since been replaced by two separate software solutions known as Microsoft 365 Security Center and Microsoft 365 Compliance Center respectively. There's even a different Office 365 Security and Compliance Center that has been around since 2015. The article focuses more on the recent apps- Microsoft 365 Security Center and Microsoft 365 Compliance Center that's replacing the Microsoft 365 Security and Compliance Center.
Microsoft 365 Security Center
The new Microsoft 365 Security Center gives you all the security features you need for your apps, devices, infrastructure, and more. It's a dedicated dashboard to fulfil all your security requirements. It analyzes your system and gives you a Security Score. It shows how secure your system and data are. It gives you options and areas where you can improve security on, and it's quite useful for IT admins. The dashboard will give you recommendations and let you take action on critical and even less critical issues as you see fit.
The main dashboard shows you all the security options at a glance, and you can click individual tabs for the more detailed look in the area you are interested in learning more of and improving. If you're an E3 or E5 customer, you can get alerts from various complementary Microsoft services such as Microsoft Cloud App Security, Office 365 ATP, Azure AD, and Microsoft Defender ATP. You can get even more proactive by doing real-time security checks as and when you need. You can schedule automatic checks of your entire organizational system. It's very powerful and ensures you're always a step ahead of malicious hackers who may want to send attacks to your system. You can protect different files and documents and other data in different ways by classifying them for specific kinds of protection.
Just like user privileges on Windows, you can assign them the same in the Security Center. You can decide which user can have access to what areas on the software. You can be admin and have another staff member to be the same too. Similarly, other users can have limited roles as per your preference. The user interface is quite user-friendly, and novices will find the learning curve barely steep. The dashboard will even give you access to detailed reports on the security status of your organization. All kinds of reports, and also customized ones can be accessed at a click of a button.
Microsoft 365 Compliance Center

The Compliance Center makes sure your business is complying with regulations. It takes a look at your organization and offers solutions to boost your compliance. It helps you meet complicated compliance obligations thanks to tailored recommendations.
All the necessary compliance features such as sensitivity, retention labels, policies, data loss prevention (DLP), eDiscovery, case management, Cloud App Security, data subject requests (DSRs), eDiscovery and data governance are all accessible via the dashboard. It will point out all the missing links and help you fix issues via actionable insights.
Just like the Security Center, it has different tabs for its various areas that can be accessed directly from the dashboard. Once you start it, you're greeted by a helpful and friendly welcome banner that helps you get your organization correctly set up. Just like the Security Score in the Security Center, you get a scorecard as well from the Assess screen. It shows how your organization fares in terms of data security and compliance. Your scorecard is known as the Microsoft Compliance Score Card, and from there, you can visit the Compliance Manager. The Compliance Manager allows you to assess your configurations and tweak them to your preferences and possibly move your compliance score up too.
In the same area, you'll have access to two cards. One card will detail the organization's cloud app compliance, and the other will be about all the users sharing files in the organization. More data options can be explored via other links and even one on Cloud App Security. The next tab, known as Protect. So here, you have access to several cards that, on a higher level, give you access to everything you need to know about your organization's labels, DLP, shadow apps, third-party apps, shared files between the user and other things. Whenever you select a card, it will provide you links to reports on all the above areas so you can take the right actions.
Finally, the Respond section is equally important. The two cards here refer to active alerts and pending items, respectively. Once you go to each section, it will give you the complete information on status, severity, and what category they belong to, among other things. This way, you can respond to each issue presented to you one at a time. The left navigation panel gives you access to even more areas such as policies, alerts, reports, classification and solutions about compliance.
The best part about both the security and compliance center apps are that navigation is exceptionally user-friendly. All the information is entirely detailed, so you're always kept updated on changes in your security and compliance status.
With Microsoft 365 Security Center and Microsoft 365 Compliance Center, you get two compelling software solutions for your organization's security and compliance requirements. The tech giant has put a lot of options for you under the hood of each app to make sure your organization is prepared for the latest security threats and always adhering to compliance regulations. Microsoft will continue to bring more features to these two already excellent enterprise apps. Your enterprise is in safe and superior hands with Microsoft 365 Security Center and Microsoft 365 Compliance Center.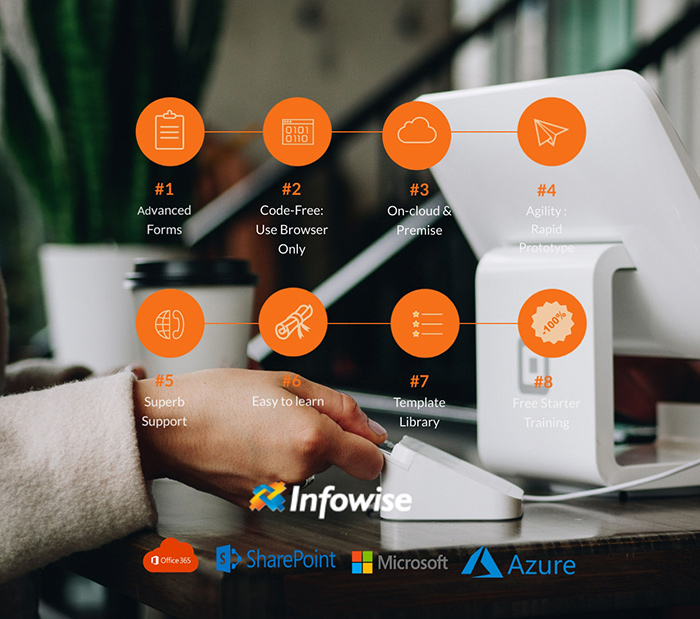 Infowise

infowise is a leading provider of forms and processes solutions for the Microsoft SharePoint platform. Financial services providers make a large section of our client's list. As authors of productivity and agility software, we're pleased, yet not surprised that these global financial businesses have adopted our tools in their daily productivity cycles. Our flagship package Infowise Ultimate Forms is an integrated suite of SharePoint components that enables users to create advanced, dynamic forms, sophisticated business processes and striking visualization.
UltimateForms supports all Microsoft SharePoint platforms, including Office 365 and all on-premises SharePoint versions.
Add your comment
Comments are not designed to replace support calls. If you have a specific issue with one of our products, please send an email to
support@infowisesolutions.com
to open a support ticket.
Ultimate

Forms
Build powerful business applications in SharePoint using only your browser.

100% No-Code Solution
It's never been easier, to create, innovate and share, all you need is your web browser!

Cost-effective
Address business process pain points immediately. Save time and money.

Fantastic Support Team
Facing difficulties installing the application? Contact our fantastic support team.
Related Topics