Using electronic signatures in SharePoint
Hi,
In this post I'm going to go over the feature of our Electronic Signature field and how it can help you make your SharePoint-based system become compliant with federal (or other) regulations, such as FDA 21 CFR Part 11.

SharePoint is a great tool for managing all kinds of data: documents, business processes, you name it. Coupled with a Single Sign-on, entering data is a breeze, you don't even need to authenticate yourself, your SharePoint automatically recognizes you based on your Windows login information, which is called Windows Integrated Authentication. But what if you are required by regulations to enter username/password combination each time you need to enter data? Of course you can disable Windows Integrated Authentication, but then you will need to enter your password each time you need to check someone's phone number in the SharePoint people search, your users will certainly not like that. And what about the production floor with multiple employees sharing a single PC, do you really expect them to log off/log on each time they want to update a batch status?
This is exactly why we developed our Electronic Signature field. As any other field it can be added to any document library or list and then attached in its settings to some or all of the other fields there.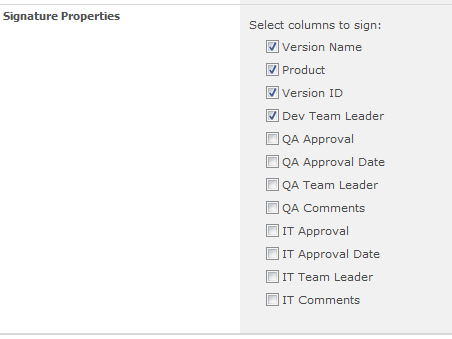 Then you can enter your username and password combination while entering data, the combination will be validated online against the Active Directory and a hashed value of the signed fields, your identity, item version and time of signing will be added to the item.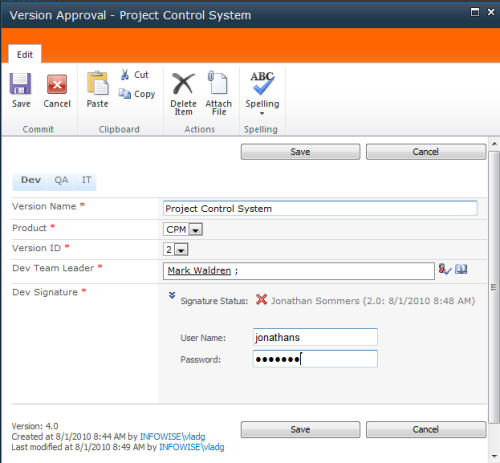 You will be able to see the signature in both views and display/edit form and even validate it in real time.

If you click on the green mark you can validate the signature in real time by recalculating the hash value and comparing it to the stored one.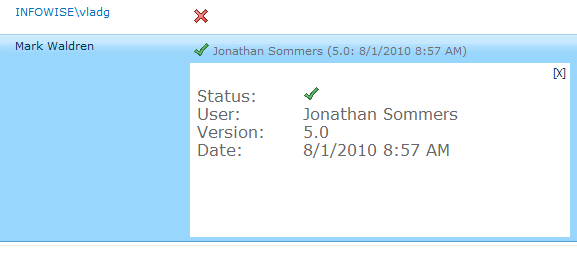 If one of the signed fields is changed by you or any other user, the signature field (together with the accompanying background event receiver) notices the change and causes the signature to become invalid, unless a new, fresh signature is added. As I mentioned, we have the event reciever running in the background, which catches all updates, even those not made directly using the SharePoint UI, such as updates using web services for those integrated systems you might have.
Try it our now, we have a 30-day fully-functioning version available for download!
Add your comment
Comments are not designed to replace support calls. If you have a specific issue with one of our products, please send an email to
support@infowisesolutions.com
to open a support ticket.
Build powerful business applications in SharePoint using only your browser.
100% No-Code Solution
It's never been easier, to create, innovate and share, all you need is your web browser!
Cost-effective
Address business process pain points immediately. Save time and money.
Fantastic Support Team
Facing difficulties installing the application? Contact our fantastic support team.
Related Topics