Create a fully-functional unified view of items found throughout your site collection, according to specific conditions.
Ultimate

Forms

: Rollups , formerly Smart Rollup Pro, a component of Ultimate

Forms

, combines information from multiple sources into a single, unified view.
Multiple data sources, from a single list to all lists of a certain type
Locate lists by base type, list template or even by name
Specify template view to defined columns and even filtering
Supports SharePoint native full item context menu
Supports sorting, filtering, paging and grouping
Caching and delayed loading for performance
Localized into English, French, Spanish and German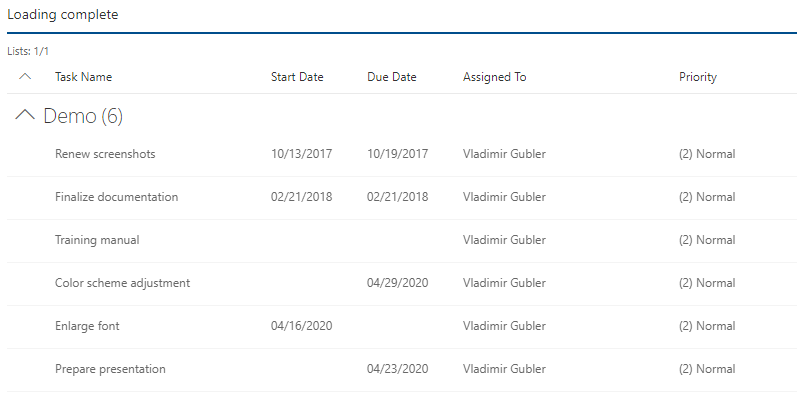 Specify data sources throughout the site collection to retrieve and display items according to filters. Manage the items through fully-functional context menus.


Blog
Features
| Feature | Image | Our Product | SharePoint Native |
| --- | --- | --- | --- |
| Aggregates items/document throughout the site collection | | | |
| Multiple data sources, ranging from a single list to all lists of certain type throught the site collection | | | |
| Full sorting, filtering, paging and grouping | | | |
| Specific value entry controls for different column type | | | |
| Set columns and filters according to template view | | | |
| Full-featured context menu in result items | | | |
| Optionally filter results by view | | | |
| Optionally group by site or list | | | |
| Additional preset filters | | | |
| AJAX-enabled interface without postback | | | |
| Localized into English, French, Spanish and German | | | |
Note: unless specifically stated otherwise, all products require only SharePoint 2013 and up. Except for SharePoint Online apps, all of our products must be installed as farm solutions.
Some apps can be used both on Microsoft 365 and on premises, but most will not work on premises. App support must be enabled on your on-premises farm. You can install app both from the Office Store and by downloading the .app file from our website, in some cases the latter option provides more functionality, but also requires your consent to a higher level of permissions.
Version
Release Date
Changes
1.4.2
16-Jul-2020

Fixed: context menu when showing items or files inside folders
Fixed: sorting by Date-time columns

1.4.1
21-Jan-2020

Fixed: error during feature activation or deactivation

1.4.0
13-Jan-2020

Added: Printing module (need Smart Print Pro version 1.25.0 and up)
Added: Voting field rendering

1.3.1
27-Oct-2019

Fixed: backward compatibility issue caused by version 1.3.0

1.3.0
23-Sep-2019

Important: SharePoint 2010 is not supported starting this version of the product!
Added: expand-collapse all groups button
Added: option to connect and send data to Smart Chart Pro (starting version 1.5.0)
Fixed: grouping when the template view has a Sort expression
Fixed: collapse all groups by default in non-English sites

1.2.0
24-May-2018

Added: ability to receive filters from Smart Filter Pro and from other web parts

1.1.26
15-Dec-2016

Fixed: support for Tasks lists aggregation in SharePoint 2013 and above

1.1.25
23-May-2016

Added: support for MDS
Fixed: page reload when Ajax is enabled and the page is in design mode
Fixed: web part error when data source contains lookup additional columns
Important: SharePoint 2007 is not supported as of this version
Although this feature can be purchased and installed separately, we highly recommend always installing the complete
Ultimate

Forms
suite. It will ensure you are not limited in any way when implementing your business solutions and achieve the best possible result.
$
22.88
per server per month, includes support
No Credit Card. No Obligation.

We offer special discounts to non-profits, educational or government organizations