Link to one or more new or existing documents from within an item or a document. Linked documents can be shared between items and managed using full SharePoint document library capabilities
Ultimate

Forms

: Document Link column, a component of Ultimate

Forms
Link items to documents located in the same library, same site or same site collection
Display direct links to linked documents in list views
Displays document picker for selecting an existing document within the current site collection
Upload a document directly from the column
Link different documents to different parts of the form, e.g. separate employee's links from manager's links
Specify minimum and/or maximum number of documents
Optionally specify allowed extensions
Unlike SharePoint attachments, provide a meaningful title to linked documents
Unlike SharePoint attachments, linked documents are managed in a full-featured document library
Localized into English, French, Spanish and German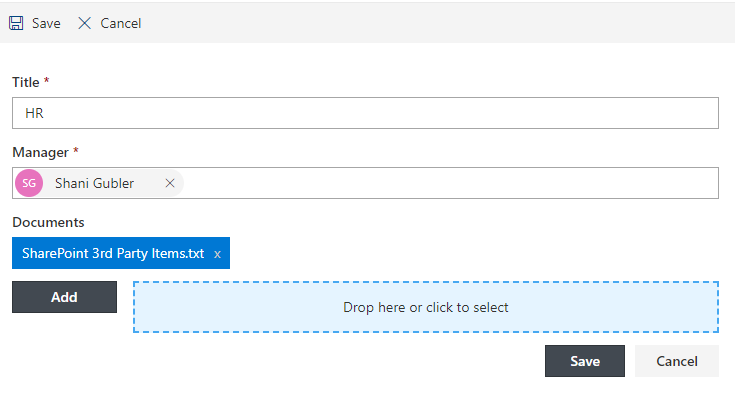 Upload or link documents of specific type to a specific location within the parent item, instead of just adding them together to item attachments. Create attachments for a document, not just list item.


Link your contract document to the price proposal
Provide different instructions and procedures at different stages of form's lifecycle
Blog
Features
| Feature | Image | Our Product | SharePoint Native |
| --- | --- | --- | --- |
| Link to existing file | | | |
| Upload and store new files | | | |
| Show and use multiple links to files | | | |
| Specify minimum and/or maximum number of documents | | | |
| Specify allowed extensions | | | |
| Integrated document picker available on WSS/Foundation | | | |
| Localized into English, French, Spanish and German | | | |
Note: unless specifically stated otherwise, all products require only SharePoint 2013 and up. Except for SharePoint Online apps, all of our products must be installed as farm solutions.
Some apps can be used both on Microsoft 365 and on premises, but most will not work on premises. App support must be enabled on your on-premises farm. You can install app both from the Office Store and by downloading the .app file from our website, in some cases the latter option provides more functionality, but also requires your consent to a higher level of permissions.
Version
Release Date
Changes
1.6.0
09-Jun-2021

Added: option to Disable link to existing documents

1.5.9
21-Jun-2020

Added: treating Document sets like folders, when adding a link
Fixed: filtering in Add link dialog

1.5.8
10-Jun-2020

Added: support for large files upload in SharePoint 2016 and above

1.5.7
18-May-2020

Added: check for an empty file name, before uploading

1.5.6
09-Feb-2020

Added: modern experience views in SharePoint 2019

1.5.5
29-Oct-2019

Fixed: handling special characters during file upload

1.5.4
17-Jul-2019

Added: sorting in Add link dialog
Important: SharePoint 2010 is not supported starting this version of the product!

1.5.3
06-May-2019

Fixed: error uploading a file to a library with an apostrophe in its name
Although this feature can be purchased and installed separately, we highly recommend always installing the complete
Ultimate

Forms
suite. It will ensure you are not limited in any way when implementing your business solutions and achieve the best possible result.
$
16.62
per server per month, includes support
No Credit Card. No Obligation.

We offer special discounts to non-profits, educational or government organizations